I first had
spring roll dosa
when my in-laws used to live in Coimbatore and we went to Dosa Plaza, a restaurant that boasts
over 100 dosa varieties
on their menu. I chose spring roll dosa to justify my love for
Indo Chinese recipes
and as the name suggests, the dish came filled with vegetable spring roll filling wrapped in a dosa. It tasted nice and I had mentally bookmarked the idea to try spring roll dosa at home.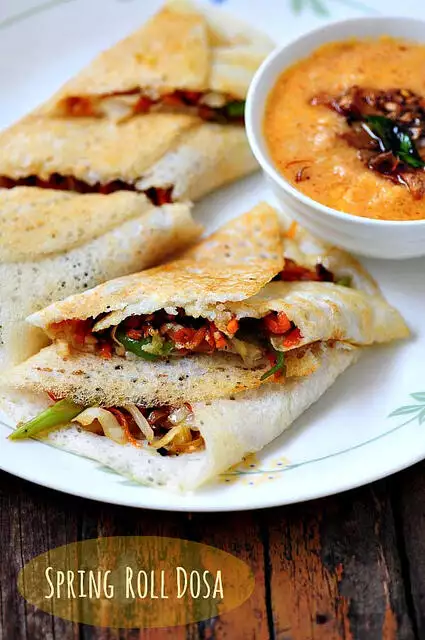 If you have dosa batter and some vegetables handy, this doesn't take more than 20 mins to put together and spring roll dosa makes a great and novel after-school snack for kids. It's filling without being too heavy and all you need to serve it up is some ketchup or chutney.
I cut up the spring roll dosa just like spring rolls and served with red coconut chutney but you can serve it as a single dosa on its own or with ketchup, which kids will surely love. Oh, who am I kidding? I love ketchup too!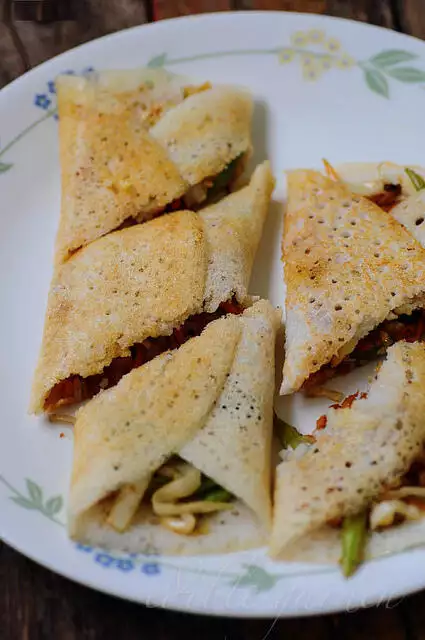 So whip up this quick and easy dosa and get ready for the wows and compliments!
Sidenote: In case you are looking for the fried vegetable spring roll recipe, I didn't want to disappoint you.
VEGETABLE SPRING ROLL DOSA RECIPE
Preparation time: 10 minutes
Cooking time: 15 minutes
Makes 4 dosas
Recipe idea: Dosa Plaza, Coimbatore
Ingredients:
4 cups of dosa batter (also known as 2 day old idli batter)
2 cups of mixed vegetables (carrots, beans, cabbage, spring onions, capsicum), julienned
1 tsp of minced garlic
1 tsp of pepper powder
1 tsp of chilli sauce
1/2 tsp of soya sauce
2 tsp of oil
1/2 cup of sliced onions
How to Make Spring Roll Dosa:
To Make the Filling:
1. Heat oil and saute the onions and garlic together until the onions turn soft.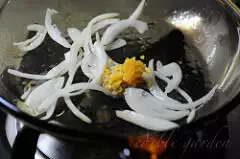 2. Add the mixed vegetables and saute until they turn soft and have cooked through – will take about 12 mins or so.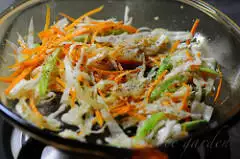 3. Next, add the chilli sauce and soya sauce. Saute for a few more mins.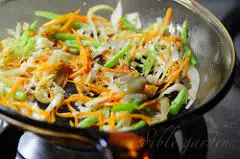 That's it. The filling for our spring roll dosa is ready.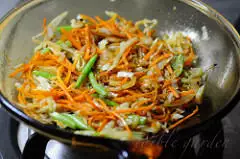 To make the dosa:
1. Heat a pan and grease with oil. Add about 3/4 cup of dosa batter and spread into a thick-ish dosa. Don't make it too thin because that would make the dosa crisp and it'll break as you roll the dosa.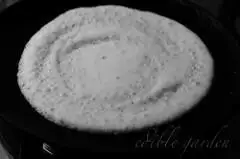 2. Drizzle a few drops of oil and cook covered on a low flame until the top of the dosa is cooked.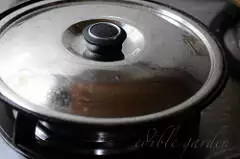 3. Layer some of the spring roll filling in a line in the centre of the dosa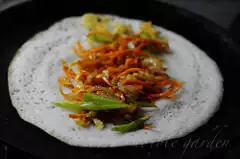 4. Gently fold from both sides into a roll.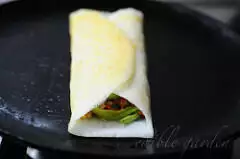 5. Transfer to a plate and proceed with the rest of the dosas until done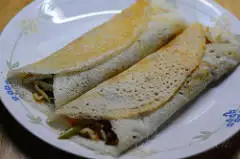 Optional: run a pizza cutter through the dosas diagonally and slice into pieces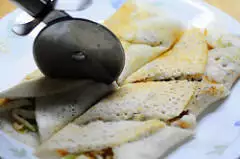 Note:
Serve the veg spring roll dosa hot and immediately