Vegetable cutlets have never really interested me as a child. Back then, I used to eat red meat and if a certain dish was available in both vegetarian and non vegetarian options, I go for the latter usually. Since then, things have changed a lot and I only cook vegetarian now, keeping TH in mind. Since anything fried get a thumbs-up from him, vegetable cutlets were no exception!
Except for the first picture. This one was taken on the bright spot near the living room window right after I steamed the vegetables – 1 potato, 2 cups of mixed vegetables like peas, carrot, beans and sweet corn and one onion sliced long. Steam until the vegetables are cooked through yet not mushy. You can alternately pressure cook them for 10 mins or one whistle.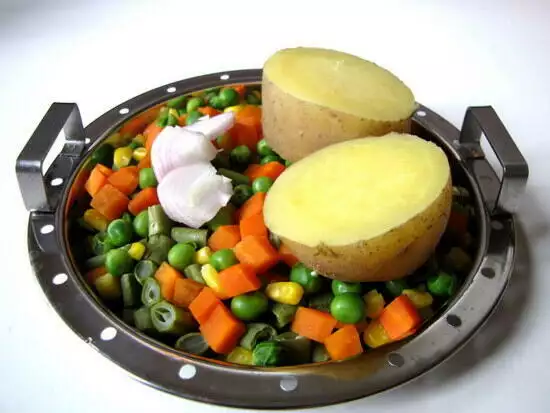 PinI know I said step by step recipe for vegetable cutlet but the patties are very straight forward. You can scroll down for the recipe to make the patties. The assembly is what I wanted to focus on in this post.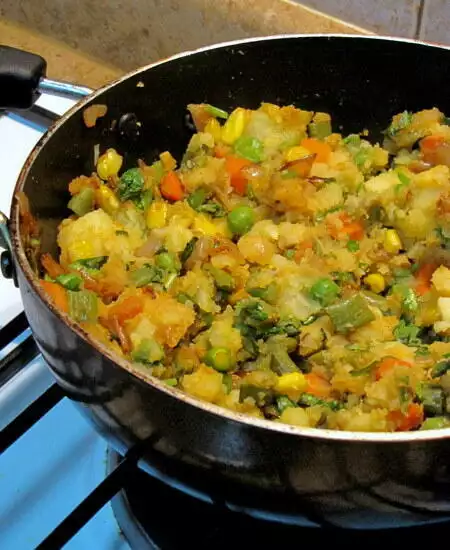 First, we need bread crumbs. If you live in a fancy place, you will get to buy bread crumbs but that's too silly for me (don't ask me why), so I made my own. Here's what you do.
Heat a skillet until just hot and place a bread slice on it. Don't use any butter, oil, etc. Just dry-toast the bread slice on both sides until lightly browned.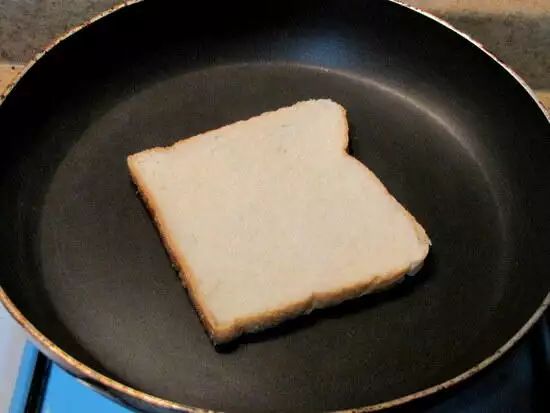 PinPowder it in your blender or mixer and voila, bread crumbs!
Now we need a sticky coating that comes between the vegetable patties and the bread crumbs so that the bread crumbs will stick to the patties. The most common one is egg whites and that's what my mom uses. I have made this recipe completely vegetarian so here's what you can use instead of eggs whites in to coat the vegetable cutlets.
Take 3 tbsp maida / all purpose flour.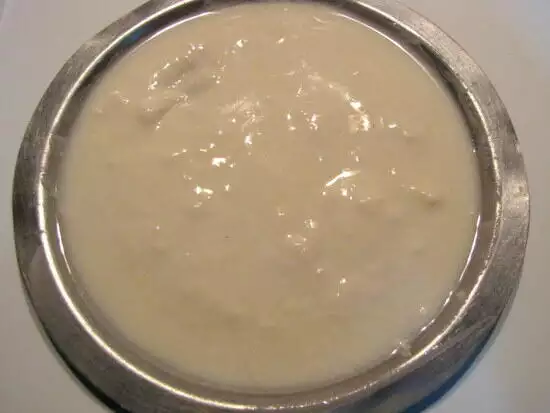 Make patties of desired size (make sure its not too thick, about 1/2″ thick patties are best) and place them gently on the maida paste.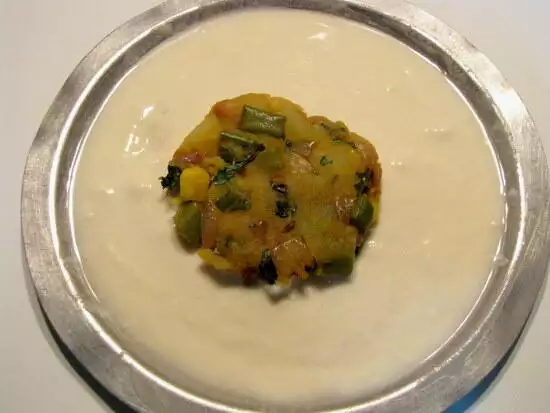 Coat both sides well.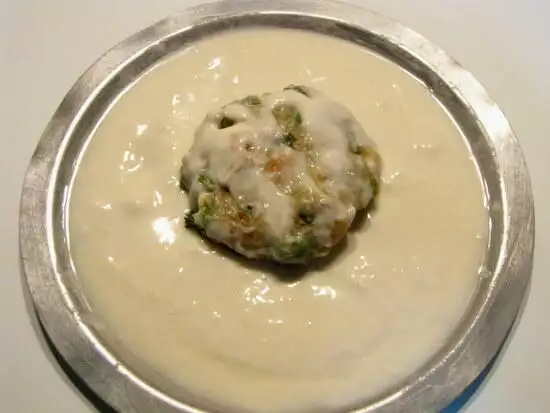 PinPlace this on the prepared bread crumbs.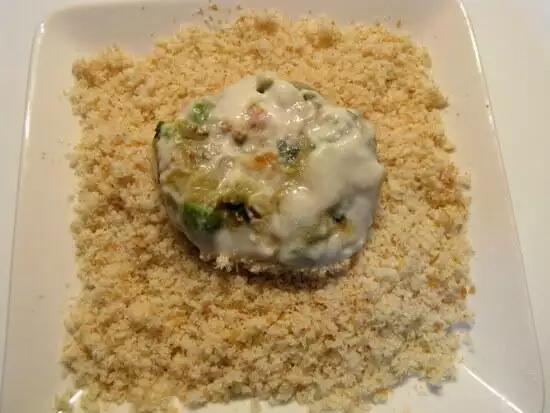 Coat both sides well. Just drizzle bread crumbs on the patty so that you can avoid turning it around too much and breaking it.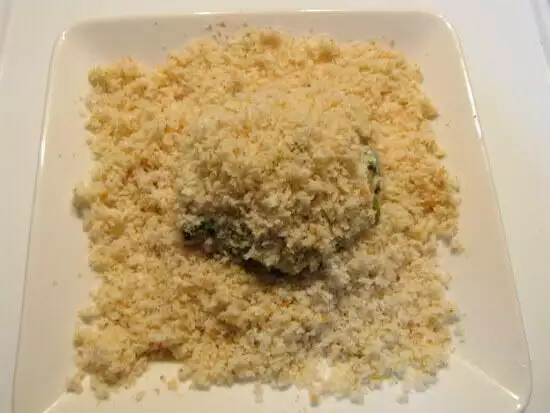 Repeat with the rest of the vegetable mixture. I got about 12 cutlets with the amount of vegetables mentioned above.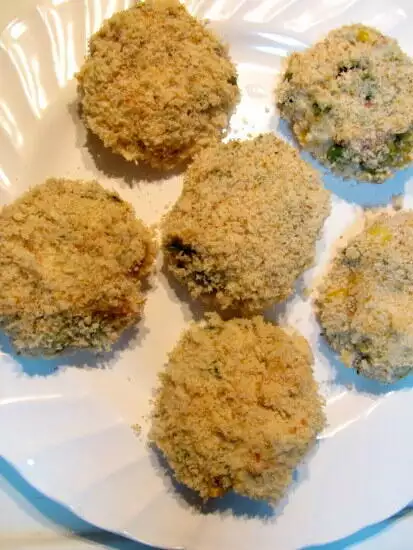 I refrigerated the patties for an hour just to firm them up. This is optional. After that, pour enough oil in the skillet to drown the cutlets half way. Heat it up until just below smoking point and lay the cutlets carefully in the oil. Make sure the heat is just medium so that the outside doesn't burn and inside remains undercooked.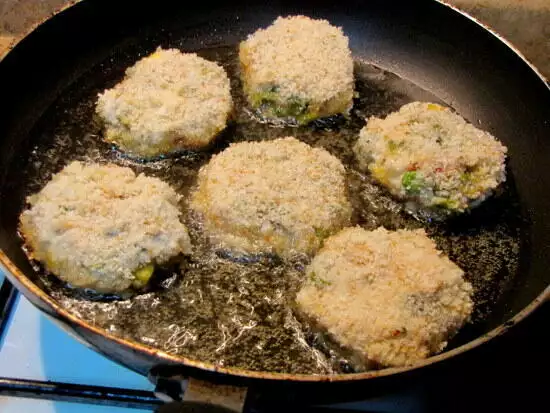 PinFlip over when one side is nice and brown. Cook both sides until crisp.
Drain on a kitchen towel and serve with ketchup, mashed lightly in a wrap, with curd rice – there are tons of options!

Pin
Oh God, this picture is killing me! I really should stop taking pics in the night.
Here's the recipe for vegetables cutlets, all in one place.
Vegetable Cutlets Recipe
Makes: 12
Ingredients:
For the patties:
1 potato
2 cups mixed vegetables cut into small pieces
1 small onion, chopped fine
2 green chillies, chopped fine
1/2 tsp red chilli powder (adjust according to heat level desired)
1 tsp chaat masala (or garam masala for a different taste)
A pinch of amchur / dried mango powder
1/4 tsp coriander powder / malli podi
1/4 tsp roasted jeera powder / cumin seeds
A handful of finely chopped fresh coriander leaves / kothamalli (optional)
Salt to taste
2 tsp oil
For the coating:
3 tbsp maida mixed into a paste with 3 tbsp water (approx.)
2 slices of bread, toasted dry on a skilled and powdered
Oil to shallow fry
Instructions:
1. First, make the patties. Steam cook or pressure cook the vegetables until soft yet firm. Heat oil for patties and add the onions. Fry until soft and transparent. Then add the chilly powder, jeera, coriander, amchur, chat masala and green chillies. Mix well for 30 seconds.
2. Mash the potato well and add with the other vegetables. Let the mixture cook until well incorporated (about 2-3 mins). Add the coriander leaves, if using, and mix well. Add salt just before shaping into patties, otherwise the mixture will sweat and loosen up, making it hard to form the shapes.
3. Place each patty in the flour-water mixture and coat well. Then place on the bread crumbs and coat well.
4. Shallow fry until golden brown on both sides. Serve hot with ketchup, curd rice or mashed up in a wrap or sandwich.