Vangi bhath recipe or brinjal rice recipe – I love anything with vangi (kathirikai or brinjal) in it. Roasted, grilled, fried, sautéed, curried, you name it! I don't remember liking kathirikai so much as a kid but now, I pick it up every week during vegetable shopping. In Singapore, the more common variety is the longer purple ones that are called Japanese brinjal. The good part is, they usually don't have worms or bugs in it and stay fresh in the fridge for a longer time. They also don't have the bitterness that sometimes the fat purple eggplants have.
Pin
But I really couldn't resist these smaller eggplants when I came across them in the Indian store.. I got it from the local Malayali store and immediately made vangi bhath with it, a South Indian rice recipe with brinjal, rice, and spices.
Cube the brinjal and dunk them into the tamarind juice
The basic recipe is from Chandra Padmanabhan's Southern Spice, a book that I turn to so much for anything South Indian. Don't be deterred by the long list of ingredients to make Vangi Bath, it's just a bit detailed because I have given very clear instructions to prepare it.
If you love eggplant or brinjal as much as we do, I highly recommend this szechuan egglant recipe, ennai kathirikkai kuzhambu, brinjal vindaloo which is my mom's specialty, and this easy eggplant chutney recipe. More spicy rice dishes? Browse through all South Indian rice recipes and pick your favourite.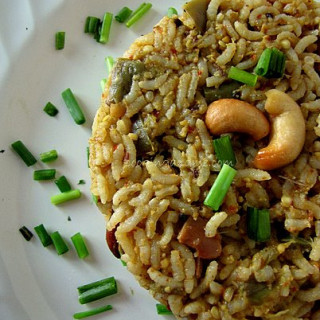 Vangi Bhath Recipe
Vangi Bhath Recipe, a simple spiced rice recipe with vangi (brinjal or eggplant) that's easy to make and perfect to pack in your lunchbox
Ingredients
1

cup

cooked rice

I used ponni rice but basmati will work too

A marble-sized ball of tamarind

1/4

tsp

salt

1/2

tsp

turmeric powder

6

small aubergines / eggplant / kathirikai

For Spice Powder:

2

tsp

oil

1

tbsp

coriander seeds

1/2

" stick cinnamon

2

cloves

4

dry red chillies

more for spicier version

3

tsp

Bengal gram / chana dal / kadala paruppu

2

tsp

urad dal / ulatham paruppu / uzhunnu parippu

1

tbsp

grated coconut

fresh or frozen works
For Tempering:
2

tbsp

oil

1

tsp

mustard seeds

1/2

tsp

cumin seeds / jeera / jeerakam

1/2

tsp

asafoetida / hing / perungayam

1

dry red chilli

torn into pieces

1

sprig curry leaves
For Garnish (Optional)
2

tsp

ghee

1/4

cup

halved cashew nuts
Instructions
Soak tamarind in 1/2 cup warm water for 10 mins and extract juice. Add salt and turmeric to this and transfer to a pan.

Cube the vangi and add to the tamarind juice and let soak for 15 mins.

Heat oil for spice powder in a pan and add remaining ingredients for spice powder. Fry till spices are fragrant and the dals turn golden brown. Cool and grind to a powder.

Heat ghee for garnish in the same pan (if using) and fry cashew nuts until golden brown. Set aside.

Heat oil for tempering in the same pan and add all the ingredients for tempering. When mustard seeds start popping, add the aubergines with the tamarind extract.

Cover pan and simmer for about 10 mins till the aubergines are tender and water is almost completely adsorbed.

Mix in the cooked rice and spice powder and remove from fire.

Garnish with the fried cashew nuts and serve warm with raita.
Pin
The flavours in this vangi bhath will be really delightful to an eggplant lover. TH and I both loved it and the next time I buy these small eggplants, I am surely making vangi bhath again.
For vangi bhath recipe in Hindi, Tamil, Telugu, Kannada, Urdu etc please use the Google translate button in the sidebar.