Brinjal, Eggplant, Kathirikai, Kathrikka
– it's a personal favourite vegetable of mine and I hardly tire of brinjal dishes. I love all varieties of chutneys too and like experimenting with different vegetable and spice combinations (
chow chow chutney
, anyone?). Chutneys are great to make and store for a couple of days and I especially love the kind that can double up for rice in addition to tiffin like dosa idli. This
brinjal chutney
is heavy on the brinjal flavour so those who don't like them much, consider yourselves warned!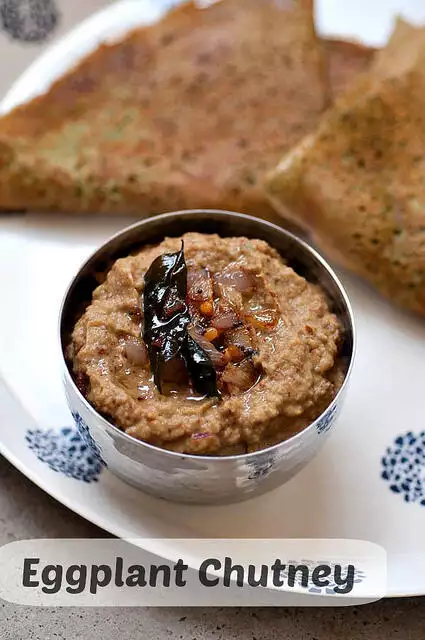 As a sidenote, I must admit it was very tough to make this eggplant chutney look appetizing. The colour is very blegh and the texture is gloopy, just refusing to convey the taste of the dish – as opposed to a drizzle of blueberry coulis that conveys the deliciousness really well, you know? Anyway, I made it, I took photos, so I am going to share this eggplant chutney recipe.

I thought I had used the recipe from Dakshin by Chandra Padmanabhan – a fabulous vegetarian cookbook for South Indian recipes, btw (buy in US or India) – but looks like I took some inspiration from her recipe and then used my own variations. I am sounding a bit clueless because I share recipes here about 2-3 months after cooking them so often forget making it. But don't worry, before I share anything, I make sure the recipe is complete :). So, let's go make us some brinjal chutney, shall we?
Looking for more Variety Chutney Recipes?
BRINJAL OR EGGPLANT CHUTNEY RECIPE
Preparation time: 5 minutes
Cooking time: 20 minutes
Serves 4
Inspired by Dakshin by Chandra Padmanabhan (INDIA | US)
INGREDIENTS:
1 large eggplant or long Asian brinjal (or use 4-5 small Indian brinjals)
2 green chillies
1 tsp + 1 tsp + 1 tsp of oil
1/2 tsp of black mustard seeds
1/2 tsp + 1/4 tsp of urad dal, ulutham paruppu, uzhunnu parippu
A pinch of hing, kayam, asafoetida
1 dry red chilli
3/4 tsp of tamarind paste or small piece of tamarind
3-4 minced shallots or 2 tbsp minced onions
A few curry leaves
INSTRUCTIONS:
1. Chop the eggplant into 1″ cubes and set aside in a bowl of water. Heat 1 tsp oil in a pan and add the mustard seeds.
2. When they pop, drain water and add the eggplant pieces. Saute until the pieces soften and turn light brown. Remove to a plate and set aside to cool.
2. In the same pan (because we don't like washing up, do we?), add one more tsp oil, slice and add the green chillies, dry red chilli, and 1/2 tsp urad dal. Saute until the dal turns golden brown.
3. Transfer the cooled eggplant, the roasted ingredients from above, tamarind, and some salt to a mixie and blend to a smooth paste.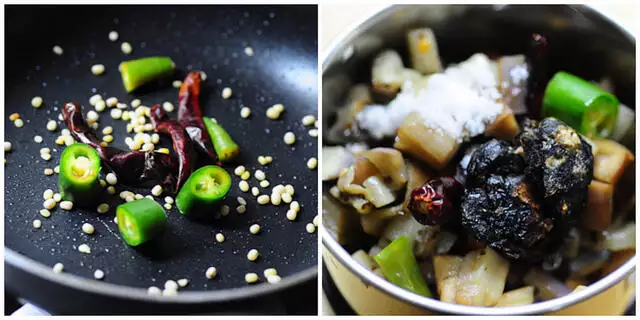 4. Heat the last tsp of oil in the same pan as before (this is clearly a one-pan chutney recipe) and add the sliced shallots/onions, hing, and 1/4 tsp urad dal.
5. When the dal turns golden brown, add the curry leaves and the blended chutney paste.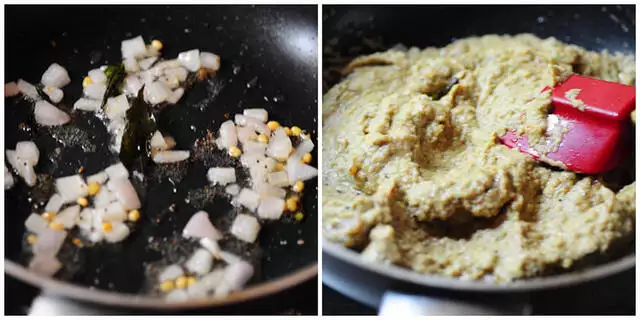 6. Mix well and add more salt if needed.
Serve warm with dosa, adai, pesarattu, rice, idli, even chapati.
Notes:
You can grill the eggplant in an open flame or in the oven instead of pan frying like I did. Gives the chutney a smokey flavour
You can add the mustard seeds while tempering (along with the onions, etc) instead of with the eggplant. I wanted to grind the mustard which is why I added it in the first time, this is entirely up to you
You can pan fry 1/2 cup sliced onions after the eggplant and grind along with the chutney. Will be super delicious too!