Before I go into the details of how I made this
egg biryani
, I must admit that I am stunned you guys. Stunned that I never thought of making egg biryani before a month back. I have no idea why since I love biryani (and make
vegetable biryani
at least thrice a month) and TH loves eggs and I just never thought of marrying the two (the eggs and the biryani, not the two of us). So yeah, it had to happen and it did, finally. Now there's a thing with me making biryani. I don't follow any particular recipe, preferring to throw in spices and ingredients as I go. I prefer layered or dum biryani rather than a pressure cooker biryani although the latter is way more quick and convenient.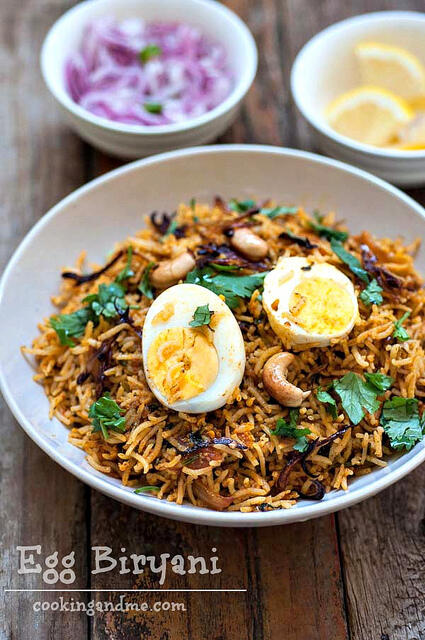 Anyway, let's talk Egg Biryani now. This one turned out super delicious but it took a tad more time that I normally like to stand in the kitchen for. I believe from start to finish, including chopping and everything, this biryani took about 1 hour 15 mins. I like to finish all my cooking within an hour so yeah, this went slightly over, but then the advantage of making a biryani for lunch is that you don't really need a side dish except a simple onion salad or cucumber raita and papad or chips.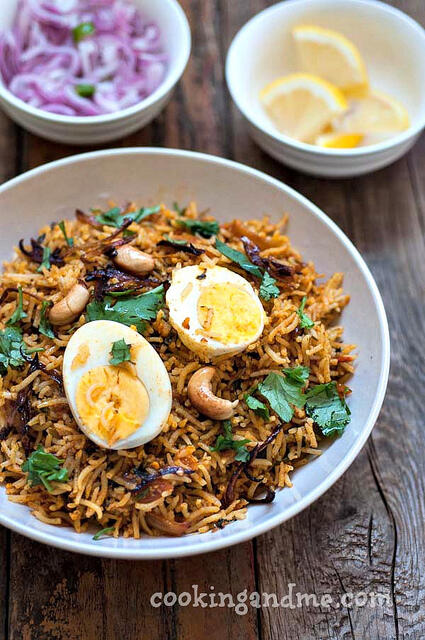 I took pretty detailed pictures and had to cut short a few to make the length of this post reasonable. It may seem like a lot more work than it actually is because this egg biryani has many pieces that finally come together into a single dish. Don't let that deter you. You can do a bunch of stuff simultaneously and I have written the order in which I cooked. Total time will depend on your speed on getting things done though.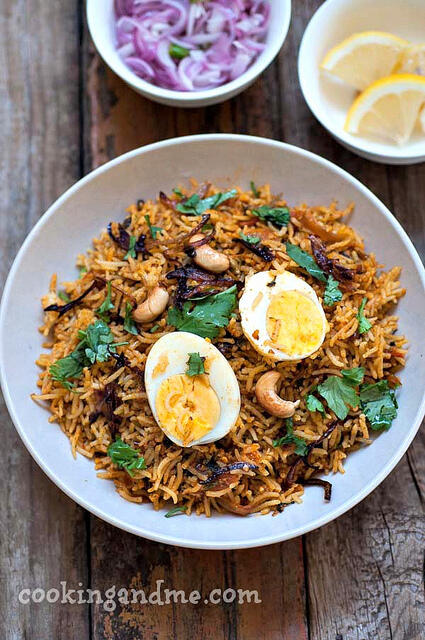 Alright then, it's a beautiful day to make some Egg Biryani so let's get cracking. Check out more Biryani Recipes on Edible Garden if you have some time to browse around. My favourites are gobi biryani, soya chunks biryani with sprouts, and Amma's layered chicken biryani. Don't forget to whip up a mirchi ka salan to go with your biryani – yum!
EGG BIRYANI RECIPE
Preparation time: 15 minutes
Cooking time: 1 hour
Serves 2
Recipe: my own
INGREDIENTS:
1 cup of basmati rice
2 tbsp + 2 tbsp of ghee
Half a fistful of whole spices like cinnamon, cloves, cardamom, star anise, and one bay leaf (use whatever you have in hand)
A small bunch of coriander leaves (cilantro)
A small bunch of mint leaves
2 green chillies
2-3 cloves of garlic
2″ piece of ginger
1.5 cups of large onions, sliced long
1/2 cup of cubed ripe tomato
1/2 tsp of red chilli powder (adjust to taste)
1/4 tsp of turmeric powder
1 tsp of jeera or cumin
1 tsp of fennel seeds or sombu (perumjeerakam)
1 tsp of coriander powder
2 cups of thick coconut milk (optional)
1-2 tsp of biryani masala or garam masala
1 tsp of ginger garlic paste (freshly made is best)
3 eggs
1/4 cup of cashew nuts and more coriander leaves and mint leaves, for garnish
INSTRUCTIONS:
This is the order in which I made the egg biryani. Adapt to suit your convenience and time in hand. Check notes at the end of the recipe below for some tips on preparation ahead of time if you are making egg biryani for guests.
0. Wash and leave the basmati to soak in some water before proceeding with the next steps.
1. Start with a medium-sized pan and heat 2 tbsp ghee. Add the cashew nuts and fry until golden. Drain and set aside.
2. To the same pan, add half of the sliced onions. Fry until golden, drain and set aside. We'll use these and the cashew nuts for garnish before serving.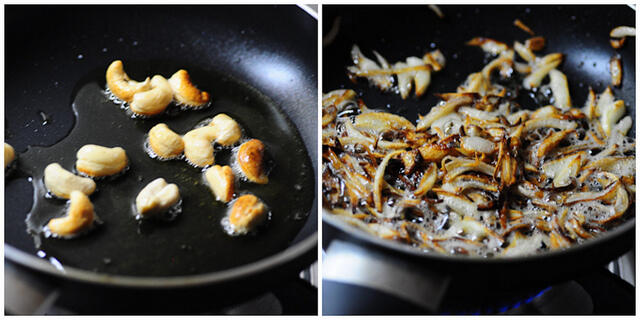 2. Grind together – coriander leaves + mint leaves + green chillies + ginger + garlic + salt.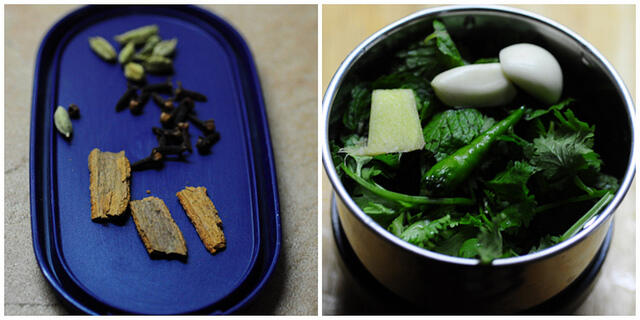 3. In the same pan with the ghee (add some more ghee if needed), add whatever whole spices you are using. I only had cinnamon, cloves, and cardamom.
4. Once the spices turn fragrant (about 15 seconds), add the ground paste and fry for another 30 seconds or so. Turn off flame.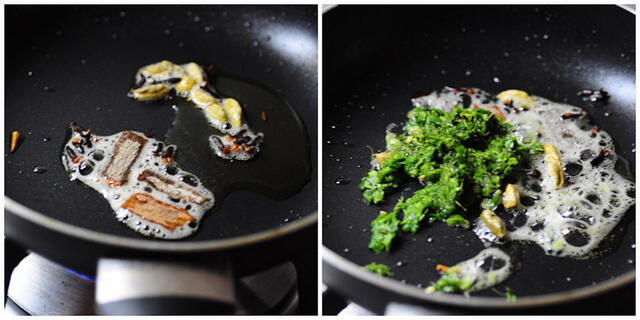 5. Add the soaked rice and this fried spice mixture along with 1.5 cups (adjust to your cooking method) to a rice cooker or pressure cooker. Leave it to cook while you proceed with the rest of the recipe.
PS: once the rice cooks, fluff it gently with a fork so it doesn't get more mushy.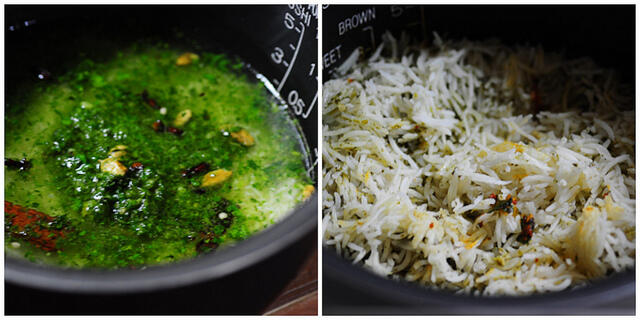 6. Next, let's boil the eggs. I got this fail-proof method from Martha Stewart to make perfect hard boiled eggs. Place the eggs in a pan large enough to hold them without overlapping. Add enough tap water to cover them fully by an inch. Bring to a rolling boil, let it boil for 1 minute, and then turn off the flame. Cover fully with a lid and let it sit for 15 mins. Take eggs out and peel under running water. There you go – perfect hard-boiled eggs.
Let the eggs cook while you start off with the masala part of the egg biryani.
7. Heat 2 tbsp ghee and add the remaining sliced onions. As they begin to brown, add the ginger garlic paste and saute for 10 seconds.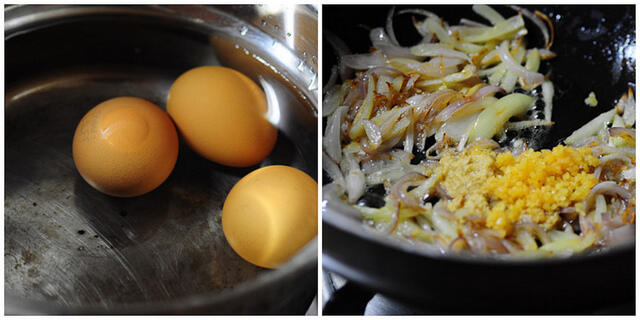 8. Next, add the spices and powders – coriander, turmeric, fennel seeds, cumin seeds, chilli powder. Saute until they are roasted, about 10 seconds. Top off with the chopped tomatoes and more coriander leaves and mint leaves (this is optional, I happened to have a lot of them fresh in hand so wanted to use it up.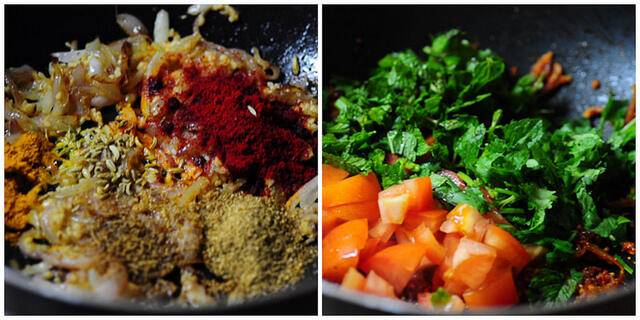 9. Saute until the tomatoes turn soft and mushy and the mixture is cooked. This will take about 5 mins or so.
10. Next, add the coconut milk. You can also use water instead of coconut milk, I just happen to love biryani made with coconut milk. If using coconut milk, add the 2 cups + 1/2 cup of water just to thin it out a bit.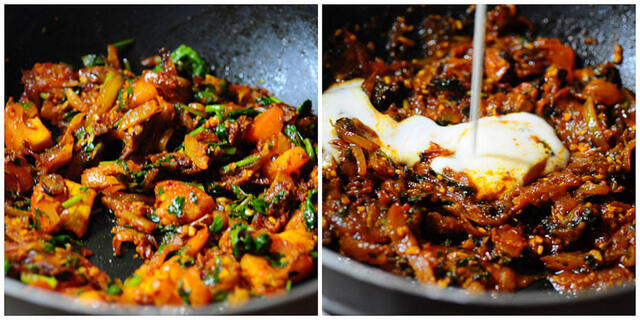 11. Let the mixture simmer on low flame for about 10 mins until the masala becomes thick-ish. Add salt and garam masala or biryani masala now, mix well, and turn off flame. The ghee will be visible on top of the masala. That's when you kinda know it's done.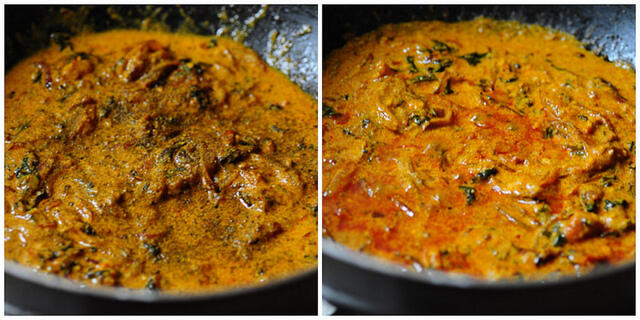 12. Almost done! Mix the cooked rice to the masala until nicely combined. If you want the marbled look, don't overmix, just lightly mix for an uneven look.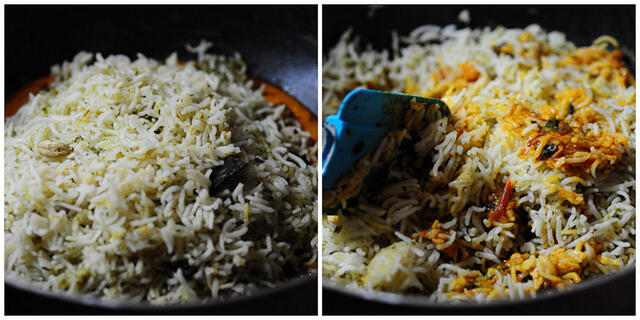 13. Add the sliced, boiled egg on top and cover with rice. Pat down tightly and cover. Let the biryani sit for atleast one hour for the flavours to blend.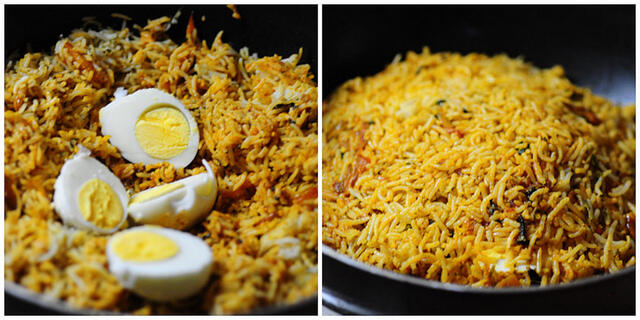 Garnished with the fried onions, cashew nuts, and more coriander leaves before serving.
Notes:
You can do some of the preparation ahead for making egg biryani, especially for a party or guests
Boil the eggs in advance and leave in the fridge unpeeled. Peel and slice before you need to use them.
There aren't many vegetables to chop but slice onions and keep them ready.
You can also pre-cook the rice and refrigerate it. Heat it along with the masala and it should work fine. This will also allow the rice to stay as separate grains.
Serve egg biryani with a simple raita and papad or chips
For Egg Biryani recipe in Hindi, Tamil, Telugu, Urdu, please use the Google Translate button on the top right of this website.