Szechuan Eggplant or sichuan eggplant refers to eggplant cooked the Chinese (specifically Szechuan province) way in a delicious Szechuan sauce. This Szechuan Eggplant recipe makes a very quick side dish for vegetable fried rice or noodles.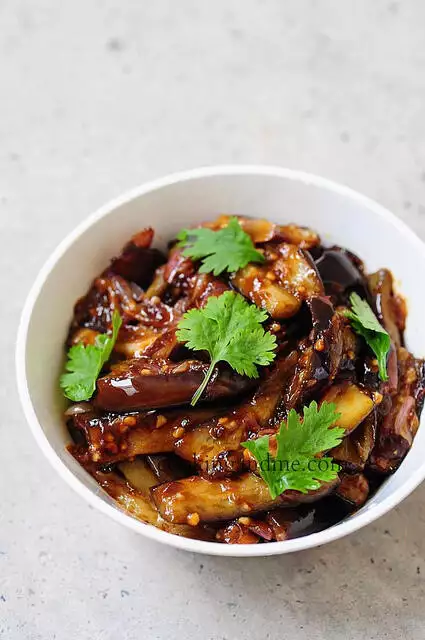 Making a side dish for Vegetable Fried Rice (or noodles) usually leaves me in a cloud of flour dust, crankiness due to the heat of the oil I need to deep fry stuff in (you know, for gobi manchurian and such) and the humidity in Singapore doesn't help matters much.
While I would definitely agree that a finished Gobi Manchurian or Chilli Paneer is a thing of beauty and deliciousness, it's not something I would make often simply because of the number of steps and the chances of messing up the kitchen and my hair.
This Szechuan Eggplant Recipe is a boon on such days. It's so very easy to put together and tastes great and takes all of 20 mins to cook up. If you are not a fan of eggplant, may I take a few mins and try to convert you? No? Ok then, try Mushroom Szechuan or Tofu Szechuan or oh, a Paneer Szechuan.
Table of Contents
What is Szechuan Cuisine?
It originates from the Sichuan province of China and is characterised by the bold flavours and pungency from garlic, pepper, and specifically, Sichuan peppercorn. If you haven't tried Sichuan peppers, it's quite a treat and very different from regular black pepper.
They look similar and are red in colour, and have a numbing spiciness to them which hit your tongue quite differently. If you do intend to use it in this recipe, do so sparingly. I omit Sichuan peppers when making Szechuan eggplant at home because we prefer the Indian-Chinese variation of Sichuan cuisine.
The Indian-Chinese take on Szechuan cuisine has a liberal use of garlic as well, and pepper too. They are usually sauce-based and quite delicious!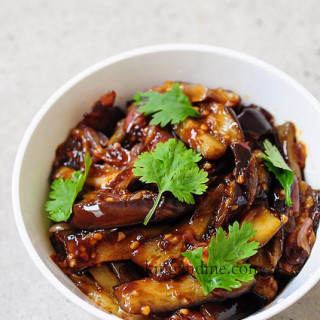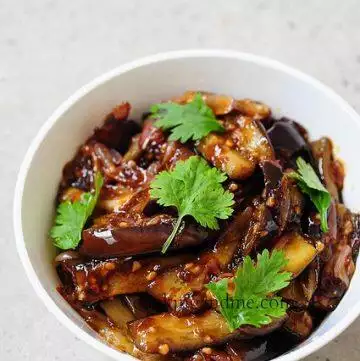 Szechuan Eggplant Recipe
This is a very easy Szechuan eggplant recipe inspired by the cuisine of the Chinese province of Szechuan. The eggplant is cooked in a delicious sauce and makes for a great side dish to fried rice or noodles.
Ingredients
3

cups

eggplant cut into 1" wide wedges or cubes

use the large, purple variety

5-6

shallots or pearl onions

1

teaspoon

minced garlic

add more if you can tolerate it

1

teaspoon

red red chilli sauce

Sriracha, Maggi, or even chilli flakes will work

2

tablespoons

of soya sauce

1

teaspoon

white vinegar

1

teaspoon

cornflour or corn starch

1/2

teaspoon

brown sugar

or jaggery

A

fistful

coriander leaves / cilantro

1/2

teaspoon

black pepper powder

adjust to taste

2

tablespoons

of sesame oil

Indian gingelly oil or peanut oil

1

cup

water
Instructions
Heat the oil in a wide pan and when it starts to smoke, add the eggplant in 2 batches, frying until sticky and brown.

Add salt and pepper to this, drain, and set aside

In the same pan, more oil if required and fry the shallots until soft

To this, add the red chilli sauce (or flakes) and minced garlic. Saute for a few seconds

Meanwhile, mix the soya sauce, vinegar, corn starch, sugar, and some salt in a bowl to make the Szechuan sauce

Add this to the shallot mixture and cook on medium-high heat until it starts to bubble

Tip in the fried eggplant and mix well until the sauce coats the eggplant

Garnish with chopped coriander leaves and serve hot with fried rice or noodles. Goes great even with plain steamed rice
Notes
You can coat the eggplant in some plain flour or rice flour before frying, for a more crisp coating around it
You can also deep fry the eggplant instead of pan-frying
Don't skimp on the pepper. To make an even more authentic version, use szechuan pepper powder
Adjust the heat to your preference, I generally don't make it too spicy
If you don't have coriander leaves in hand, you can also use spring onions to garnish, or even toasted sesame seeds
You can use spring onions or regular purple onions (scallions, green onions) instead of the shallots too, for a different flavour
Use the Asian eggplant for best results. They are long and purple. If not available where you live, use the regular fat eggplant or smaller purple Indian brinjal
Step by Step Pictures for Szechuan Eggplant
1. Heat oil and fry the eggplant in 2-3 batches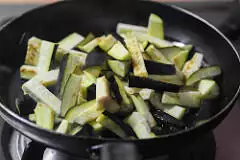 … until soft, browned, and sticky. Add salt and pepper, drain and set aside.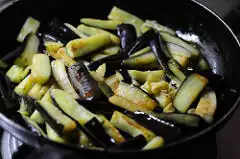 2. In same pan, add more oil if needed, and fry the shallots.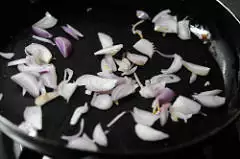 3. Add chilli sauce and minced garlic and saute some more.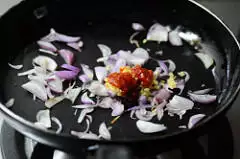 4. Meanwhile, make the Schezwan Sauce by mixing the corn starch, soya sauce, vinegar, brown sugar, and some salt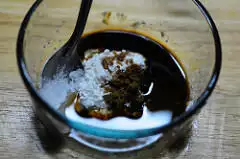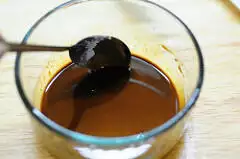 5. Add water to the shallot mixture and top off with the Schezwan Sauce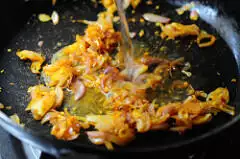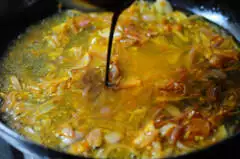 6. When it boils and starts bubbling, add the eggplant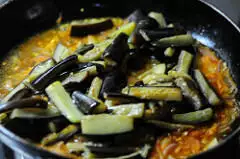 7. Mix well and cook through until sauce coats the eggplant fully.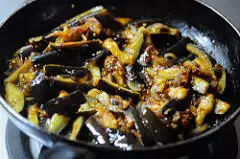 Tips and Recipe Notes
You can coat the eggplant in some plain flour or rice flour before frying, for a more crisp coating around it
You can also deep fry the eggplant instead of pan-frying
Don't skimp on the pepper. To make an even more authentic version, use szechuan pepper powder
Adjust the heat to your preference, I generally don't make it too spicy
If you don't have coriander leaves in hand, you can also use spring onions to garnish, or even toasted sesame seeds
You can use spring onions or regular purple onions (scallions, green onions) instead of the shallots too, for a different flavour
Use the Asian eggplant for best results. They are long and purple. If not available where you live, use the regular fat eggplant or smaller purple Indian brinjal
Add lots more garlic to the recipe for a distinct, Sichuan kick. Add as much as you can tolerate
Try adding 2-3 crushed Sichuan peppercorn to the recipe for a very distinct and interesting flavour
Related Recipes