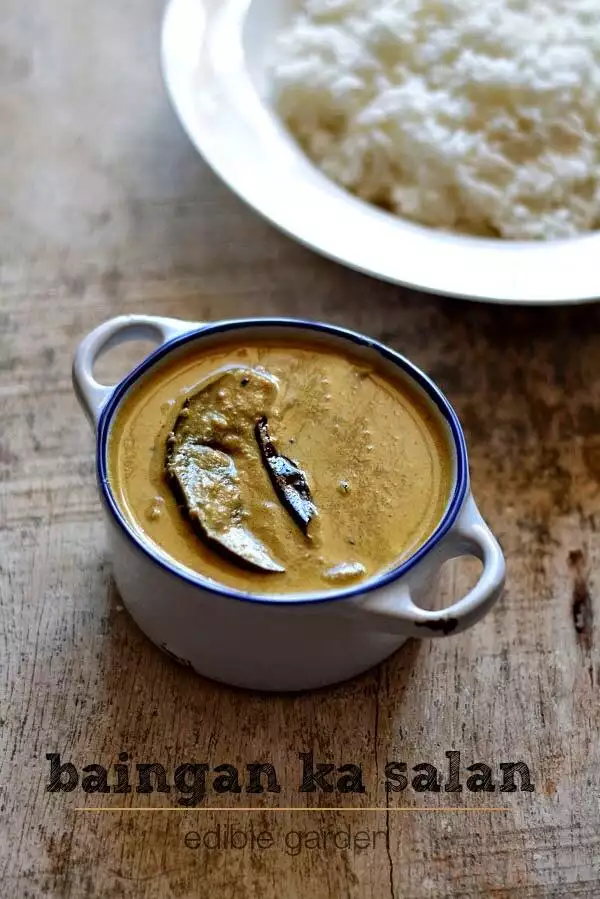 Baingan ka Salan is my spin on the popular mirchi ka salan recipe that's a mandatory accompaniment to Hyderabadi biryani. Since I love baingan recipes and bagara baingan is one of my favourites, I thought I should try a baingan ka salan which has the same base recipe as the bagara baingan. Added bonus, the baingan is from my balcony garden!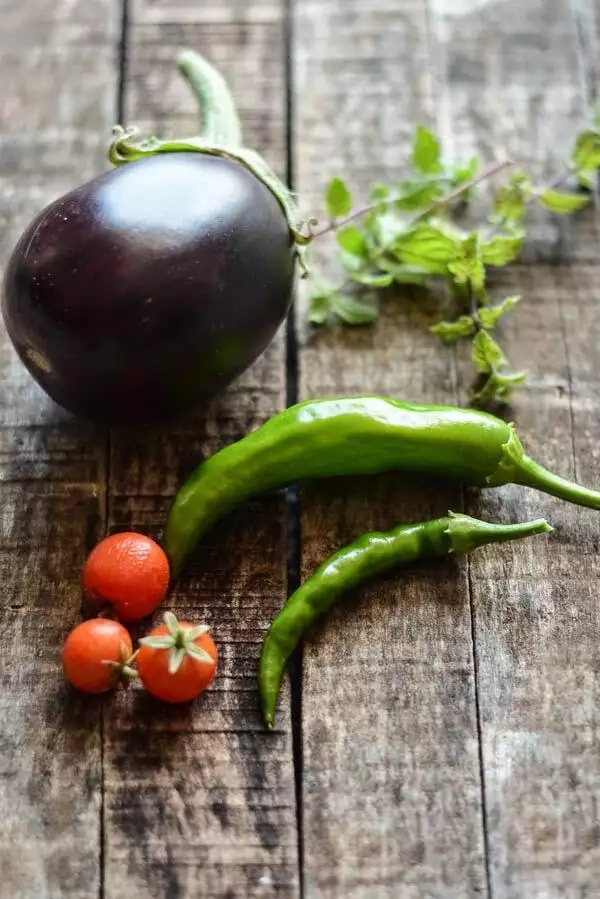 Since I have already talked quite passionately about mirchi ka salan, why and how I came to love it, etc, I should probably talk about that balcony garden now, eh? So, I've been taking pictures on a monthly basis to share with you guys on how it's been progressing (quite well), what I've been growing (mostly herbs, cherry tomatoes, and eggplant/baingan), and what a lovely feeling it is to grow your own food. I have always wanted to have a balcony garden and that's one of the first things I set up on moving to Sydney. While my excessive work travel this year has killed a couple of rounds of mint plants, more than 80% of what I grew, we consumed. Win, right?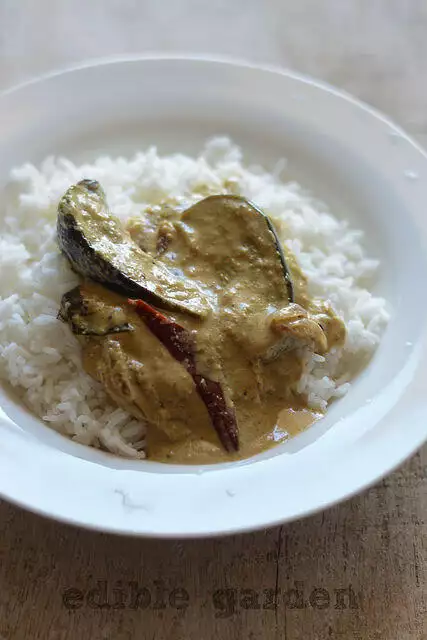 So yes, the first baingan from my plant was super special to me and I wanted to make something that'll enable it to shine. It is organic and not as large as the ones you buy. I also noticed it had way more seeds than store-bought ones and the skin wasn't as waxy and squeaky when you cut into it.
I have already posted step by step recipe for mirchi ka salan so please refer if you'd like to see the steps.
If you love baingan recipes as much as I do, check out my favourite Hyderabad bagara baingan recipe, brinjal chutney for dosa, Szechuan eggplant that's so easy to make and goes great with fried rice, and an old favourite – vangi bath recipe.
BAINGAN KA SALAN RECIPE
Preparation time: 10 minutes
Cooking time: 30 minutes
Makes ~ 2.5 cups
INGREDIENTS:
1 baingan or eggplant, cut into long wedges
2-3 dry red chillies (adjust to taste)
2 tbsp of gingelly oil (Indian sesame oil)
2 tbsp of white sesame seeds
3 tbsp of raw peanuts
2 tbsp of grated coconut (or use desiccated), optional
1/2 tsp of minced garlic
1/2 tsp of grated ginger
1 heaping tsp of coriander powder
1/2 tsp of jeera (cumin) powder
1/2 tsp of red chilli powder (adjust to taste)
1/2 tsp of black mustard seeds
1/4 tsp of fenugreek seeds (methi)
1/2 cup of sliced onions
A few curry leaves
A pinch of turmeric powder
1 tsp of tamarind extract
3/4 tsp of powdered jaggery or dark brown sugar
INSTRUCTIONS:
1. Wash and pat dry the baingan before cutting into wedges. Heat 1 tbsp oil in a wide pan and lightly fry the baingan pieces until they are charred and start to look softer. Drain and set aside on paper towels.
2. Meanwhile, In a dry skillet, roast the coconut until golden brown (if using coconut). Desiccated coconut will brown much faster so keep an eye on it as you fry.
3. In the same pan used for the baingan, add the peanuts and sesame seeds and roast until a shade darker, keeping flame very low. Once they are done, add the roasted coconut and mix well (if using). Switch off flame and remove to a plate to cool.
4. In the same pan, add the remaining 1 tbsp oil and the mustard seeds + fenugreek seeds. When the mustards pop, add the sliced onions and red chillies torn into pieces. Fry until onions turn golden brown.
5. Next, add the curry leaves, ginger, garlic, and turmeric. Sautè for 30 seconds until fragrant.
6. Then throw in the red chilli powder, coriander pwoder, jeera powder, and some salt. Roast for 10 seconds and add 2.5 cups of water. Bring to a slow boil.
7. Meanwhile, grind the roasted coconut + sesame + peanut mixture with some water to a smooth paste. Add it to the simmering curry and mix well. Continue to cook on a low flame.
8. When the mixture is a bit thicker and simmering, add the jaggery and the tamarind extract dissolved in 1/2 cup water.
9. Mix well and add the baingan pieces. Cook covered on a low flame for 5-7 mins until the baingan is very soft and cooked through. Add more salt if required.
10. If you find that the mixture is too watery, you can simmer longer, and if it's too thick, add more water or tamarind water as required.
Baingan ka salan goes fabulously well with my rice cooker vegetable biryani recipe but it also goes as a great curry with plain rice. Since the base of baingan ka salan has so many lovely ingredients, the complex flavour complements plain rice really well. And of course, rotis or even dosas are fair game too, so try any combinations you can conjure up. Let's break some rules, people!