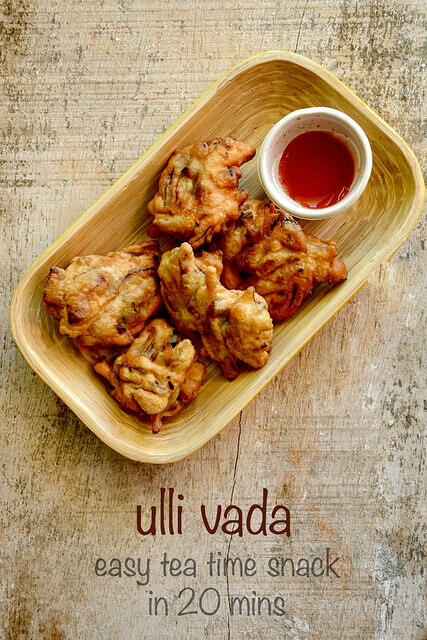 Ulli vada (vada made with onions in Kerala) are a popular tea time snack sold in small tea shops dotted along the typical Kerala roads. During my college days, a new trend of sorts sprang up all over the residential parts of Kottayam – small carts selling freshly fried snacks like ulli vada, parippu vada, uzhunnu vada, onion bajji, pazham pori, the works. The smell of these goodies getting fried up was a constant companion to my college exam days. Amma was hesitant to buy them too often so roughly 2-3 times a month when they were brought home wrapped in newspaper with a runny chutney, it was quite a treat.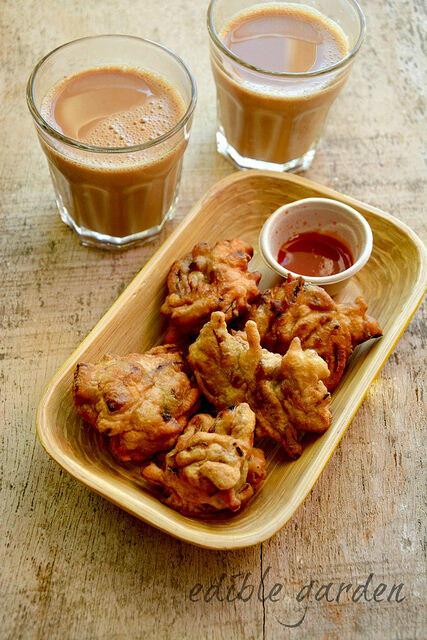 I don't know about you but I was always hungry during my teen years, especially when studying for an upcoming exam. I hated being cooped up in a room frantically trying to cram a year's worth of info into my brains in 2-3 days but there was little option. What made things a lot bearable were the hot tea and crispy fried ulli vada. I am not sure if that's a good thing or not but whenever I make a batch of these vadas, I am reminded of the intensity of exam days at an age when you think this is the biggest challenge you need to cross.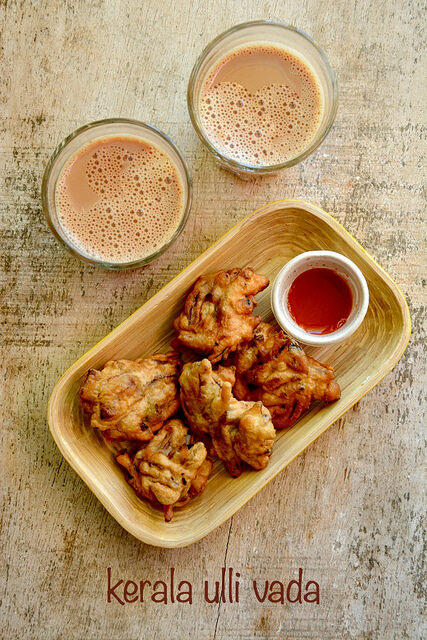 Now, a note about ulli vada. Much like any other snack, each household has its own version of ulli vada which also depends on which part of Kerala you are from. I have tasted a whole range of variations starting from 90% onions with barely any batter holding them up fried to a deep golden right to a very doughy and soft variation that has onions only to add a bite. My recipe is somewhere in the middle. I like my ulli vada fried just right and with the right amount of crispness to it. They are crunchy when hot and cool down to a very palatable softer version of a vada, perfect whichever way you prefer them. I insist that you brew some chai to accompany the vada.
Love easy Indian snack recipes? Then do check out:
Methi pakoda
Ethakka appam
Kerala banana chips
Aloo bonda
Unniyappam
ULLI VADA KERALA-STYLE RECIPE
Preparation time: 15 minutes
Cooking time: 15 minutes
Serves 2-3
INGREDIENTS:
2 cups of purple onions, sliced thin
3/4 cup of plain flour (maida)
2 of green chillies, minced
A few of curry leaves, torn into small pieces
1/2 tsp of grated ginger
A pinch of soda powder
Salt to taste
Oil for deep frying
INSTRUCTIONS:
Mix the flour, salt, and soda in a bowl well
Add the curry leaves, ginger, and green chillies to this. Mix again until all ingredients are well incorporated.
Add the sliced onions and mix
Add enough water to make a thick batter that you can shape roughly between palms. Take care not to add too much water at this stage
Heat oil for frying and when it starts to smoke, add spoonfuls of batter into it
Fry turning occasionally until the vadas turn golden brown
Keep heat to medium low so the insides are cooked as well. You can brown the vadas as much as you prefer.
Serve with thick coconut chutney or chilli sauce and tea
Step by step pictures for making ulli vada:
In a wide bowl, mix flour, salt and cooking soda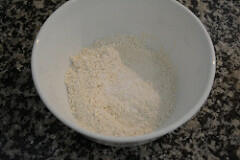 Add the minced green chillies, curry leaves, and grated ginger to this and mix again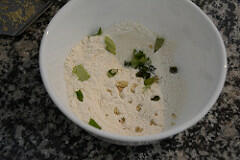 Thrown in the sliced onions and mix thoroughly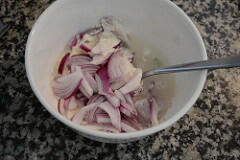 Add enough water to make a thick paste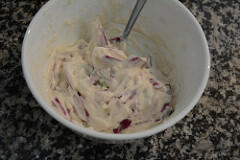 Heat oil to smoking point then lower the heat to medium-low. Drop spoonfuls of batter into the oil.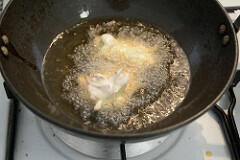 Turn occasionally and fry until golden brown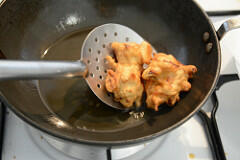 Drain and set aside on kitchen towels while you fry the next back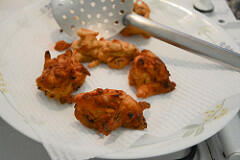 Piping hot ulli vada ready! Serve with coconut chutney, chilli sauce, or tomato sauce. A nice cup of hot milk tea is a great accompaniment too.
Notes:
– You can add 2 tsp of besan or rava to the batter to make it more crisp. I prefer my ulli vada not super crisp so this recipe works fine for me
– You can deseed the green chillies but add 2 for enough flavour. I usually deseed one so that we don't bite into an unpleasantly hot portion of vada
– Some people add finely chopped garlic, I personally omit this but feel free to experiment if you'd like