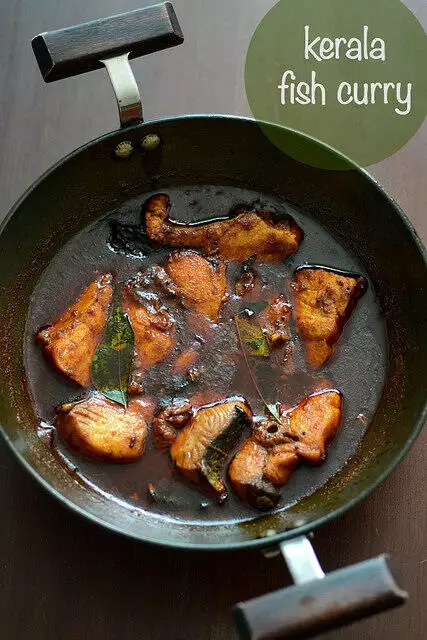 Learn how to make Kerala-style, particularly Kottayam-style, red fish curry (also known as meen vevichathu, meen mulakittathu, meen mulakarachathu) using kudampuli and without coconut. This fish curry is arguably the most popular fish recipe in Kerala, often served with tapioca as kappayum meenum and with rice and curries too.
Growing up, this fiery and spicy red fish curry was my least favourite. I preferred fried fish or the fish curry with coconut that taste so good with rice. Now that I have grown up and become more sensible, not to mention increasingly homesick, I often crave this simple fish curry that gets almost all its flavour from the unique souring ingredient – kudam puli – which literally translates to pot tamarind due to its round shape.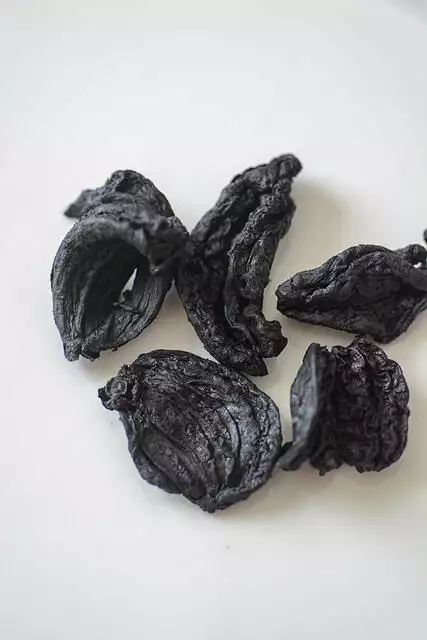 Kudam Puli dried and ready to be cooked
The preparation of kudam puli for cooking if fairly extensive starting from plucking, sun drying, and smoking it to get that unique dark colour and flavour. Although kudampuli is called kokum or cocum in English, that's not correct. Kokum is a fruit in the mangosteen family and used in drinks and khadi primarily along the Konkan coast in India.
Kudampuli is called Malabar tamarind and brindleberry according to Wikipedia but I have never heard it being referred to in English. I get mine from Kottayam when I go home and I'd recommend you source yours from a Kerala store or from Kerala itself since it's an essential ingredient in making this fish curry. The deep red Kashmiri chilli powder is another important ingredient to give the curry its colour without adding too much heat. If you have all the ingredients in hand, this fish curry comes together in less than 30 minutes.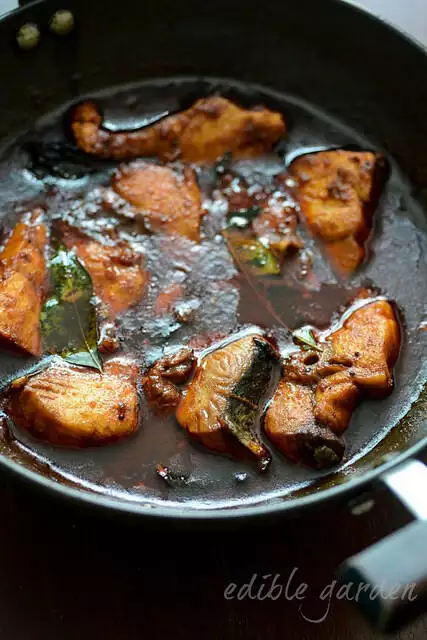 Now coming to the fish. The recipe is very versatile and you can use pretty much any fish you'd like. I used King Fish or neimeen because I get to buy those in fillets and it's very easy to cut it into smaller pieces at home as required. You can use smaller fish as well to make this curry. I often liken this recipe to that of rasam. Very simple ingredients and watery gravy but the proportions are important and getting it right or perfect can take some practice.
More fish recipes you may enjoy:
Chilli fish recipe
Meen peera (semi-dry Kerala recipe with coconut)
Nethili fry
Fish moilee
Kerala fish curry with coconut
KERALA RED FISH CURRY RECIPE
Preparation time: 10 minutes
Cooking time: 20 minutes
Serves 4
Recipe source: Amma
INGREDIENTS:
200 grams of any firm fleshed fish (I used King fish)
8 shallots or ulli
2-3 cloves of garlic
1″ piece of ginger
5 tbsp of coconut oil
1/2 tsp of black mustard seeds
A few fenugreek seeds or uluva
2 tsp of Kashmiri chilli powder (adjust to taste)
1/4 tsp of turmeric powder
1-2 tsp of coriander powder
12 curry leaves
1-2 kudam puli
INSTRUCTIONS:
Wash thoroughly and soak the kudam puli in 1 cup warm water for 15 mins or so
Crush the garlic, shallots, and ginger in a pestle and mortar or grind coarsely in a small grinder
Clean and cut the fish into smaller pieces, per your preference. Don't leave them too big though, slightly larger than bite-sized is perfect
Heat the oil in a pan. In Kerala, this fish curry is invariably made in clay pots including in my home but I don't own one since I rarely cook fish
Add the mustard seeds
When they pop, lower heat add the fenugreek seeds
When the fenugreek turns a darker brown, add the crushed garlic shallot ginger mixture
Fry well until it turns a golden brown
Then add the turmeric, chilli, and coriander powders (see notes)
Fry again until the mixture turns a dark reddish brown and the coriander is well roasted and fragrant
Now add the curry leaves and kudam puli along with the water it was soaking in. Bring to boil
Then gently add the fish pieces and bring to boil again
Now cook closed on low flame until the fish pieces are cooked through. This should take around 8-10 mins
Once done, add salt and remove from the stove
Serve with steamed rice, thoran, and chips or with boiled tapioca (kappa puzhukku).
Step by step pictures for making Kerala red fish curry
Wash thoroughly and soak the kudampuli in 1 cup warm water for 15 mins or so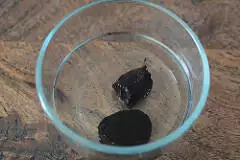 Place the shallots, ginger, and garlic in a pestle and mortar or small grinder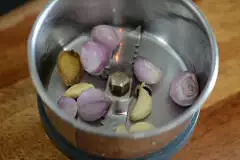 Grind coarsely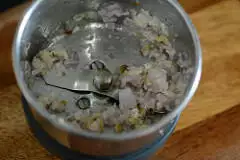 Clean and cut the fish into equal-sized pieces that are slightly larger than bite-sized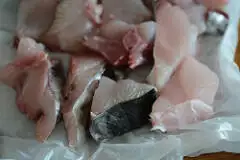 Heat oil in a pan and add the mustard seeds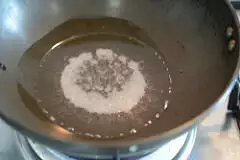 When they pop, add the fenugreek seeds (called uluva in Malayalam). This gives a very faint bitter flavour to the fish curry. Turn the heat to very low so that the seeds don't burn.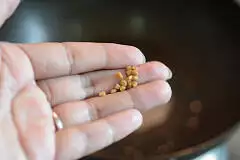 When the fenugreek seeds turn a darker brown, add the ground shallots ginger garlic mixture.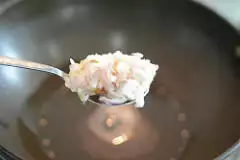 Fry until golden brown. Note the amount of oil in the pan. This is the right amount and if you find yourself using less, please fix that immediately. This fish curry needs a generous amount of oil especially if you plan to keep it for longer than 2 days.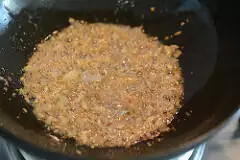 Add chilli, turmeric, and coriander powders next.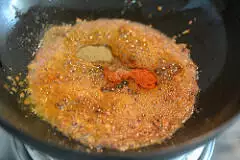 Fry well on medium heat stirring continuously. The mixture should turn a dark reddish brown like below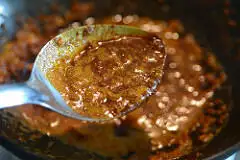 Add curry leaves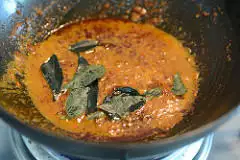 And the kudam puli along with the water used to soak it in. Top up some more if you feel there isn't enough to cook the fish well. Also depends on how much curry (gravy) you desire. Bring this mixture to a boil.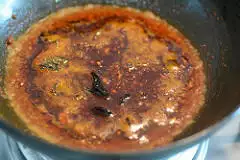 Then add the cleaned and cut fish pieces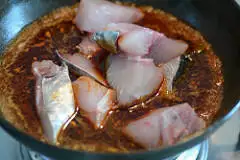 Give everything a good mix and bring to boil again.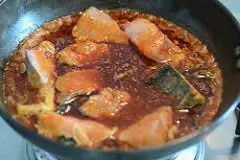 Cook covered until the fish pieces are cooked yet soft. Should take about 8-10 minutes on medium-low heat.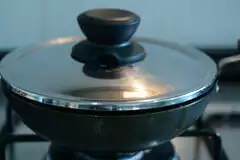 All done! Add salt as needed and also more curry leaves for some extra flavour. Remove from flame. It's best to let this curry sit for a 1-2 hours before serving so the flavours get some time to mingle.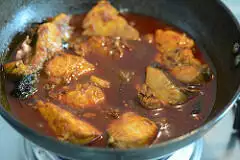 Notes:
– It's important to use lesser amounts if you are using regular chilli powder. Kashmiri chilli powder is deeper red and has less heat which makes it ideal for making this fish curry
– You can add slit green chillies along with the shallots mixture when frying it. Adjust chilli powder accordingly
– The souring agent is our kudam puli and the sourness greatly varies so start with one piece and then add one more if you feel like you need it. If you start with too much, it's much harder to bring down the sourness
– You can increase the amount of coriander powder to make the gravy a bit thicker. In general, the gravy in this red fish curry will be watery
– Make sure the spices get roasted well, this along with the kudam puli is what gives this fish curry flavour and texture
– This fish curry keeps well for 2-3 days in room temperature provided you boil it once a day before serving. In fact, the longer it keeps, the better the fish pieces soak up the spices and turn tastier.
– None of the ingredients listed in the list above are optional and I wouldn't recommend any substitutes if you want the authentic taste.
– Also, please don't add tomatoes and if you insist on doing so, don't tell me. Deal?
I hope you make and enjoy this Kerala-style red fish curry recipe as much as we do 🙂