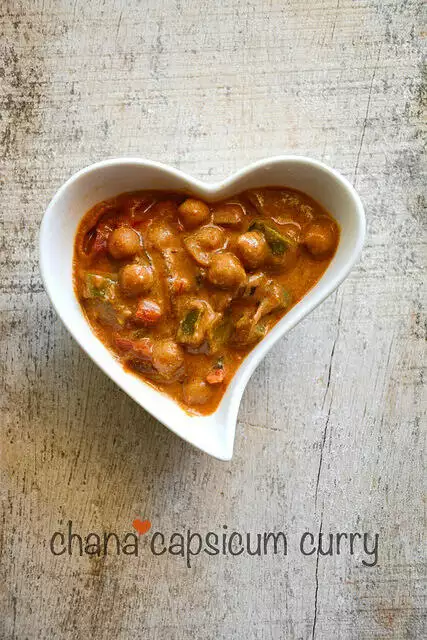 Chana and capsicum (chickpeas and bell pepper) meet in this delicious cashew-based curry that's mild yet flavourful. I love adding capsicum to curries and Kerala sambar. Its unique flavour lends itself really well to the spices we typically add to Indian curries, in my opinion. I made this capsicum chana curry as a side for my famous vegetable pulao when living in Sydney. I used to buy organic canned chickpeas there which were much smaller than the regular variety – almost the size of green peas – and so very flavourful. Hummus made with these chickpeas were delicious too. Anyway, I digress. Let's talk a creamy cashew-based curry with chickpeas and capsicum and stick to that, shall we?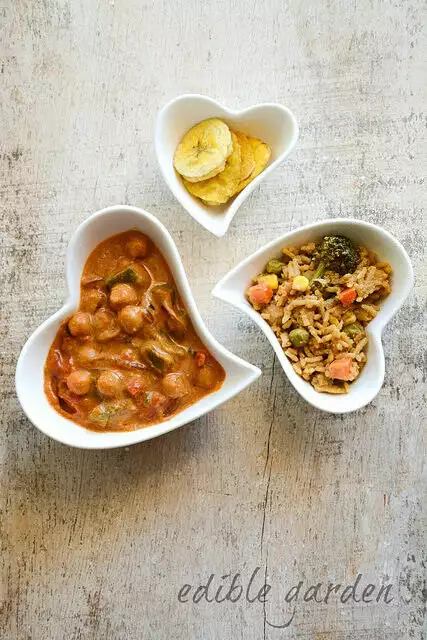 TH and I like a thicker gravy for our curries and I use the usual suspects to get that consistency – cream, cashew-paste, coconut milk, or sometimes thickening agents like cornflour, rice flour, etc. I've stopped adding cream to my homemade curries now, except in this delicious paneer batter masala recipe, because then it tastes like what Indian restaurants serve you. Cashew nuts, on the other hand, don't overpower your dishes and lend a lovely creaminess and thickness which allows you to add water to bring the dish to the consistency you prefer.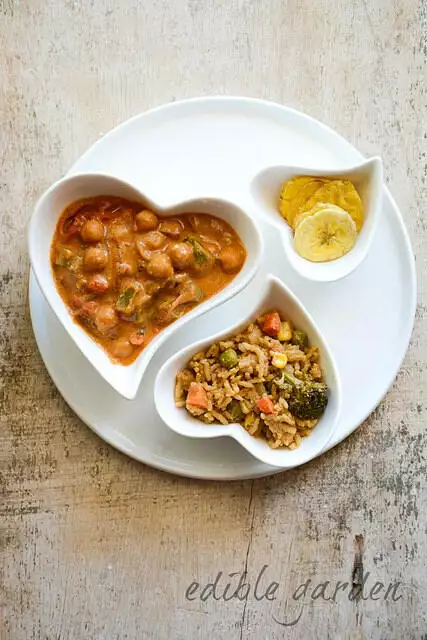 I also love serving my vegetable pulao with some protein like dal or chana dishes to kick up the overall nutrition value. It really doesn't take that much extra time and the overall meal feels quite indulgent without you having to slave over it in the kitchen for too long.
One of my favourite capsicum recipes: Capsicum Zunka Recipe
More chana recipes? Sure!
Chana masala
Chana pitlai
Punjabi chole masala
Kerala kadala curry
CHANA CAPSICUM CURRY RECIPE
Preparation time: 15 minutes
Cooking time: 20 minutes
Serves 4
INGREDIENTS:
1.5 cups of canned chana or chickpeas, drained and rinsed
3/4 cup of cubed capsicum
1/2 cup of sliced onions
1/2 tsp of minced garlic
1 tsp of coriander powder
1/2 tsp of cumin powder
1/4 tsp of turmeric powder
1 cup of tomato puree
12 of whole, raw cashew nuts
1/2 tsp of chilli powder
A large pinch of kasuri methi (dried fenugreek leaves), optional
2 tbsp of oil
Salt to taste
INSTRUCTIONS:
Soak cashew nuts in warm water for 15 minutes
Heat oil in a pan
Add sliced onions and cook until golden brown
Add minced garlic and saute for 1 minute
When garlic turns fragrant, add the cubed capsicum pieces (I used green and red)
Saute for 2-3 minutes and then add the masala powders – cumin, coriander, turmeric, and chilli
Fry for a minute until the masala is fragrant, taking care not to burn it
Now add the tomato puree and drained chickpeas. Top up with a cup of water
Let this mixture come to boil and simmer for 5 minutes until the flavours mingle
Meanwhile, grind the cashew nuts to a smooth paste with enough water
Add this paste to the cooking curry along with salt
Lower flame and simmer for 2 minutes
Add kasuri methi in the end (if using) or garnish with some chopped coriander leaves
Remove from flame
Serve hot with rotis or any pulao
Step by step pictures to make chana capsicum curry:
Soak cashew nuts in warm water for 15 mins. Grind to a smooth paste with water and set aside.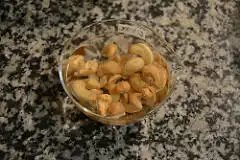 Heat oil in a pan and fry sliced onions until golden brown. Add minced garlic and saute again for a minute.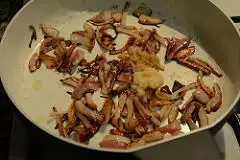 Add cubed capsicum. You can use any colours, I went with red and green this time. Saute for 2 mins or so.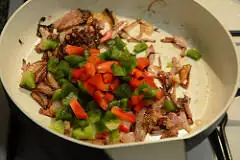 Add the masala powders next – turmeric, chilli, coriander, cumin. Roast for a minute or so.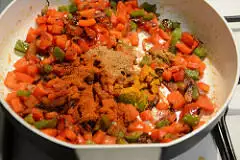 Now add the pureed tomato and chickpeas. Top up with about 1 cup water and bring to boil.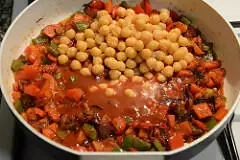 Simmer for 5 mins or so on a low flame.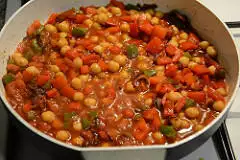 Add the cashew paste and mix well.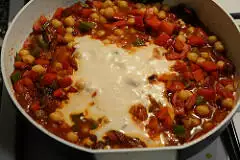 You can add more water at this stage if the gravy is too thick. Bring to a boil and add kasuri methi (if using) or some grated coriander leaves. Don't boil the curry too long after adding the cashew paste, just bring to a slow simmer.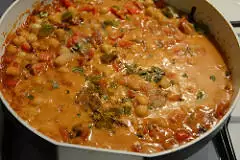 Mix well and you are all done. Taste and adjust salt levels if required.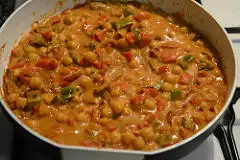 Creamy and delicious chana capsicum curry is now ready. Go ahead, dig in!
Notes:
– if using dried chickpeas (and not canned), soak 1 cup overnight and then simmer in boiling water until tender or pressure cook for 3-4 whistles (20 minutes)
– use any capsicum colour of your choice or mix up two colours as I did
– you can use 2 tbsp cream instead of cashew paste to thicken the gravy
– you can use 1 cup thick coconut milk instead of cashew paste as well, adds a different flavour and dimension to the chickpeas capsicum curry
– you can add ginger garlic paste instead of just garlic
For chana capsicum curry in Hindi, Tamil, Telugu, Marathi, Urdu, etc, please use the Google Translate button in the sidebar.