Thakkali Chutney
(Tomato Onion Chutney) is one dish that has many many memories associated with it. My grandma used to make it quite often since me and my brother loves it. We eat this Thakkali Chutney with pretty much everything – dosa, idli, pongal, chapathi, even puttu! If made right and refrigerated, the chutney has a very long shelf life and a very unique taste that's hard to beat.
If you like chutney recipes, do check out this onion tomato chutney (much quicker version), red capsicum chutney, or even this tomato thokku that has a more chunky consistency.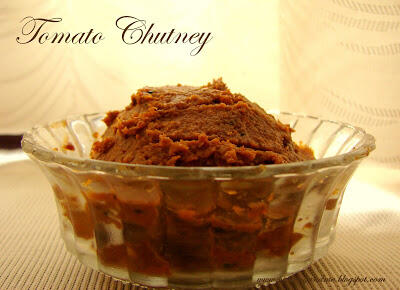 My sis took the recipe from amma last summer and I took the picture. This Thakkali Chutney is really a family favourite and a keeper of a recipe which I keep referring to again and again when I need a chutney recipe with little or no coconut and has a longer shelf-life than regular chutneys.

THAKKALI CHUTNEY RECIPE
Makes ~ 1 cup

Ingredients:
Ripe red tomatoes, slightly sour – 500gm, diced
Big onions-3, chopped
Garlic – 2 cloves
Coriander seeds – 1 tbsp
Grated coconut – 1 tbsp (optional)
Red chillies – about 6, depending on taste
Mustard seed – 1/8 tsp
Hing/Asafoetida/Kaayam -1/4 tsp
Curry leaves – a few
Oil (preferably gingelly/sesame) – 3 tbsp + 2 tsp + 2 tsp
Salt – to taste
How to Make Thakkali Chutney
1. There are four ingredients that need to be fried separately and kept aside. So follow this order.
– In a broad frying pan and 2 tsp oil and the coriander seeds. Fry for 30 seconds and remove.
– Red chillies – roast for a minute – remove.
– Coconut – roast for a minute – remove.
– Now add another 2 tsp oil and fry the onions till golden brown and soft. Remove.
– Finally add the tomatoes and saute them for about 10 minutes on a medium fire, until they are half cooked.
2. Transfer all the roasted ingredients in a blender and add the garlic raw. Blend till smooth, adding not more than half a cup water. The mixture should be thick than watery.
3. Add the 3tbsp oil into the same pan, temper mustard seeds and add curry leaves and hing. Transfer the blended mixture into the pan, add salt and stir occasionally until the oil separates and you left with a thick, red chutney that smells mouthwatering.
This tomato-onion-garlic chutney has a good shelf life and goes well with rice, dosa, idly etc. I have posted a similar yet simpler tomato chutney before. You can try that in case you are hard-pressed for time.