This 5 minute cashew basil pesto tops the regular basil pesto with pine nuts in our home. It's made using a very similar method but makes a heartier and thicker pesto which we primarily use in pastas or as a salad dressing.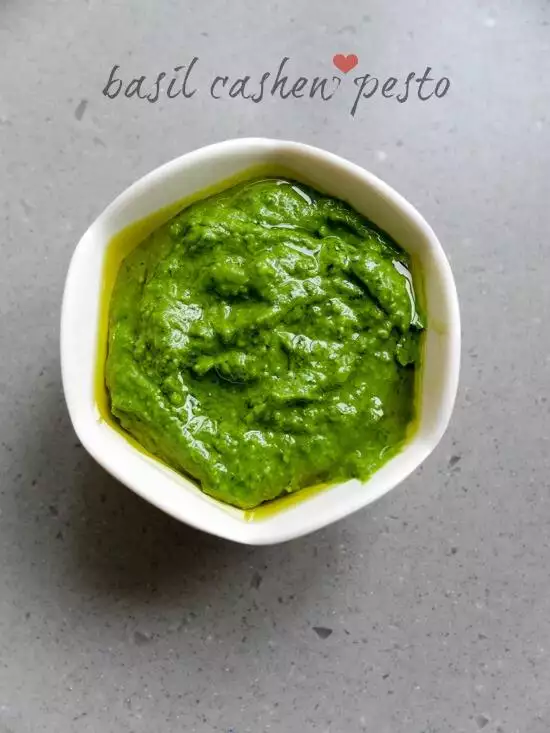 Pin
I attempted a pesto made with cashew nuts for the first time many moons ago because TH realised (rather, announced) one day that he's allergic to pine nuts. He disliked the flavour the few times we've had it as a garnish at Middle Eastern restaurants but even in the hidden form in basil pesto, he was like.. erm no!
We always have cashew nuts at home so I thought, well, cashew nuts are creamy and can give some texture to the pesto too, so why not. It was pesto nirvana right there, for us anyway. And this cashew basil pesto comes together in 5 minutes!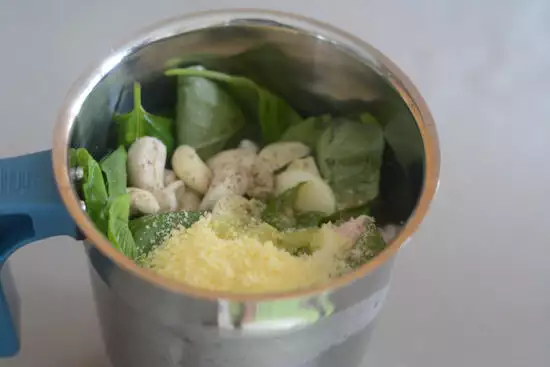 Pin
The beauty of basil pesto is that you can adjust ingredients to your hearts content and also keep some crunch and texture in or make it creamy smooth. We like it somewhere in the middle. Mostly creamy but with a bite here and there.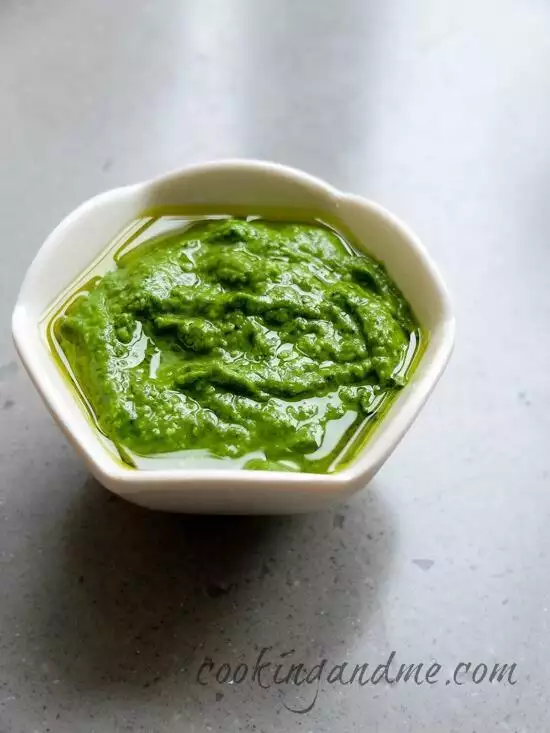 Pin
You'll need some Italian basil leaves to get this cashew basil pesto going, obviously. The next most important ingredient would be parmesan cheese. I used to buy the grated variety in pouches but have since moved to parmesan cheese blocks which I grate as and when I need some cheesy goodness in my basil pesto or as a topping for baked pasta dishes. I am telling you, blocks of cheese are the way to go.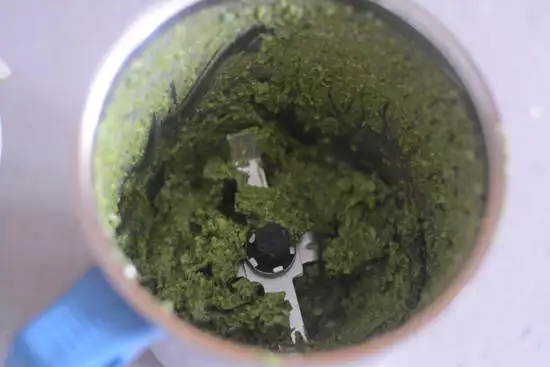 Pin
If you prefer to keep things authentic and genuine, then check out this basic basil pesto recipe. You can also use walnuts in basil pesto. PS: I clicked on this walnut basil pesto post just now and feel all kinds of nostalgic for my gorgeous balcony garden from the previous apartment. Sniff.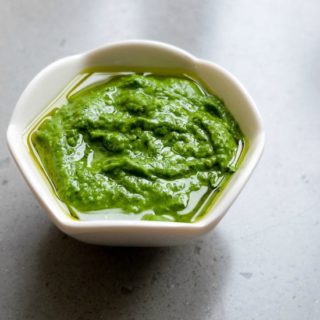 5 Minute Cashew Basil Pesto Recipe
5 minute cashew basil pesto that's a perfect addition to pasta, salads, sandwiches, or as a dip.
Ingredients
3

cups

packed basil leaves

stems removed

1/3

cup

grated parmesan cheese

1/4

cup

raw

unsalted cashew nuts

1-2

flakes of garlic

1

tsp

freshly cracked black pepper

adjust to taste

1/3

cup

olive oil

Salt to taste
Instructions
Wash and remove the basil leaves from the stalks

Grate the parmesan cheese, if using a from a block of cheese. You can add more or less depending on how rich you want your pesto to be. About 1/3 cup is perfect, if you ask me

Prepare all other ingredients as well

Add everything into a food processor or mixie jar

Pulse until well combined. Now you can keep going until you get the consistency you prefer. Grainy peso tastes better in sandwiches but since I use pesto now mostly as salad dressing, I prefer it on the creamier side

Don't add any water, the oil should provide enough movement in the processor. If you feel the mixture is too dry, add more oil

Transfer into an airtight container and refrigerate immediately if not using fresh
Notes
Although the colour may change darker on the surface, this pesto can be used for up to 5 days if refrigerated. Always use a dry spoon to take the quantity you need. I add some oil on top before keeping in the refrigerator.
If using this cashew basil pesto as a salad dressing, add a bit more oil to make it into a pourable consistency.
Adjust all ingredients to your taste and see what you prefer in YOUR pesto. Have fun!
So what's YOUR favourite basil pesto recipe?