A Thai-style steamed fish recipe with a broth of chilli, garlic, and lime. This is a super simple fish recipe that you will find in most Thai restaurant menus. I was craving it so badly one evening (because Corona lockdown my friends!) so made it, ate it, and felt happy again.
You need some very basic ingredients to make this:
Fish – I used cleaned and gutted sea bass
Garlic – lots of it chopped fine
Coriander leaves or cilantro – fresh and chopped
Chilli padi – Thai chilli padi is fiery and hot so use sparingly based on your heat tolerance
Chicken stock – you can also use fish stock but plain water is probably not going to cut it
Lime – you know you want to use it! Tangy and delicious in the soup base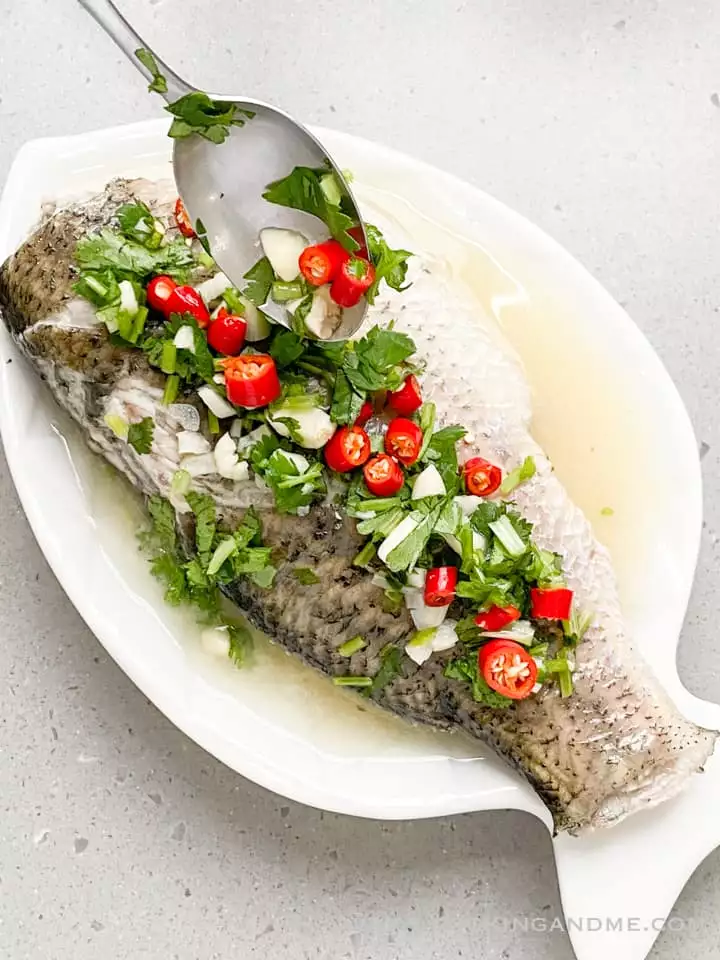 In general, this Thai steamed fish is made with a whole fish that's cleaned and gutted. So the final dish will have the head, eyes and all, as well as the tail and fins. I am a teeny bit squeamish about that and prefer to remove those extra parts so my fish here has its head, tail and fins removed. No need to descale though, steaming will make it easier to take care of.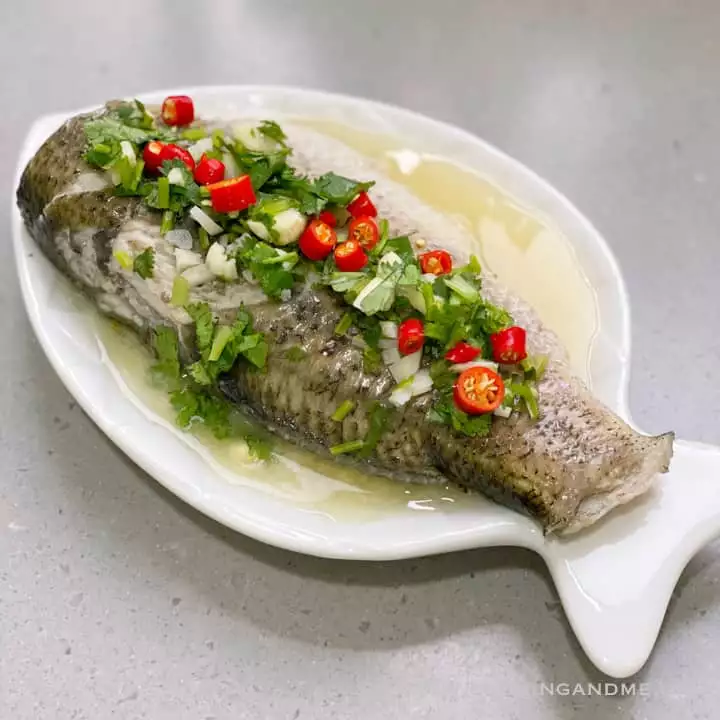 This recipe for Thai-style steamed fish is from a cooking class I took in Bangkok many years ago. We learned quite a few dishes in 3 hours including soups and curries but this simple steamed fish we cooked last remained in my memory and it's so simple that I didn't even need to refer back to my written notes.
Check out my tom yum soup recipe and vegetarian green curry recipe too!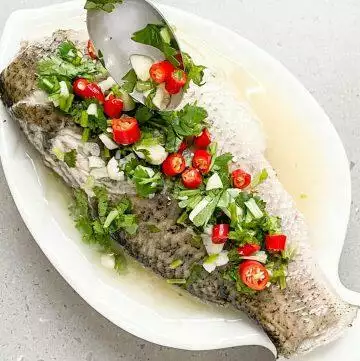 Thai Steamed Fish with Chilli Garlic Lime
A simple Thai steamed fish recipe with chilli garlic and lime in a soup broth. Goes with plain rice to make a delicious meal.
Ingredients
1

whole Sea Bass

cleaned and gutted

A few pieces of lemongrass

2-3

cups

chicken stock

or fish stock

1/4

cup

minced garlic

3-4

chopped chilli padi

adjust to taste

A fistful of fresh coriander leaves

chopped

4

tablespoons

lime juice

Salt and sugar to taste
Instructions
Take a large pan that can hold the fish and add water

Create elevation to keep the fish on like a small dish or plate placed inside the pan

Keep the fish on this, add the lemon grass pieces, and steam the fish on medium heat for 15 minutes or so or until the fish is fully cooked through

Meanwhile, let's make the soup base

Take the chicken stock in a pot and add the chopped garlic, lime juice, salt and sugar to it

Bring to boil and simmer for a minute or two then remove from flame

When the fish is done, place on a wide serving bowl and pour the soup base on top

Add chillies and coriander leaves on top of the fish before serving
Notes
The original recipe also included Thai fish sauce and you need only about a teaspoon or two. I rarely keep fish sauce in hand and have always omitted it with no major issues. If you happen to have some fish sauce in hand, add it to the soup based and check saltiness before adding salt
All ingredients can be adjusted to your personal taste
A few more pictures of step by step process to make Thai steamed fish recipe below.
This is the set up I used to steam the fish. A wide pan with two plates and enough water to create steam but without touching the fish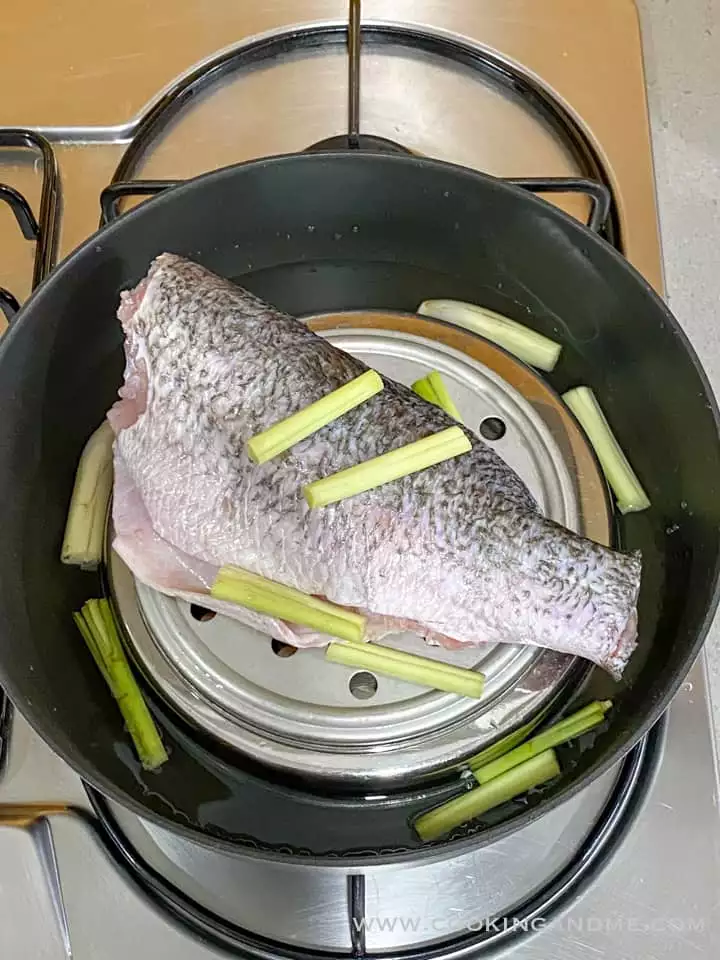 Use a pan with a tight fitting lid to make sure the fish steams properly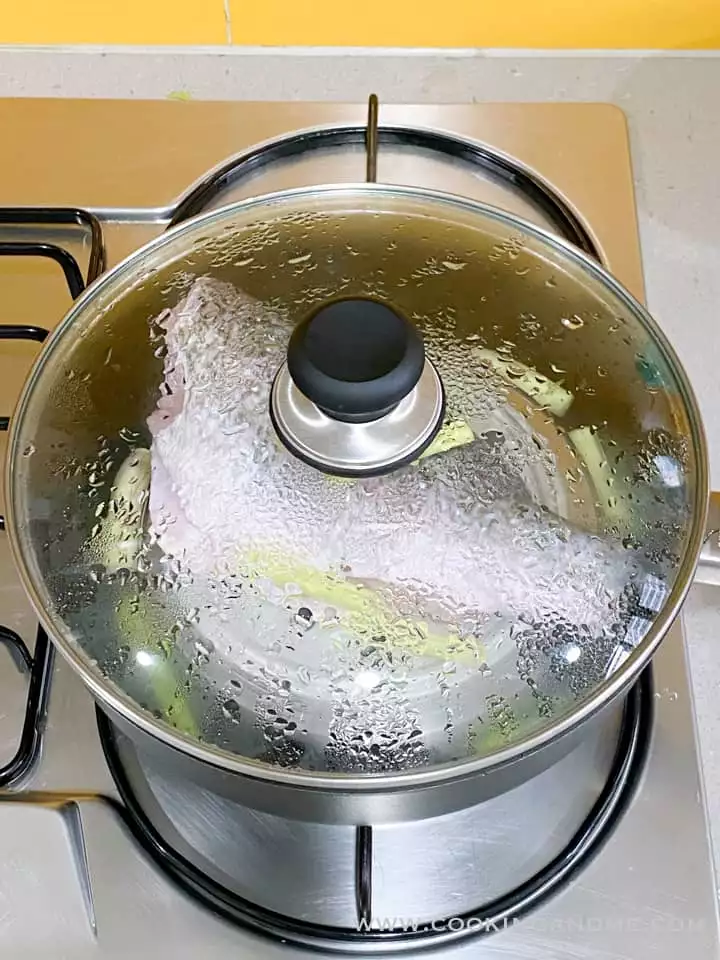 The delicious soup broth for Thai steamed fish. Make as much as you want, serves as a delicious side too and can be served as is.