Thai green curry
is possibly the most popular among all the curries available in the cuisine. The blend of Thai basil, lemon grass, lime leaves, and spices gives a unique and delicious twist to the curry. This green curry recipe uses a
vegetarian green curry paste
and uses no fish sauce so it's probably not the most 'authentic' recipe but hey, vegetarians need to enjoy a good Thai green curry too, right?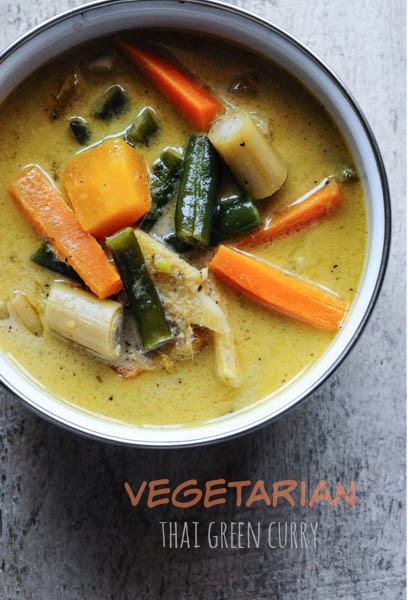 This recipe is adapted from a cooking class I took in Bangkok at May Kaidee cooking school. They specialise in Thai vegetarian recipes and teach only those and I learnt a few amazing and simple recipes. I've probably made this green curry the most because once you make the curry paste, you can freeze it and I generally make enough for 3-4 rounds of curry-making. From what I saw, the key to making a good vegetarian Thai curry is to get the right kind of soya sauce and coconut milk. I highly recommend buying them from a Thai store and choosing products imported from there. Check out my green curry paste recipe post to see a picture of the products I used.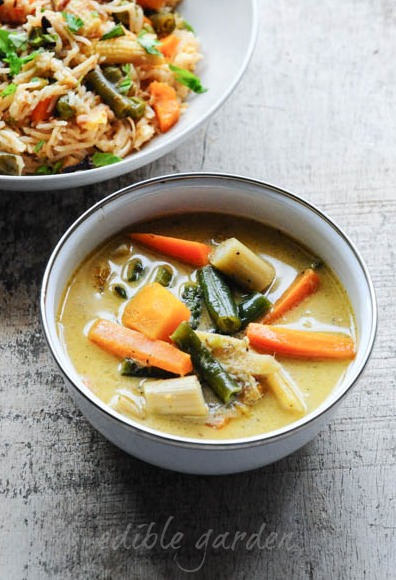 Green curry goes best with steamed jasmine or Thai hom mali rice but you can also serve it with a light tofu and egg fried rice. We like our gravy a bit on the thinner side but you can adjust that consistency by adjusting the amount of water you add and keeping the coconut milk thick. I used canned coconut milk. If you use fresh Indian coconuts, the taste may vary a bit since Thai coconut meat tastes a bit different and to me, less sweet.
I also make a mean vegetarian Tom Kha soup in case you want to check it out. Here's how to make vegetarian pad thai and the most gorgeous Thai Mango Sticky Rice recipe, one of the most often pinned recipes in Edible Garden.
Check this post on how to make coconut milk at home.
THAI GREEN CURRY RECIPE (VEGETARIAN)
Preparation time: 20 minutes
Cooking time: 15 minutes
Serves 4
INGREDIENTS:
1.5 cups of mixed vegetables like baby corn, carrot, beans, pumpkin, capsicum
2 tbsp of homemade green curry paste
1 tbsp of oil
2 small pieces of lemon grass
2 kaffir lime leaves
2-3 small pieces of galangal
2 cups of thin coconut milk (see notes)
1 cup of thick coconut milk
1 tsp of sugar
1 tbsp of light Thai soya sauce (Healthy boy brand if you can find it)
1 tsp of lime juice (optional)
1/4 cup of red onions, sliced
INSTRUCTIONS:
Before beginning to cook the curry, prepare all ingredients by cleaning and chopping the vegetables, measuring out the soya sauce, coconut milk, etc. Once you start the cooking process, simply add the ingredients in the order below and you will have a steaming pot of Thai green curry ready in no time.
Heat 1 tbsp oil in a wide pan and add 2 tbsp green curry paste.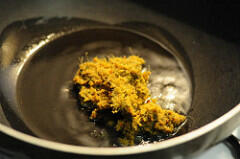 Lightly sauté it for 20 seconds until fragrant.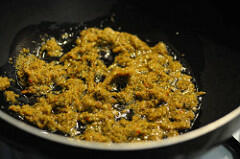 Add all the vegetables, onions, galangal, lemon grass, and lime leaves to the pan and mix well.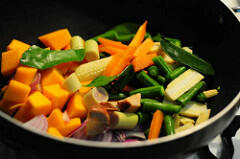 Add the 2 cups of thin coconut milk and cook on medium flame until the vegetables turn softer but not mushy.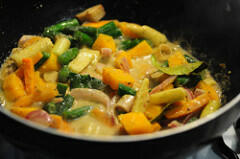 Add the soya sauce and sugar and mix well.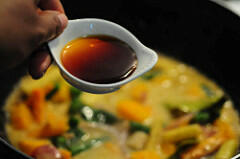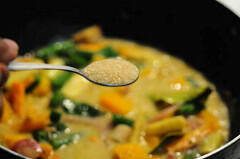 Now add the 1 cup of thick coconut milk and give everything a good stir. Also add the lemon juice at this stage, if using.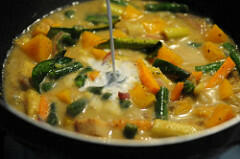 All done! Serve hot with rice.
Notes:
1. If using canned coconut milk, dilute it with equal parts of water to get thin coconut milk. Don't skimp on coconut milk since that's what gives this curry body and flavour
2. A good Thai curry should have the perfect balancing of sweet, sour, and spice so adjust as you go along to make sure it's all good to your taste
Vegetarian Thai green curry keeps well in the refrigerator for a day. Reheat gently before serving, don't boil.