This easy
Chana Masala Recipe
is a recent addition to amma's often-cooked chana recipes. While I was growing up, she hardly made anything beyond the
Kadala Curry
which was served with puttu, chapati, batura, and even dosa. While I love the
Kerala Kadala Curry recipe
with a gorgeous roasted coconut base, this
Chole Masala
is lovely in its simplicity. Onions and tomatoes are fried and ground to a paste for the gravy and very minimum spices are added. It goes with pretty much everything you can think of serving it with.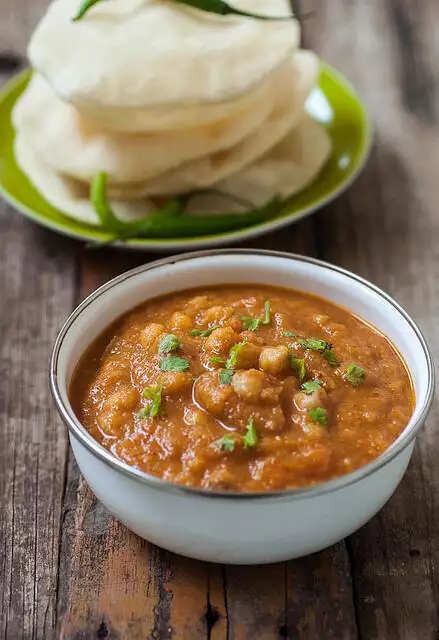 Chana Masala and Batura
Remember the Chettinad Vegetable Curry Recipe I posted a while back? The base of this Chana Masala gravy is quite similar and amma makes it often with just Kalpasi and no other spices. Since Kalpasi is probably not easily available everywhere, I have given a few substitutions – one being saunf or fennel seeds and the other being garam masala, although amma is generally of the opinion that garam masala is not the best flavour combo with a tomato-onion gravy. She generally prefers adding only one masala to any curry and we rarely use any masala in our curries.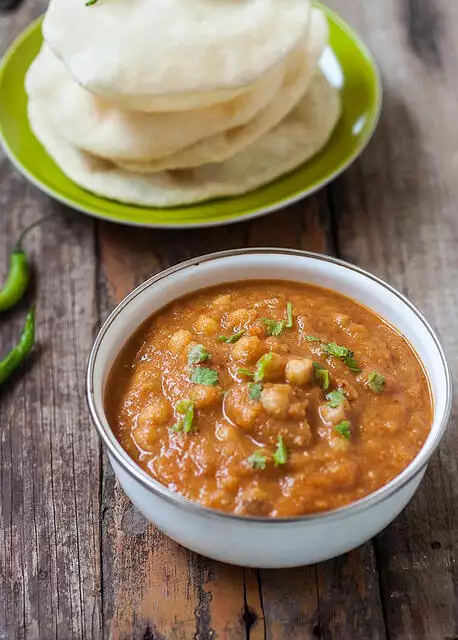 Chana Batura – The Perfect Match!
While amma was visiting me last May, we made Batura for me to blog the recipe but I forgot to take a picture of them after they were made! So I made Batura again a couple of months back and needless to say, Chana Batura is a lovely combination. Although Chana Batura is a tad weird for lunch, TH definitely didn't seem to mind.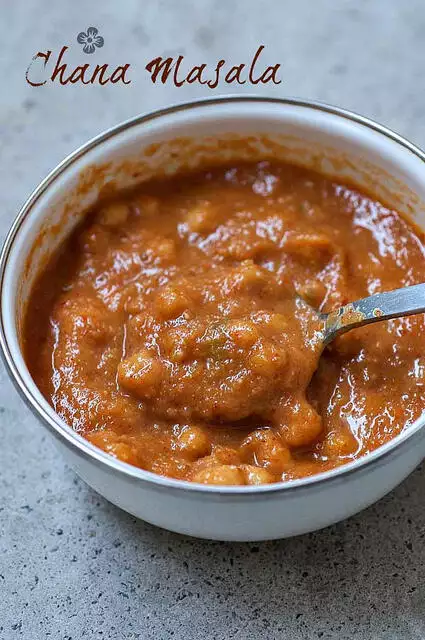 Delicious Chana Masala Recipe
The base of this Chana Masala Recipe is highly customisable so you can adjust the proportion of masala and spices according to your preference.
CHANA (CHOLE) MASALA RECIPE
Preparation time: 2 hours
Cooking time: 30 minutes
Serves 4
Recipe source: Amma
Ingredients:
1.5 cups of cooked chana / white chickpeas (soak overnight and pressure cook 3 whistles)
2 large onions
1 large tomato
1 tsp of chana masala / garam masala / fennel seeds / kalpasi (take your pick)
1 tsp of minced garlic
1/2 tsp of minced ginger
1 small bunch of coriander leaves / cilantro
1 tsp of red chilli powder
1 tbsp of oil
1 tsp of salt (adjust to taste)
How to Make Chana Masala:
Heat oil and add the onions.
Saute until golden brown and add the ginger and garlic.
Fry for another 30 seconds and add the kalpasi or fennel seeds (if using garam masala or chana masala, you can add it later)
Add the tomatoes next and cook until they are mushy and soft
Cool and blend to a fine paste
Return to the same pan and add the cooked chana, chilli powder, salt and some water. Bring to boil and simmer for a few mins
Add the garam masala or chana masala (if using) and top off with chopped coriander leaves
Step by Step Pictures to Make Chole Masala
1. Heat oil and add the onions. When they turn a golden brown, add the ginger and garlic along with kalpasi or fennel seeds if using them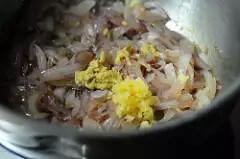 2. Fry for a few seconds and add tomatoes.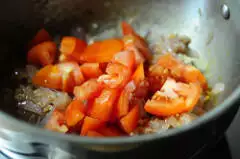 3. Cook until mixture turns mushy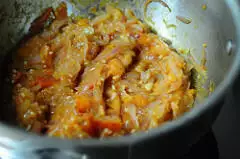 4. Cool, blend, and return to the same pan along with the cooked chana or chole.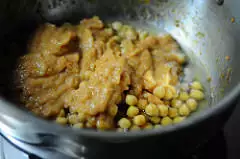 5. Add chilli powder and salt and some water. Bring to boil and simmer for a few mins.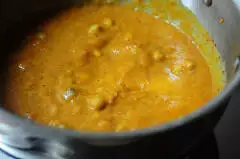 6, I used garam masala in this batch of chana masala so if you choose to use the same, add it now and garnish with chopped coriander leaves.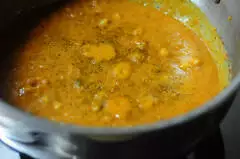 Serve Chole Masala warm with some minced raw onions sprinkled on top and Batura, Poori, Chapati, Appam etc.
Notes:
As mentioned, you can take a pick of what type of masala you want to add. The best options are Kalpasi, Fennel seeds, garam masala or chole masala. Use only one, not all.
You can temper the Chana Masala if you wish. Just heat some oil, add mustard seeds and when they pop, add it to the cooked curry. Amma and I avoid this since there's already enough oil used to fry the onion-tomato paste.
If the gravy gets thick, add boiling water to thin it down.