Learn how to make Batata Poha. It is an easy and healthy Maharashtrian breakfast recipe using Indian flattened rice or poha, potatoes or bata, onions or kanda, and some simple spices.
Needless to say, I didn't grow up eating spiced poha, what with it being a Maharashtrian recipe and all. The first time I tried Batata Poha was at a food expo in my hometown when I was around 8. At these, would set up stalls and sell a variety of things, all homemade. In one of those, they were selling this Batata Poha in small cups for 5 rupees each. Amma and I had no clue what Batata or even Poha was but decided to give it a shot anyway. After one bite of it, Amma goes "ahh aval!" and then quickly went on to dissect the ingredients and guess what went into the Batata Poha.
Fast forward a few more years, I moved to Hyderabad for work and met people from all over. I tasted food that I'd never even heard of before. This recipe is from a Maharashtrian ex-colleague. He made his mom's Batata Poha one day and posted a picture on Facebook. I, of course, immediately asked him for the recipe and he obliged. Thanks Yash!
I was wondering if Batata Poha and Kanda Poha are the same thing so I asked Yash. He said batata = potato and kanda = onion. If you add both to the poha, then it becomes Kanda Batata Poha. Anyway, irrespective of the finer details, this is a delicious, easy, and healthy recipe that you must make!
Also check out this aval vadai recipe.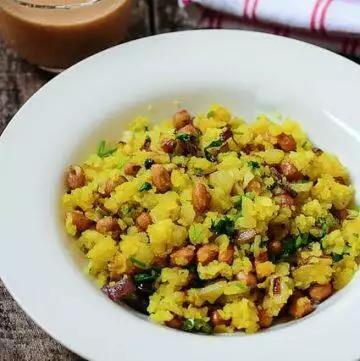 Batata Poha Recipe
Batata poha is a tasty and healthy breakfast recipe from India using flattened rice and potato along with some simple spices. 
Ingredients
1.5

cups

poha or aval

use the thicker variety, not thin

1/2

cup

finely chopped onions

1/2

cup

boiled and chopped potato

2

tablespoons

raw peanuts

2

green chillies

chopped (adjust to taste)

A pinch of hing

asafoetida

A pinch of sugar

1/4

teaspoon

turmeric powder

1

tablespoon

oil

1/4

teaspoon

mustard seeds

A fistful of fresh coriander leaves

Lime juice to taste

Salt to taste
Instructions
Place the poha in a colander and rinse it under running water. Don't linger, just give it a good rinse and turn off the water

Set aside for a few minutes, then use your fingers to gently mix the poha. It should be soft and crumble easily when you press between your fingers

Mix salt and turmeric to the poha and set aside, covered

Heat oil in a pan and add the peanuts

Roast until golden brown, drain and set aside

To the same oil, add mustard seeds

When they pop, add the chopped onions, hing, and green chillies

Saute until the onions turn soft and pink

Add the poha along with sugar and mix gently

Top up with the roasted peanuts, chopped coriander leaves, and lime juice

Mix everything well and remove from heat

If you find the poha too dry, sprinkle some water and let it steam away

Serve hot
Notes
Remember to use the thicker variety of poha. The thin kind will get mushy and not do well in this recipe
Adjust all ingredients to your taste
I normally add curry leaves if I have any in hand
Don't skimp on peanuts and coriander leaves
How to Make Batata Poha – Step by Step Pictures