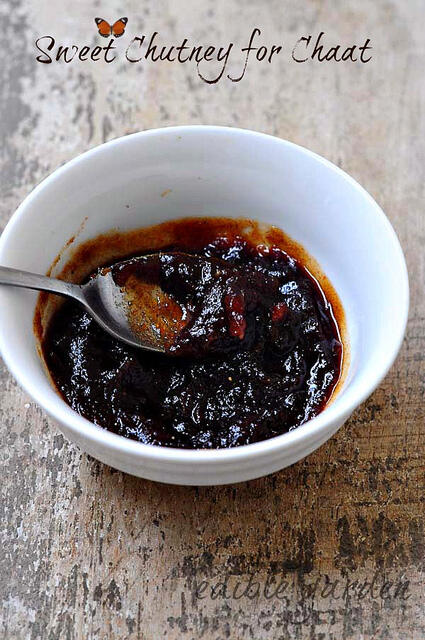 Sweet chutney, a sweet-sour-spicy chutney made with dates and tamarind which forms an essential ingredient in putting together chaat, the Indian food group that I would argue is the most craved, especially by those living outside the country. I am one of them too. I have continuously hunted for good chaat in Singapore high and low with marginal success but I still hardly make any chaat items at home. The primary reason is that it requires a few ingredients that I don't always have in hand. For eg: puffed rice is so boring that I can't bring myself to see it every time I open the fridge so I've never bought it which means bhel puri has never been made in my house.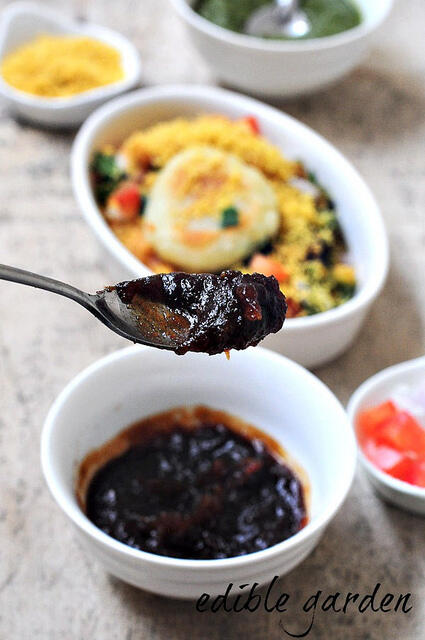 But one fine weekend I was very determined to make Ragda Patties, as I was telling you in my Ragda Recipe post. So I set out making everything from scratch – the green chutney for chaat, sweet chutney (my first attempt) and the aloo tikkis. The green chutney is easy peasy and came together in less than 10 mins. The sweet chutney requires a bit more cooking time and I followed the recipe from a book except for adding dates instead of jaggery mentioned in the original recipe.
Actually, ahem, I expected more sweet chutney to result from the process but I was left with barely 3 tbsp of chutney which was more than enough for the ragda patties but to me, didn't justify the amount of time I spent on it. Pitting the dates, for starters, is not a task I enjoy. But, BUT, that doesn't mean you shouldn't make sweet chutney at home. Just set your expectations right and you are good to go. The chutney was also way too thick and I had to water it down considerably before using it in the Ragda Patties. Still tasted like sweet chutney though so it was a winner in the end for sure. Try it!
Looking for more chutney recipes? Here are my top 3 favourites – green chutney recipe, red chilli chutney recipe, and South Indian coconut chutney recipe.
SWEET DATE TAMARIND CHUTNEY RECIPE
Preparation time: 30 minutes
Cooking time: 20 minutes
Makes ~ 1/4 cup
Adapted from: Davinder Kumar's Kebabs, Chutneys, and Breads 
INGREDIENTS:
Small lime-sized ball of tamarind
5 dates, pitted and roughly chopped
1/4 tsp of red chilli powder
1/2 tsp of fennel powder
1/2 tsp of dry ginger powder
1/4 tsp of jeera powder
1/4 tsp of coriander powder
A pinch of garam masala
To taste: black salt powder (I used regular salt)
Roughly 1.5 cups of water
INSTRUCTIONS:
1. Soak the tamarind in warm water for 15 mins. Extract the thick juice and transfer to a sauce pan with the water.
2. Add the chilli powder and chopped dates and simmer on low flame until about 1/2 the quantity – 5-7 mins.
3. Blend this mixture and add the rest of the ingredients while it's still warm. Mix well together.
Serve at room temperature with chaat like ragda patties, aloo tikki, bhel puri, papdi chaat, etc.
Notes:
Adjust the consistency of the sweet chutney by adding or cooking down the water. Mine turned out quite thick, I just added some warm water before using it
Also adjust the level of sweetness you prefer. My dates were on the large side so 5 of them made this chutney quite sweet. Add more chilli powder if you want a spicy kick to the chutney. My green chutney was quite spicy so I kept the spice levels in sweet chutney on the low side
You can store this sweet chutney in an air tight container for up to one month if handles with a dry spoon each time and with care