Sundal
is synonymous with
Vinayaka Chaturthi (Ganesh Chaturthi)
and
Navratri
in my house. While different versions of sundals show up through the year as a snack or as part of meals, the most popular time is during Vinayaka Chaturthi and the popular sundal is usually
Kadalai Sundal
and this Kadalai Paruppu Sundal. Amma also makes a great Black Chana Sundal during navratri but I am yet to try that myself.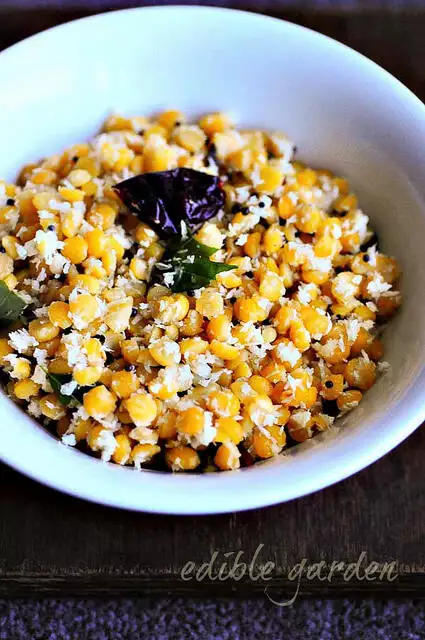 We are currently staying in a temporary accommodation with a tiny kitchen and I had to buy all my groceries again but I still had the necessary items to make this delicious and easy chana dal sundal last night. The smell and flavour of it reminded me so much of celebrating festivals back in Kerala as a child. I especially love the texture of kadalai paruppu in sundal. You can also check out Payar Sundal, Pattani Mangai Sundal, and Mochakottai Sundal.
Here's an archive of Vinayaka Chaturthi Recipes from last year.
KADALAI PARUPPU SUNDAL RECIPE
Preparation time: 5 minutes
Cooking time: 20 minutes
Makes 1.5 cups
INGREDIENTS:
3/4 cups of chana dal / kadala paruppu
1/4 cup of grated coconut
1 tsp of oil
1/4 tsp of mustard seeds
2 dry red chillies, torn into pieces
1/4 tsp of split urad dal (optional)
1/4 tsp of hing / asafoetida
A few curry leaves
INSTRUCTIONS:
1. Soak the dal in warm water for at least 30 mins. This is not a necessary step but helps to cook the dal much faster. If you don't have time or forgot to do it, just skip the soaking part.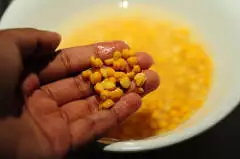 2. Cook the dal in a pan with just enough water to cover it for about 10-12 mins. The dal should crumble when you crush between your fingers but still hold its shape. I tried using the microwave and it got done in about 12 mins. I feel stove top method is easier though.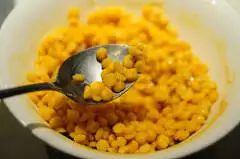 3. Heat the oil and add the mustard seeds, urad dal, and hing. Let the mustard seeds pop and the dal turn golden brown.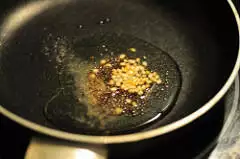 4. Next, add the red chillies and curry leaves. Saute for a few seconds.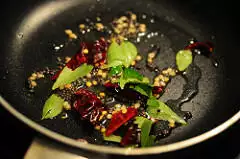 5. Tip in the cooked dal next along with some salt. Mix well.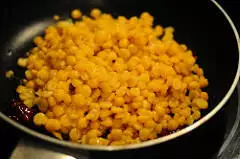 6. Finally add the coconut, make sure you mix well and heat it through and then remove the sundal from fire.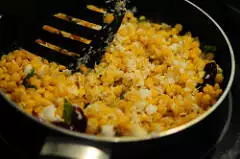 Sundal is a quick and easy snack that's protein-rich too. You can also serve it with rice and a curry. I often made sundal with rice and rasam for a quick dinner or weekend lunch, it just comes together so quickly.
I hope you enjoy this Kadalai Paruppu Sundal for Vinayaka Chaturthi 2013 and Navratri Festival too.