I found some gorgeous Indian radish in Little India the other day and had to buy a bunch. They were fresh, with the leaves still on and quite small so I used up about 5 of them to make enough for the two of us.
Cut radish is one of the prettiest vegetables I know. Such pretty design!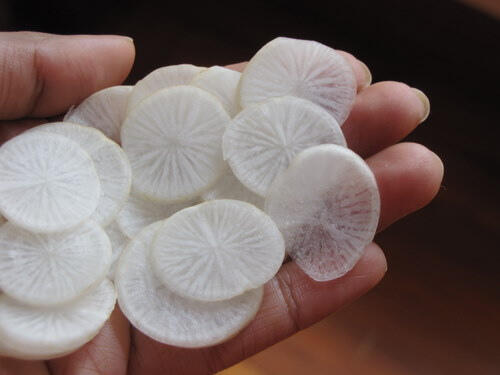 Pin
Yes, that's my hand. You may not know this but I have once been a hand model for an ad that featured in a Malayalam magazine called Vanitha. True story.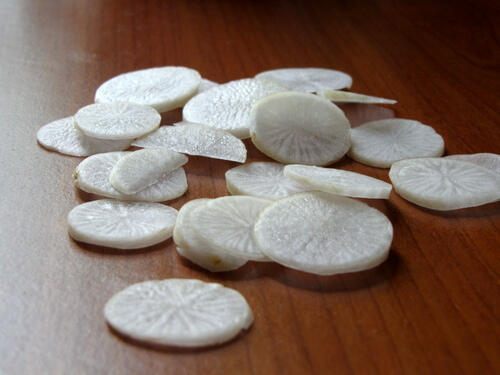 Pin
But the radishes surely don't need my hand to enhance its own beauty. Snobs!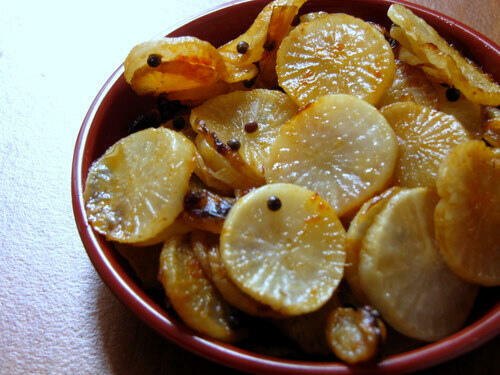 Pin
This recipe is uber simple, can be put together in a jiffy and retains a bit of the vegetable's natural flavour and crunch.
Stir Friend Indian Radish Recipe
Serves 2
Indredients:
Small white radish, cut into thin discs – 2 cups
Thinly sliced onion – 1 small (or 8 shallots)
Crushed garlic – 1 tsp
Chilli powder (adjust to taste) – 1 tsp
Jeera / cumin – 1/2 tsp
Coriander powder – 1 tsp
Garam masala – 1/4 tsp
Amchur / dry mango powder – 1/4 tsp (or a squeeze of lime juice)
Salt to taste
1 tbsp oil
1/4 tsp mustard seeds
How I Made It:
1. Heat the oil in a pan and add the mustard seeds. When they pop, add the sliced radish and shallow fry in low heat until almost-cooked. This will take about 10-12 mins. Adjust the amount of oil if the pieces seem to be burning or too dry.
2. Add sliced onion/shallots, garlic, chilli powder, coriander powder, jeera and amchur and stir well to coat the radish pieces for a min or two. Add salt.
3. Top off with the garam masala, give it a final stir before removing from fire. The pieces will be soft yet not too much and will hold their shape.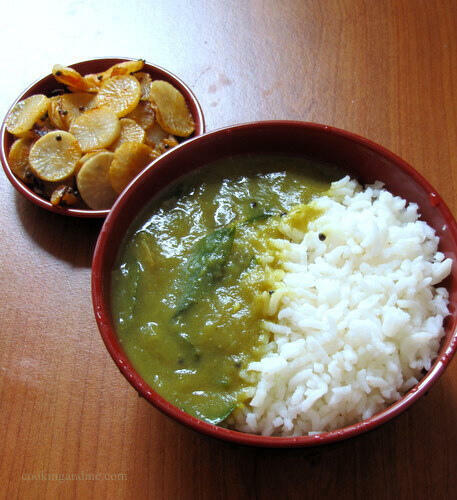 I served it with steamed white rice and ridge gourd "bajji"(recipe coming soon!)