Baby potato biryani recipe, learn how to make baby potato biryani, a flavourful and easy vegetarian biryani recipe with baby potatoes. I have also used tomatoes and mint in the homemade spice paste used to prepare this biryani.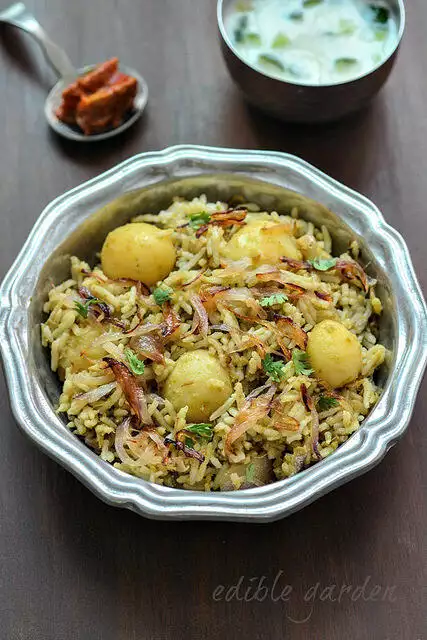 Biryani to me is special-occasion food. Right from childhood, a biryani meal has always stood for something – the end of exams, a large family gathering at home, a good friend's wedding, a birthday, lunch after a movie with close friends – you get the drift. A good biryani always stood for something and while I end up making it more often so I can share different recipes on the blog here, I make biryani when I am happy and want to make a special meal out of it.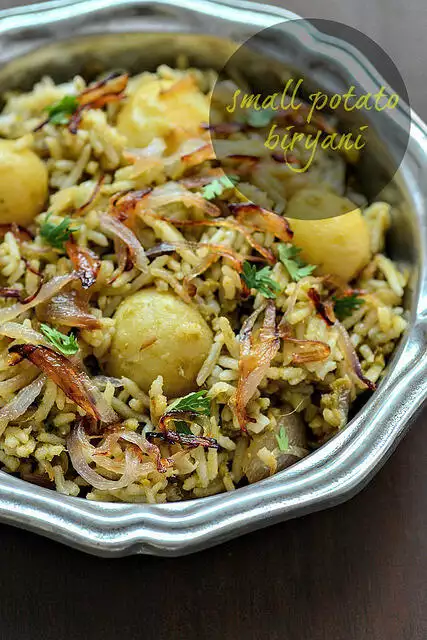 So what's the special occasion that made me make this baby potato biryani, you ask? Well, baby potatoes are one of TH's favourites and I have been meaning to add them to biryani for ages now. After postponing for months, years even, I decided to make it happen in time for our 7th wedding anniversary. I will spare you the usual "time has flown" yada yada but I will say this. Even after all this, nothing beats the casual weekends when I make something I love to cook and we sit down to eat a nice, simple, homemade meal.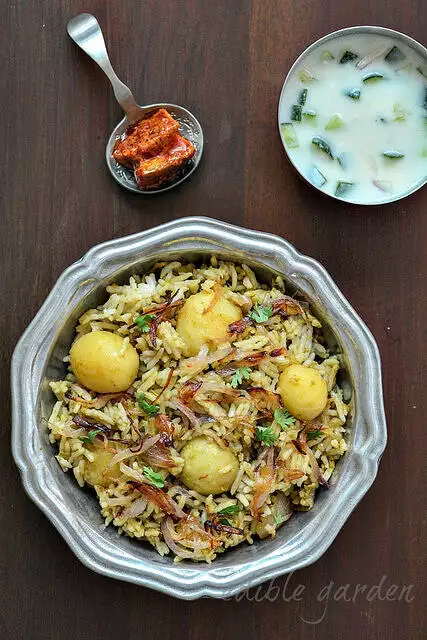 My recipes are usually simple and quick, suited for the busy, lazy, beginner, time-strapped cooks. This recipe is not particularly difficult, but it does have a few different steps, something I thought I would avoid after learning how to make biryani in a pressure cooker. It's definitely worth the effort though so I'd say just make a simple raita to go with it, the biryani doesn't need anything else anyway.
Other biryani recipes you may love:
Hyderabadi vegetable dum biryani
Soya chunks biryani
Gobi biryani
Pressure cooker vegetable biryani
Egg biryani
Pressure cooker chicken biryani recipe
Mushroom biryani
More baby potato recipes:
Bombay potatoes
Dum aloo recipe
Aloo capsicum pulao
Potatoes in coriander red sauce
Spicy baby potato masala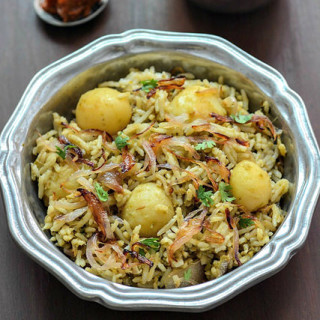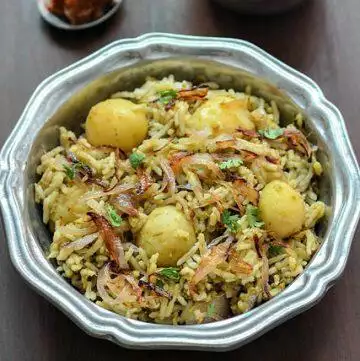 Baby potato biryani recipe
This baby potato biryani is a vegetarian biryani lover's dream come true. It's very flavourful and filling, perfect for a weekend meal.
Ingredients
Baby potatoes - 250 gm

Basmati rice - 1.5 cups

Ghee - 3 tbsp

Cinnamon - a small piece

Cardamom - 5

Cloves

- 6

Bay leaf - 1

crushed

1

tsp

- cumin seeds

Coriander leaves 2 tbsp

chopped

Mint leaves - 2 tbsp

chopped

Onions - 1 cup

sliced

Coriander powder - 2 tsp

Cumin powder - 1/2 tsp

optional

Chilli powder - 1/2 tsp or to taste

Biryani masala - 1 tsp

I use Eastern brand

Turmeric powder - 1/4 tsp

Plain curd or yogurt - 1/4 cup

Salt to taste
Grind together:
Tomato - 1

Green chillies - 2-3 or to taste

Ginger - a 2" piece

Garlic - 1 tsp minced or 4 cloves

One fat bunch of coriander leaves
Instructions
Step One - Preparing the rice
Wash and soak the basmati rice in a pressure pan or rice cooker pan for 20 mins

Heat 1 tbsp ghee in a pan and add the whole spices - cumin seeds, cinnamon, cloves, cardamom, and bay leaf

On low heat, roast for 30 seconds or until browned and fragrant

Take the soaked rice - I use 1:2 ratio of rice:water to cook it to the right consistency

Add the roasted spices over this along with 3 tbsp of chopped coriander and mint leaves

Cook for 10-15 min in the pressure cooker or as usual in the rice cooker. I always use the rice cooker since it's hands-off and you don't worry about when it's done, overcooking, etc
Step Two - Cooking the potatoes
You can follow any method you prefer to cook the potatoes. The options are to pressure cook them for 2 whistles, steam or boil in water until a fork inserted goes in smoothly

Cool, peel, and set aside
Step Three - Making the spice paste
Grind together - tomato + green chillies + ginger + garlic + a fistful of coriander leaves to a smooth paste.

Set aside
Step Four - Cooking the biryani
Heat the remaining 2 tbsp of ghee in a large pan

Add the peeled potatoes and toss and saute until the potatoes turn a light golden brown

Drain and set aside the potatoes

Add the sliced onions to the remaining ghee and on medium-low heat, fry until golden brown

Set aside some fried onions for garnishing later

Add the ground masala paste to the remaining onions. Mix well.

Now add the curd and mix again, keeping the heat low

When the mixture begins to bubble, add the spice powders - chilli, turmeric, coriander, cumin, and biryani masala

Mix and cook for 3-4 mins, adding salt as well

Add the fried potatoes and mix again well until they are coated with the masala

Now add the cooked rice to this and mix gently to combine

Pat down the biryani in the pan itself, turn off heat, and keep covered for 1-2 hours or until ready to serve

Before serving add more chopped coriander leaves and the reserved fried onions on top
Step by step intructions to make baby potato biryani
Wash and soak the basmati rice for 20 mins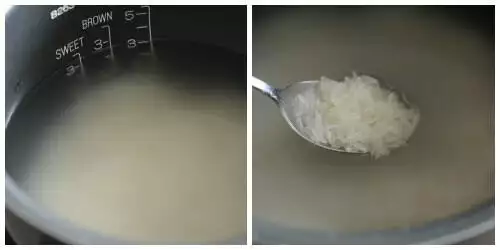 Heat 1 tbsp ghee in a pan and roast the whole spices on low heat for 30 seconds and add to the soaking rice. I use rice:water ratio 1:2. Also add chopped mint and coriander leaves
Cook until done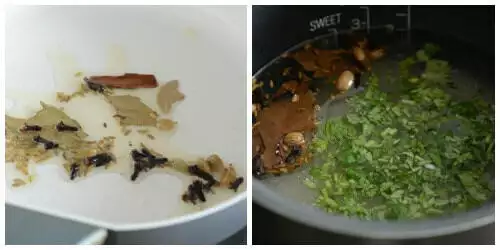 Meanwhile, grind the spice paste – tomatoes, coriander leaves, green chillies, ginger, and garlic – and set aside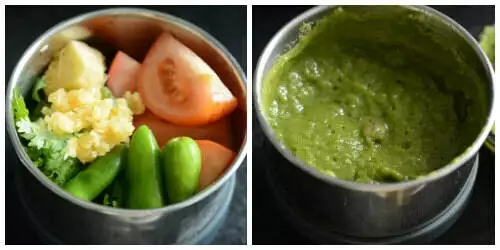 Cook the baby potatoes until tender. I used the pressure cooker and cooked it for 2 whistles, about 10-12 mins. When cool enough to handle, peel and set aside.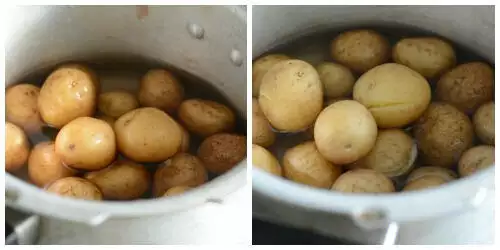 In the same pan used for roasting spices, add 2 tbsp ghee and fry the potatoes until light golden brown. Drain and set aside.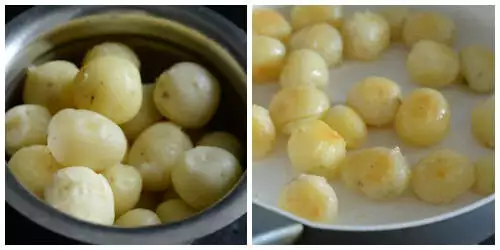 In the remaining ghee in the pan, add the sliced onions and fry until golden brown. Set aside 2 tbsp or so for garnishing later.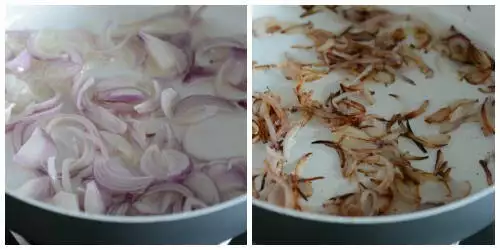 To the remaining onions, add the ground spice paste and curd. Mix well on low heat.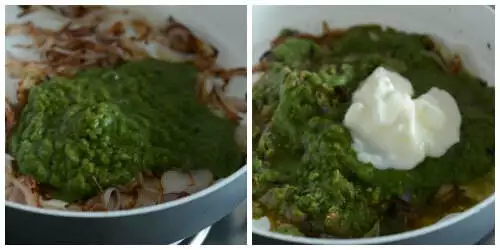 Now add all the spice powders – chilli, turmeric, cumin, coriander, biryani masala – and mix again.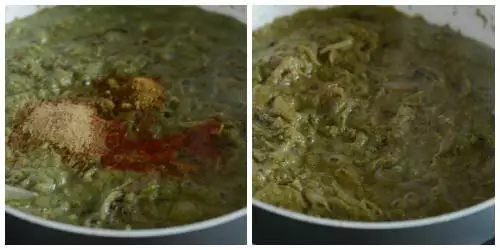 Add the fried potatoes and mix until well coated. Cook for 2-3 mins until the spice paste and potatoes get friendly. Add salt.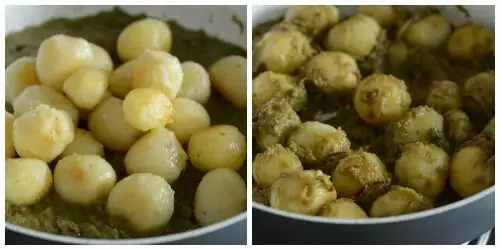 Bring out your cooked rice, fluff lightly, and add to the potato-masala mixture.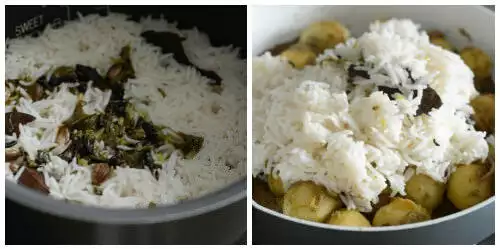 Gently mix the rice, check for salt, pat down, and let it sit for one hour or so for all the flavours to mingle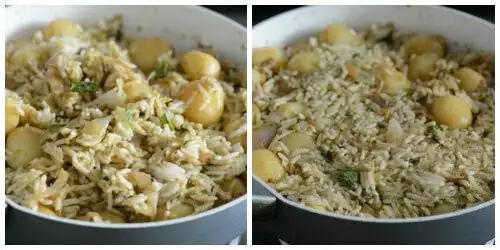 Serve baby potato biryani with raita, papad, and pickles.
Notes:
– I really loved the spice paste in this recipe and will use it as a base for my biryanis in future
– I felt like the potatoes were a bit bland even after all this effort of frying them, mixing with the spice paste, etc. Next time, I'll try mixing the peeled potatoes with some spice powder and frying it that way. Pricking the cooked potatoes with a fork also helps them soak the spices and flavours better
– You can add some lemon juice to this biryani but I felt the tanginess from the tomatoes were enough
For baby potato biryani in Hindi, Tamil, Telugu, Urdu, Marathi, etc, please use the Google Translate button in the sidebar.