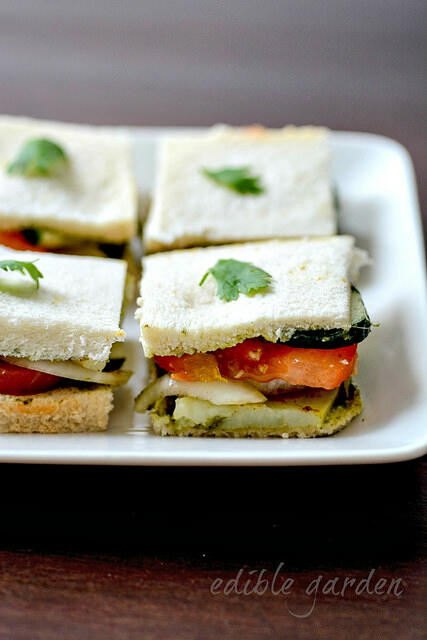 Learn how to make vegetable sandwiches the way you get on Bombay (or should I say Mumbai?) street sides, with green chutney, cucumber, tomatoes, potatoes, onions, and some roasted spices or chaat masala.
Sandwiches are a god-send on most days I feel I am too lazy or busy to cook, especially for breakfast. While we love a good dosa and sambar combination for breakfast, I often toast up some bread, slap on a simple spread like coriander chutney or guacamole and call it breakfast. TH loves it and happily has his share with a cup of strong tea. I love it mainly because there's so little effort required and I can cook a 'proper' lunch on a full stomach.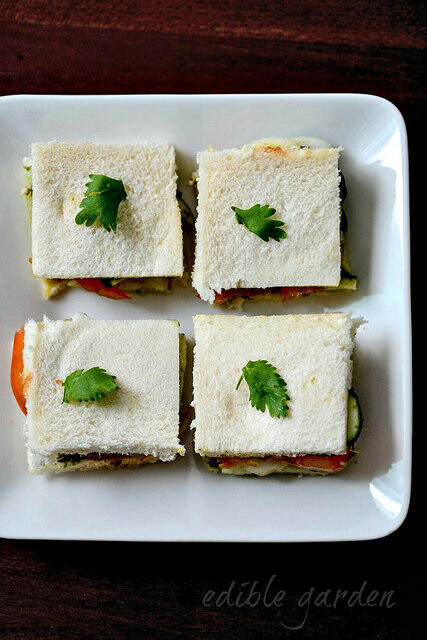 While looking through some ideas for healthy sandwiches, these Bombay vegetable sandwiches caught my eye. Bombay street food is usually a win (vada pav and bhel puri, anyone?) and so I was quite intrigued especially because there was a jar of green chutney languishing in my fridge begging to be used up. Around 10 minutes of chopping and assembling later, I had a delicious plate of sandwiches ready for us. You don't even need to toast these sandwiches, they are that easy and good!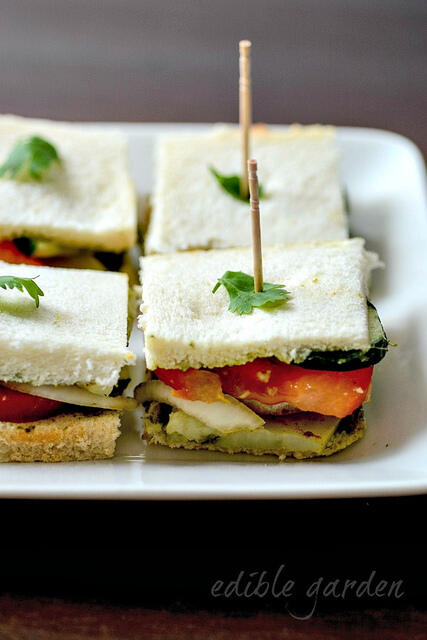 In fact, since you cut up each sandwich into further four pieces, each are quite small and almost bite-sized, making them perfect as party appetisers. They are very easy to make in larger quantities although you are better off serving them immediately since the fresh vegetables in the sandwich can make them soggy if they sit around too long. So make them fresh, cut them up, stick some toothpick in, and you are done!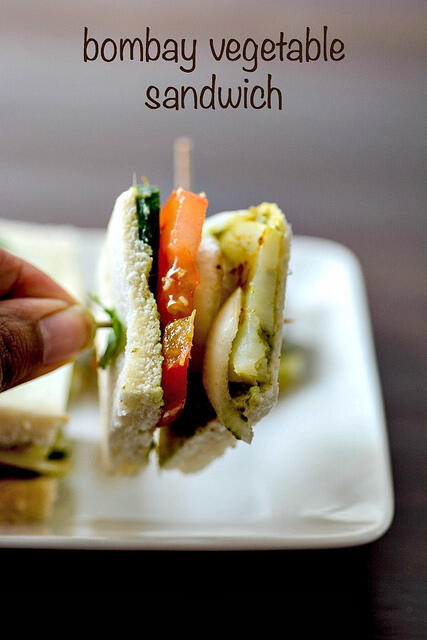 To prepare these Bombay vegetable sandwiches you need some non-negotiable ingredients:
– boiled or pressure cooked potatoes, peel, and slice them into thin rounds
– green chaat chutney with mint and coriander
– chaat masala or roasted cumin powder and black salt
– fresh bread slices
Ready? Ok let's go make some sandwiches!
BOMBAY VEGETABLE SANDWICHES RECIPE
Preparation time: 20 minutes
Makes 12 small sandwiches
Serves 3
INGREDIENTS:
6 slices of bread
2 tbsp of butter (salted or unsalted)
1/4 cup of green chutney
1/2 cup of tomatoes sliced thin and round
1/4 cup of onions, sliced long
1/2 cup of cucumber, sliced thin and round
1/2 cup of boiled potatoes, cut into thin rounds
1 tsp of roasted cumin powder
1/2 tsp of black salt (adjust to taste)
INSTRUCTIONS:
Trim the edges of the bread slices
Spread a generous amount of butter on each bread slice
Now spread the green chutney evenly on each slice as well. Use as much or as little as you need
Now place the boiled potatoes on 3 slices in one even layer
Sprinkle some cumin powder and black salt over this
Next, layer cucumber, onions, and tomato slices
Sprinkle more cumin powder and black salt
Place another slice of bread over this that has been buttered and spread with chutney as well
Press down gently so that the ingredients stick together and don't fall out easily
Repeat until you have 3 large sandwiches
Use a sharp knife to further quarter each into 4 smaller pieces
Plate them and serve immediately with more green chutney, if needed
Step by step pictures to make Bombay vegetable sandwiches:
Boil and chop your potatoes. Slice other vegetables as well and keep them ready.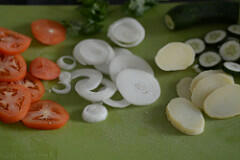 Trim the edges off the bread slices. This is optional but nice to do.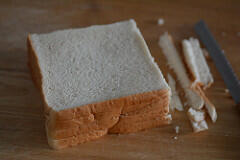 Generously butter each of the 6 bread slices on one side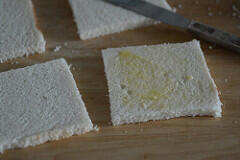 Now spread some green chutney over the buttered sides. Remember this chutney is spicy so use according to your preference and taste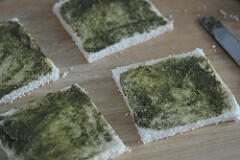 Now start layering the filling on 3 slices out of 6. Start with boiled potatoes.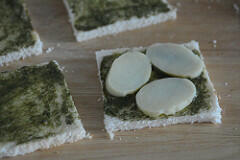 Sprinkle some cumin powder over this (you can alternately also use chaat masala).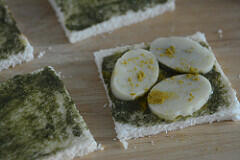 Now sprinkle some black salt over this. Use this sparingly since we'll do one more round of this after more vegetables are added.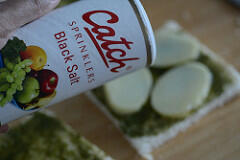 Now add a layer of onions, cucumber, and tomatoes. Sprinkle more cumin powder (or chaat masala) and black salt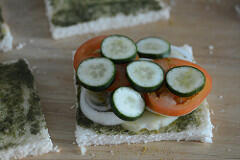 Place another buttered and chutney-ed piece of bread over this and press gently.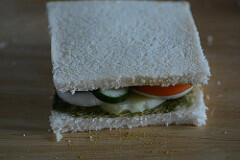 Using a sharp bread knife, cut each sandwich into 4 equal quarters.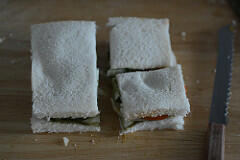 Plate and serve immediately.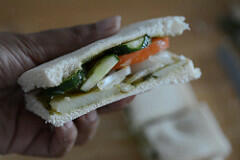 Notes:
– You can toast this sandwich for a toasted Bombay vegetable sandwich
– Add slices of boiled beetroots for an added health and taste kick
– You can use any type of bread you prefer
– If you want a bit of sourness, add a few drops of lemon juice to your chopped vegetables and mix well
– Serve with more green chutney or ketchup
For Bombay veg sandwich recipe in Hindi, Marathi, Urdu, Telugu, Tamil, etc, please use the Google translate button in the sidebar.