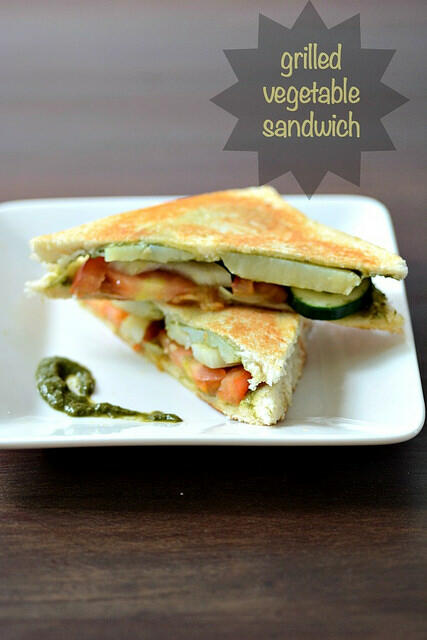 Grilled vegetable sandwich recipe featuring boiled potatoes, tomatoes, cucumbers, a generous amount of butter, and some spicy chutney. In case the name is confusing, this is a sandwich that is grilled with a vegetable filling, not a sandwich with a filling of grilled vegetables. Or, did I just confuse you all further? 🙂
Anyway, this is my kind of sandwich, you guys. It's immensely versatile and you can have one for breakfast, a snack, at a picnic, served a party, you know? One of those wonderful evening snack recipes that turn out great each time and can show up anywhere and look like its dressed for the occasion.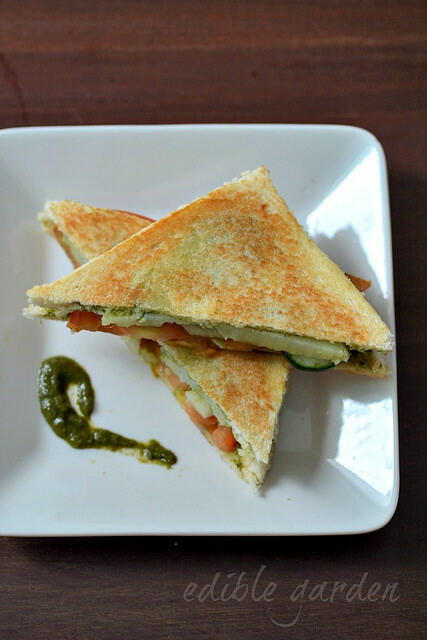 TH and I recently had this sandwich for breakfast. I actually made this the day after attempting the Bombay street-style vegetable sandwiches since I had a bunch of the vegetables left over. In general, I don't like warming up raw cucumber but TH likes his sandwich with them so I added some to his portion, which is what you see in the pictures.
I don't own a grill pan (I know! A food blogger who doesn't own a grill pan – the blasphemy) so this was grilled up on a heavy iron tawa. The grill marks are absent but the sandwiches were absolutely crispy and delicious on the outside with the filling warmed up just so. I used a quick chutney with coriander and green chillies but you can use the classic green chutney in this sandwich as well, just like in Bombay veg sandwiches.
If you love to experiment with bread and fillings, I highly recommend this bread roll with paneer filling that's one of the most popular recipes in this website. I also like adding cheese to my guacamole sandwiches and these cheese sandwiches with mint chutney, perfect for a picnic or your tiffin box. Browse all sandwich recipes on Edible Garden here.
On to make some grilled sandwiches now!
GRILLED VEGETABLE SANDWICH RECIPE
Preparation time: 20 minutes
Cooking time: 10 minutes
Makes 4 sandwiches (8 slices)
INGREDIENTS:
8 slices of bread, any kind
A few slices of boiled potatoes
1 cup of tomatoes, cut into thin circles
1 cup of cucumber, cut into thin circles
4 tbsp of any spicy chutney
1 tsp of pepper powder
4-6 tbsp of salted butter, at room temperature
1/2 cup of thinly sliced onions
3 tbsp of chopped coriander (cilantro) leaves
Salt to taste
INSTRUCTIONS:
The first step is to prepare the vegetables for filling. You can steam, boil, or pressure cook the potatoes. Peel, slice into circles, and keep aside.
Similarly, cut the other vegetables and keep aside. The coriander is optional but gives a nice flavour to the sandwich
Now prepare the bread. You can remove the crust if you'd like. I usually don't do this but it makes for a better-looking sandwich so if you are serving to guests or preparing for a party, I'd suggest slicing the edges off
Lay out the bread slices and slather butter generously on one side of 4 slices
Now add about 1 tsp of the chutney to the same buttered side and spread evening
Next step is to lay the vegetables. Make sure they are as even as possible so the sandwich is not lopsided after grilling
Once you have added the vegetables, and salt and pepper as needed and place a plain side of bread on top
Press down gently yet firmly, making sure the filling doesn't pop out
Now, butter the outside of the bread slide on top generously with butter
Heat up the tawa or grilling pan and place the sandwich on it, buttered side down
Press down gently with a flat spatula and grill it. Add butter on the slice on top before flipping over to the other side
Remove when both sides are golden brown and the crust is crisp
Use a sharp knife and cut the sandwich diagonally into triangles. This is optional but makes it easier to serve and eat the sandwiches
These sandwiches taste best with more of the spicy chutney on the side or tomato ketchup
Step by step pictures for making grilled vegetable sandwich
Prepare the vegetables by boiling and slicing the potatoes and slicing the remaining into thin circles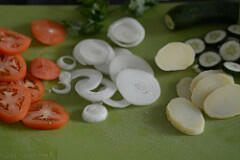 Remove the crust from bread slices and butter half the slices on one side generously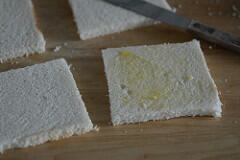 Add green chutney on the same buttered side. I used a mix of coriander leaves, garlic, green chillies, lemon juice, and salt to make a quick green chutney. You can also use the green chutney used in chaat, I just didn't have any in hand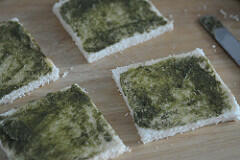 Layer up the vegetables. Potatoes go first.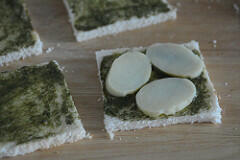 Then onions, tomatoes, and cucumber, Add salt and pepper as required.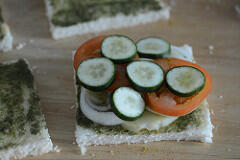 Place the non-buttered slice on top and butter the outside of this slice generously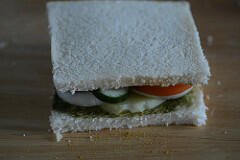 Place on the hot tawa (or grill) with the buttered-side down and press down gently yet firmly with a spatula. Butter this side as well while you wait for the first side to grill up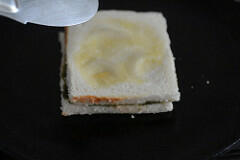 Flip over gently when the first side is golden brown and crispy. Now grill the second side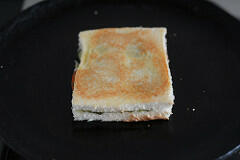 When the sandwich is fully toasted, remove, place on a cutting board and use a sharp knife to cut diagonally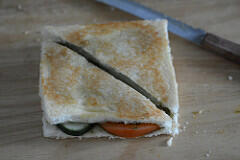 Serve hot with more chutney or tomato ketchup
For grilled vegetable sandwich recipe in Hindi, Marathi, Tamil, Telugu, Kannada, Urdu, Malay, etc, please use the Google Translate button in the sidebar