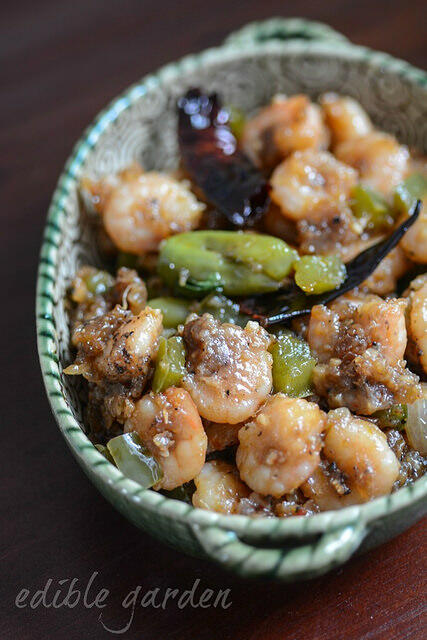 This is a recipe for Chilli Prawns made the Indian-Chinese way. I rarely cook with prawns partly because TH can't share but mostly because the prawns we get in Singapore are farmed and not as tasty. That said, I do like an occasional dish with prawns, especially on the spicy side.
Making any Indo-Chinese dish requires preparation in advance and chilli prawns is no different. I batter-fried the prawns first and then made the rest of the dish but in retrospect, pan frying them would have worked just as well, maybe better. I'll surely try that next time but if you want to experiment that way, check notes and let me know how it turned out, won't you?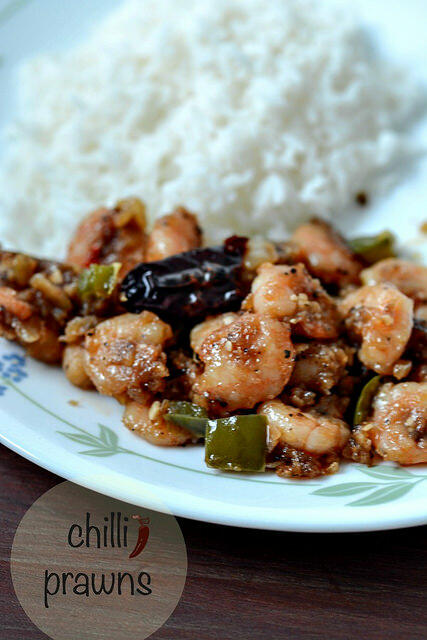 Now folks, this is chilli prawns so obviously using a few different types of chilies are in order. I went all in and used dry red chillies, green chillies, chilli sauce, capsicum, and black pepper. You must adjust all quantities to your preference and taste, I like my non-veg dishes on the spicy side.
Some other recipe suggestions for you:
Vegetable spring rolls
Broccoli mushroom fried rice
Kerala prawn roast recipe
Chilli fish recipe
Chicken fried rice
Alright then, let's go make some chilli prawns!
CHILLI PRAWNS RECIPE
Preparation time: 15 minutes
Cooking time: 25 minutes
Serves: 4
INGREDIENTS:
250 grams of prawns, shelled and cleaned
1 cup of green capsicum or bell pepper, cut into small cubes
2-3 dry red chillies
1 tsp of minced garlic
1 tsp of grated ginger
1/2 cup of onions, cut into small cubes
2 tsp of soya sauce
1 tsp of red or green chilli sauce
1-2 tsp of black pepper powder
1 tsp of corn flour or corn starch
1 tbsp of corn flour
4-5 tbsp of plain flour
1/2 tsp of black pepper
1/2 tsp of minced garlic
1/4 tsp of red chilli powder (optional)
4 cups of oil, for frying (or as required)
2 green chillies, slit
INSTRUCTIONS:
To make the batter:
Mix together the corn flour, flour, some salt, garlic, black pepper and chilli powder (if using) with some water to make a thick batter
Add the prawns to this and combine with your fingers until they are well-coated with the batter
Frying the prawns:
Heat oil for deep frying until smoking point and gently add a few prawns at a time
Fry until light golden brown, drain, and set aside
Repeat with the remaining prawns until all done
Putting everything together:
In a wide pan, heat 2 tbsp oil and add the onions, green chillies, capsicum, and red chillies torn into pieces
Saute until onions are soft
Then add ginger and garlic. Saute again for a minute or two
On medium heat, saute until fragrant and the onions turn transparent and soft
Add the soya sauce and chilli sauce (I used Sriracha)
Mix well on high heat for a minute
Now add the pepper powder and saute for 5 seconds
Top up with the fried prawns and lower heat. Mix well and continue to let it cook and let the flavours mingle
Meanwhile, mix 1 tsp cornflour with about 1/4 cup water and pour into the above mixture
Mix well and turn the heat off. The gravy will thicken further upon cooling
If you want more gravy, add more water to the cornflour mixture and don't heat for too long
Garnish with chopped spring onions if you'd like. Adding a small sprinkle of sugar at this stage is not a bad idea either, especially since we are adding a lot of spice to the chilli prawns
Step by step pictures for making Dry Chilli Prawns
Make the batter to fry prawns by mixing cornflour, plain flour, chilli powder, pepper powder, some salt, and garlic with some water.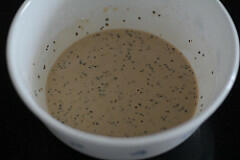 Add the prawns and mix to coat well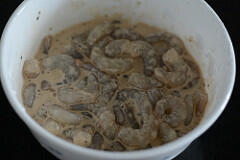 Heat oil for frying and gently drop the batter-coated prawns in. Fry until light golden brown.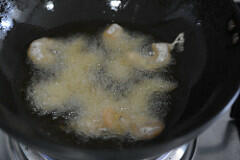 Drain and set aside. If you make the batter very thick, the coating will be thicker too. My batter was a bit on the thinner side so there was only a thin coating, which worked fine for me. I didn't want the prawns to be too "doughy" after adding to the sauce.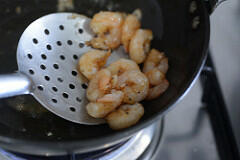 In a pan, heat oil and add the green chillies, onions, red chillies, and capsicum. Saute until the onions turn soft and transparent.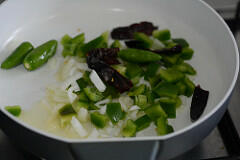 Add ginger and garlic.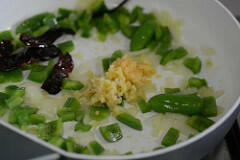 Continue to saute for another minute until fragrant (about 1-2 minutes)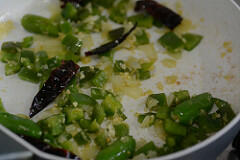 Now add the soya sauce and chilli sauce. You can use red or green chilli sauce.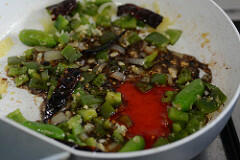 Cook on high heat for a minute or two and then add a generous amount of black pepper powder. Mix well.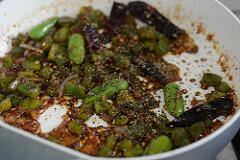 Add the fried prawns and mix again well until the spices and vegetables coat the prawns.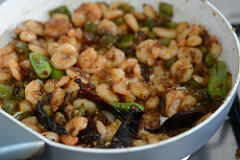 Mix 1 tsp corn flour in 1/4 cup water and add to this. Turn off heat.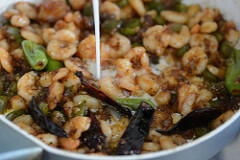 Mix everything together one last time, add salt if needed, and watch the sauce thicken. For a thinner gravy, add more water to the cornflour mixture.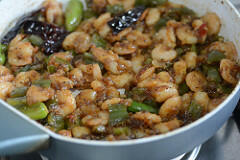 Garnish with chopped spring onions as needed.
Serve dry chilli prawns with vegetable noodles or fried rice with vegetables. Mushroom fried rice will pair nicely with this dish.
For chilli prawns recipe in Hindi, Tamil, Telugu, Marathi, Urdu, Kannada, Malay, etc, please use the Google Translate button in the sidebar.