Simple Indian-style potato roast recipe using basic spices already available in your kitchen.
Confession: The Husband doesn't cook often or even at all, but he makes the best basic potato roast ever. I didn't mention this to him the first few times he made this but when I once asked him what he adds to it, he was like "are you asking me for my secret recipe so you can put it in your blog??" Ahem. Maybe.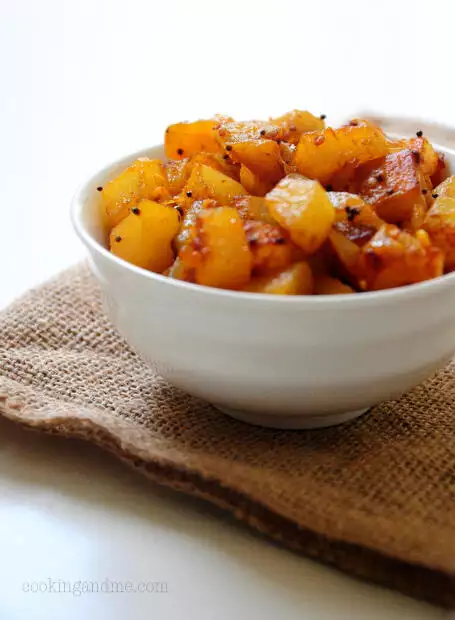 So here it is. Its simple of course, the man doesn't believe in complicating food, especially when he is cooking! But you will love this. It gets done in 12-15 mins and is such a comfort food that when I was down with fever last month, TH made this and rasam for me after he got back from work! Ah.. yum.
If you love Indian potato recipes, I also suggest checking out this simple potato masala for poori, or how about some honey sesame potatoes for a different twist to your meals?
Basic Indian Potato Roast Recipe
Serves: 2
Ingredients:
2 medium-sized russet potatoes
1 medium-sized onion
1/4 tsp mustard seeds/kaduku
1 tsp red chilli powder
1 tsp coriander powder/malli podi/dhania podi
1/4 tsp turmeric powder
1/2 tsp or 2 flakes minced garlic
1 tbsp oil
Salt to taste
How to Make Indian-Style Potato Roast:
1. Cut the potatoes into small cubes. Chop the onions into similar-sized pieces as the potato.
2. Heat oil in a pan and add the mustard seeds. When they pop, add the chopped onions and saute until lightly browned.
3. Add the coriander powder, chilli powder, turmeric powder and garlic and fry for a minute. Add the potatoes, mix well and sprinkle some water.
4. Cook partially closed until the potatoes are cooked and soft. Add salt. Make sure you mix every 2-3 mins to distribute the heat and avoid the potatoes from burning from the bottom.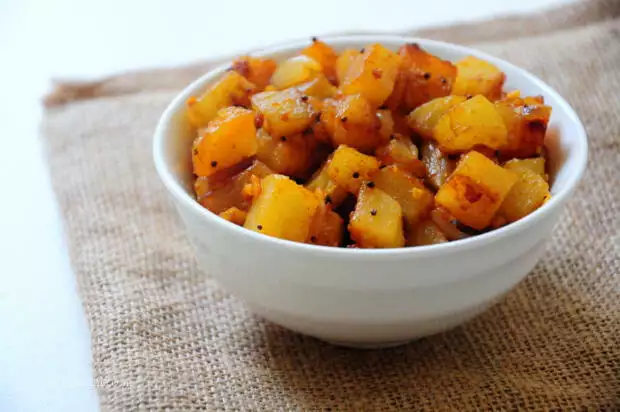 Serve hot with steamed rice and
rasam
.
My Notes:
1. TH doesn't like jeera much so he doesn't add it. If you feel the recipe is incomplete without it, then you should add them in.
2. I've tried squeezing half a lemon over this when its still hot but didn't like the taste much. It still rocks the plain way that TH makes it.