Instant dosa recipes
are super handy on a busy weeknight when the last thing I want to do is cook dinner. I often have dosa batter handy but some days I find myself stuck between making rotis, noodles, or an instant dosa and I pick the dosa option almost all the time.
Rava dosa
is something that doesn't show up as often as
wheat dosa
in my menu but it's as handy and easy to make since there's no need for soaking (not for long anyway), grinding, and fermenting. You can choose to make crispy rava dosa or more softer ones too, according to your preference.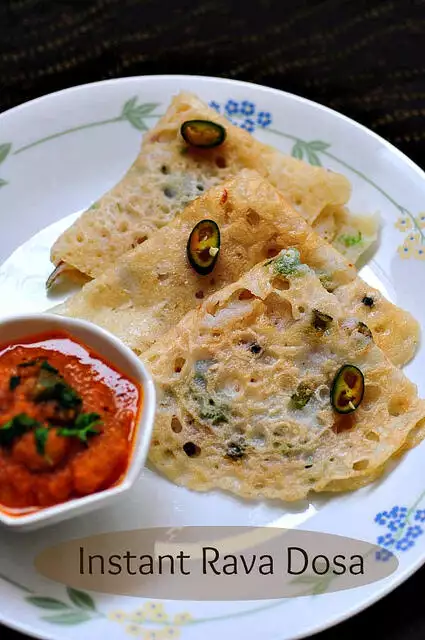 My mom-in-law loves rava dosa so much that she orders it almost every time we go to a restaurant; it's pretty much a standing joke in the family 🙂 She's the one who first showed me how to make rava dosa at home, I hadn't realised it was this simple. Since then, I've made it countless times but always for dinner when I don't really feel like whipping out my camera and taking pictures. Finally, after many requests for instant dosa recipes, I decided to make rava dosa over a weekend and share the recipe with you. I made onion rava dosa this time but you can easily omit the onions and make a plain rava dosa. So here goes!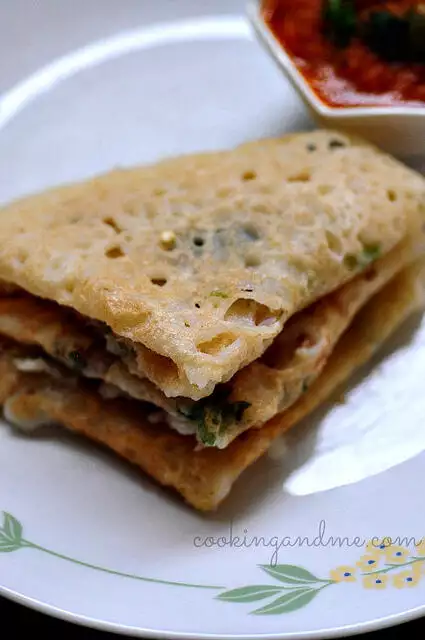 INSTANT ONION RAVA DOSA RECIPE
Preparation time: 20 minutes
Cooking time: 15 minutes
Makes ~ 8 dosas
Recipe source: My mom-in-law
INGREDIENTS:
1 cup of rava or semolina
1/2 cup of rice flour
1/4 cup of onion, finely chopped
2 tbsp of coriander leaves (cilantro), finely chopped
1 tsp of grated ginger
1/2 tsp of whole black pepper
3-4 tsp of ghee or oil, for cooking
1 green chilli, chopped fine
INSTRUCTIONS:
1. Mix all the ingredients except ghee/oil and add water to make a thin batter. Set aside for about 15 mins to 1 hour.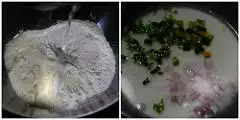 2. After the batter has soaked for a bit, adjust the amount of water if the batter is not runny enough. The consistency should be much thinner than regular dosa batter – we will be using the pour and shape method for making rava dosa.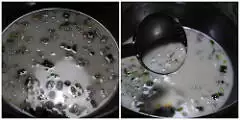 3. Heat a tawa and take one large ladleful (about 1/3 cup or so) of batter. Pour in a circle over the hot griddle making sure you fill the gaps. Here's a 13-second video that shows how to pour rava dosa (notice how thin the batter is?).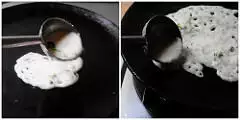 4. Drizzle oil or ghee on the dosa as it cooks. Flip over when one side is slightly browned. The edges will start to rise from the tawa when first side is cooked. Be patient! Due to the large amount of water in the batter, rava dosa will take way longer to cook than regular dosas. Keep flame to medium-low. To make the rava dosa crispy, maintain flame low and let the dosa cook longer, taking your time to flip it.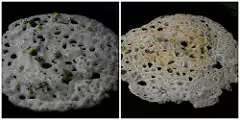 That's it! Repeat with the rest of the batter and serve hot with coconut chutney or onion tomato chutney. Or, here are more chutney recipes for you to pick out what works best for you.
Notes:
You can omit the pepper, onions, ginger, etc according to your preference
Add 3-4 finely chopped cashew nuts to the batter for some texture in your dosa
If the dosa is too sticky and refuses to leave the tawa in one piece, add more rice flour to your batter
Making rava dosa takes some practice  especially pouring the dosa. I didn't get it perfect the first try, so be patient with yourself 🙂