I love the bitterness and flavour of
methi
(fenugreek leaves) whether it's fresh or dried into
kasuri methi
. It's easy to find fresh methi in Singapore and one bunch gets made into various things like
methi paratha
,
methi pulao
,
aloo methi
, and even
methi sambar
. I first head of
methi theplas
when I was in Hyderabad and we were talking about nostalgic meals had in trains. My fond train meal memories are around lime rice with coconut chutney and podi idli whereas some other folks said poori masala, curd rice, and methi theplas.
Theplas
were new to me then and I ran the word through my mind a few times and let it go.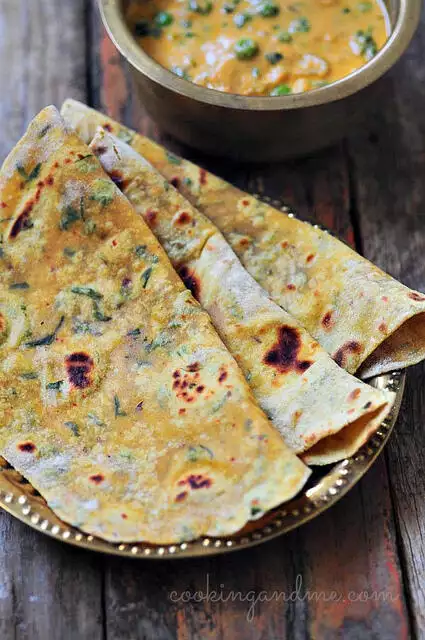 Fast forward 3 years and I tasted my first thepla in Bombay at TH's aunt's house. They were delicious! She mentioned how you can make many variations of thepla, one of her favourites being methi theplas. I immediately knew I would love them too but never got around to making them until very recently. Although they look a lot like rotis, theplas are spiced parathas where the dough is made with curd (plain yogurt), atta, and besan as main ingredients. A hint of turmeric gives them a lovely colour too.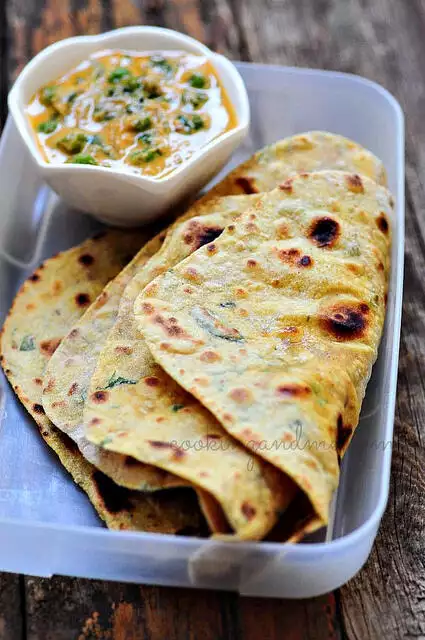 The best thing about methi thepla is that they make excellent lunch box items. The theplas turn nice and soft as they cool down and the flavours get better after a couple hours. I kept my theplas on the milder side since I served this with a fiery side dish (recipe coming soon!).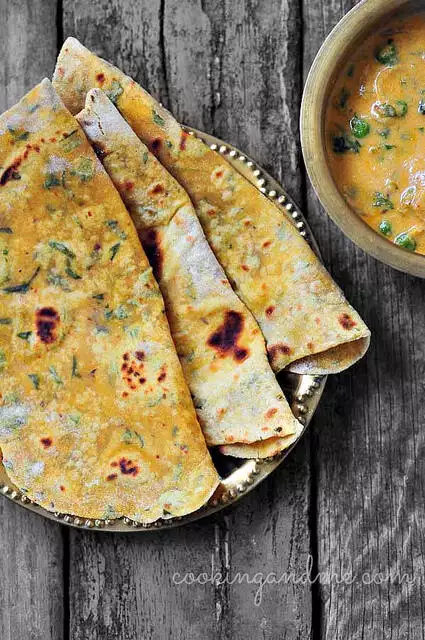 I browsed a bunch of different websites for thepla recipe and finally used my own proportions. You can make similar adjustments to yours too. Check here for more recipes with fenugreek leaves.
GUJARATI METHI THEPLA RECIPE
Preparation time: 20 minutes
Cooking time: 15 minutes
Makes ~8 theplas
Ingredients:
1 cup of whole wheat flour (atta)
1/4 cup of besan / gram flour
1/4 cup of thick curd / plain yogurt
1/2 tsp of red chilli powder
1/2 tsp of roasted and powdered jeera or cumin
1 cup of loosely packed cleaned and chopped methi leaves
A pinch of turmeric powder
1 tsp of salt
4 tbsp of ghee (for cooking)
Instructions:
1. Mix all the ingredients (except ghee) and knead into a soft dough adding water by the spoonful if needed. Cover with a damp cloth and set aside for 15 mins.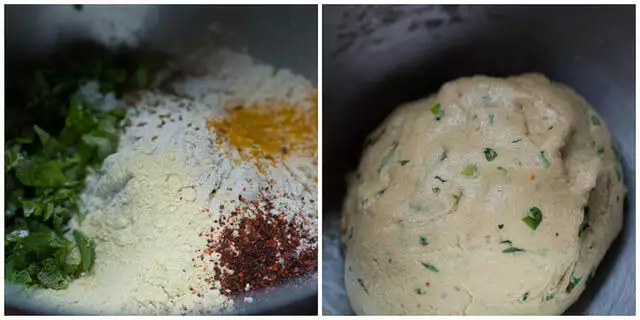 2. After the dough has rested enough time, roll into lime-sized balls, dust with wheat flour as needed, and roll into thin circles. Note that theplas are thinner than chapatis so roll a bit more than you do for rotis or chapatis.
3. Heat a tawa and cook the theplas until both sides are spotted with golden brown patches. Once completely cooked, brush both sides with ghee and set aside on a plate. Continue until all the theplas are cooked.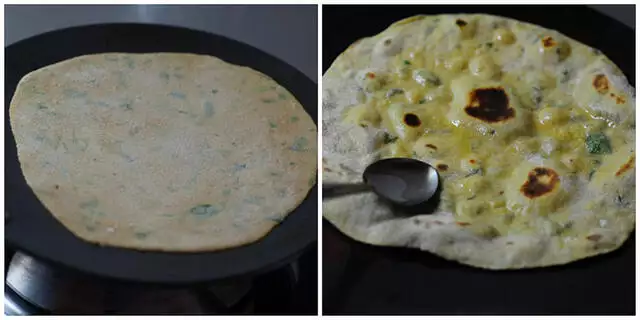 You can serve methi theplas warm or carry them for tiffin, picnics, train rides, etc. Enjoy with plain curd and sweet pickles.
Notes:
If you don't have access to fresh methi leaves, use a handful of kasuri methi or dry methi leaves. When using fresh methi, remove all stems and use only the leaves, chopped
I saw some recipes where the besan was omitted but I thought it would be an interesting addition and added them
You can add more spices like ajwain or coriander to the dough. Grated ginger would taste great too
Finely minced green chillies would make a nice flavour change from using red chilli powder
Be generous with the ghee, especially if storing for longer time