Rainbow swirl bread is nothing but a basic bread recipe with rainbow colours swirled in for a lovely marbled effect. A very easy recipe to pull together with beautiful results!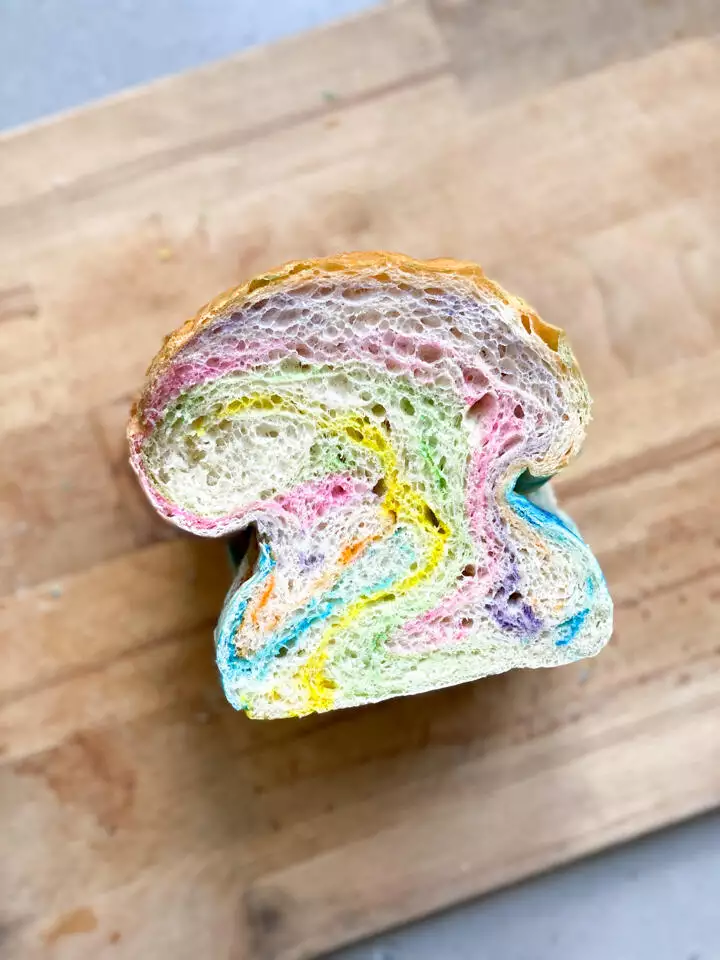 During the COVID lockdown period, I found a few different projects for my 3 year old and I. She loves kneading bread dough, understandably, and we made quite a few loaves of various shapes.
The basic dough in this bread recipe is highly flexible – you can use pretty much any white bread recipe you have in hand or use mine below which I have adapted from this garlic pull-apart rolls recipe. I have even used the dough function in my bread maker and used the dough to add colour and shape it again.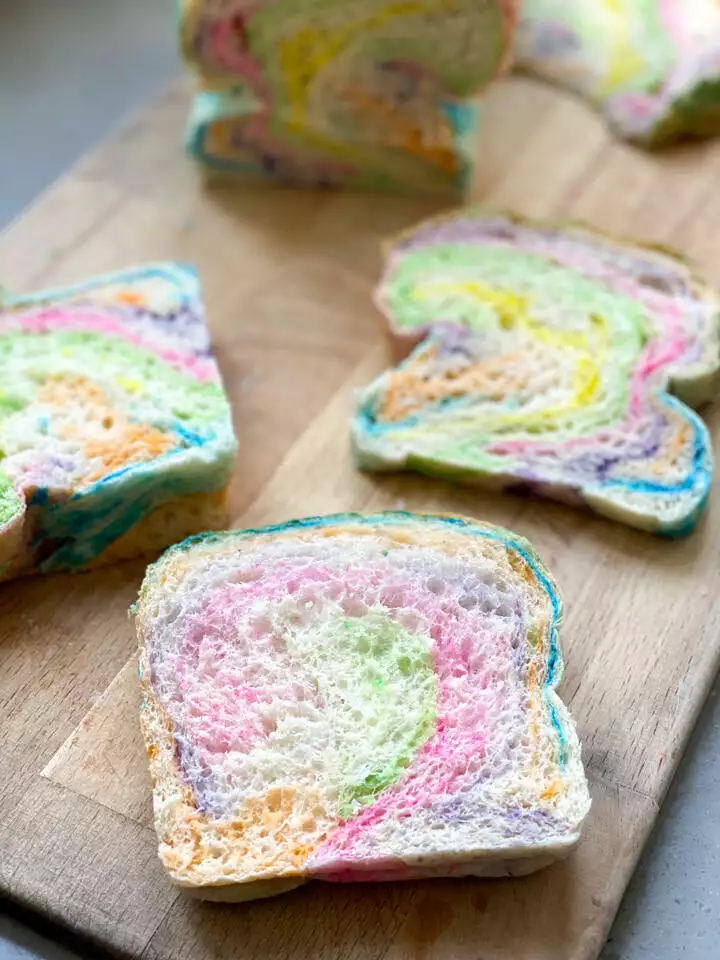 If you are new to bread baking, fear not. This dough recipe doesn't need much kneading and is quite fuss free. The most important thing when baking bread is to use the best yeast you can get your hands on. I have had good luck with SAF instant yeast and have made bread successfully both in my bread machine and by hand. If you don't find this brand where you live, that's fine too. Just buy whatever is available and make sure the yeast is within it's expiry date!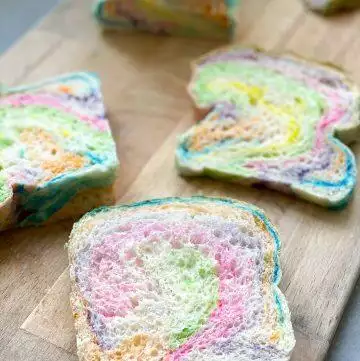 Rainbow Swirl Bread Recipe
A beautiful bread recipe with rainbow colours swirled through it. Slice and enjoy toasted with some salted butter and jam! Kids will surely love this one
Ingredients
Plain Flour - 3 cups

Warm Water - 1 cup

see notes

Yeast- 2 teaspoons

Salt - 1 teaspoon

Sugar - 2 tablespoons

Olive oil - 2 tablespoons
Instructions
Mix all ingredients except the oil and knead until soft. This should take around 5-7 minutes

Add 1 tablespoon oil and knead again until the dough becomes springy to touch. It should be not sticky. If sticky, add a little flour. If too dry, you can add more water by the teaspoon

Transfer this dough into an oiled boil, cover, and leave in a warm place to double in size. Usually takes about an hour or so

When doubled in size, punch the dough down and knead slightly

Divide into equal parts to add colour - I divided into 6 equal parts

Add 2-3 drops of food colour to each dough portion and gently knead in with your fingers until you get a marbled look

Repeat with all the dough portions

Let them rest for about 10 minutes and then roll out each portion into a long piece.

Stack them up as you roll them. They don't need to be perfectly equal, just roughly the same size as you stack them

Roll firmly from one side until you get a log

Place in a well oiled bread pan and cover gently

Leave in a warm place to double again in size

Pre-heat oven to 180 C and bake for about 25-30 minutes until golden brown on top and cooked through

Cool completely before slicing
Notes
Depending on the type of flour and temperature / humidity where you live, the amount of water required will vary. Add more or less depending on how the dough turns out - dry vs sticky
This is the food colour I used but any kind should work fine
Step by Step Rainbow Swirl Bread
Preparation of the dough – mix all ingredients except oil and knead into a soft, non-sticky dough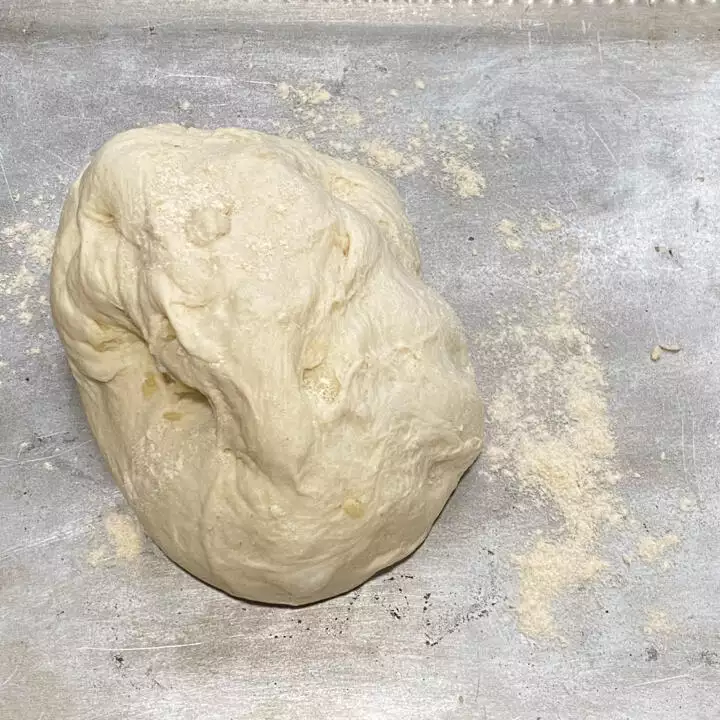 Divide the dough into equal portions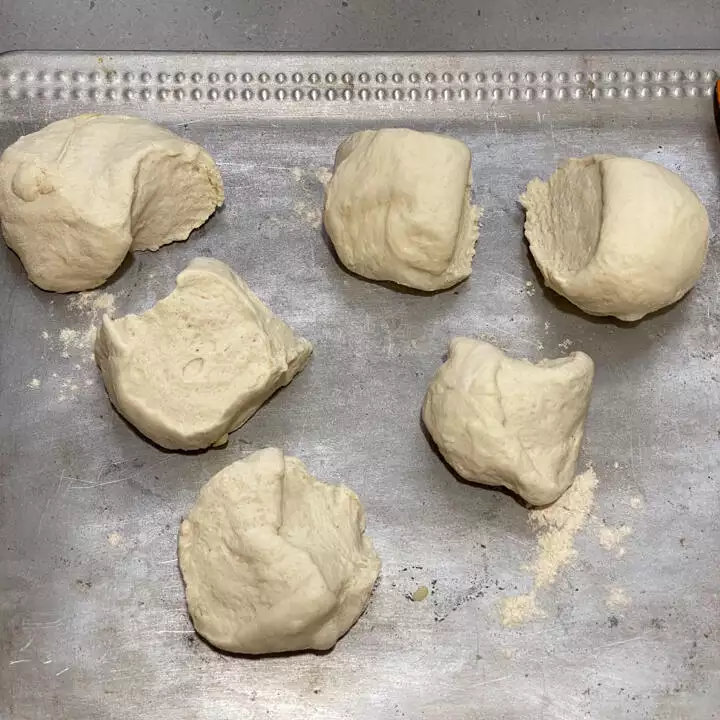 Add few drops of colour per portion of dough and knead in with fingertips to get a marbled effect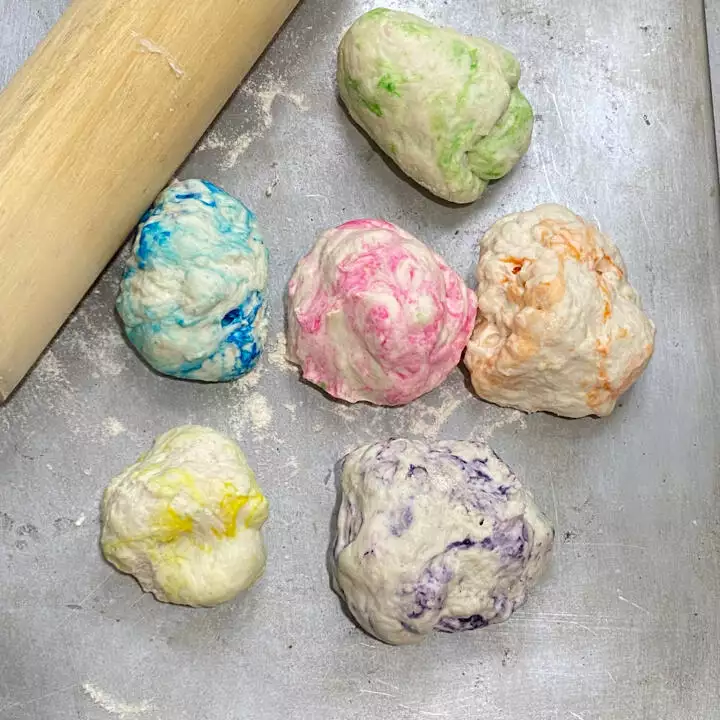 Let the dough rest a bit and roll into oblong pieces you can stack together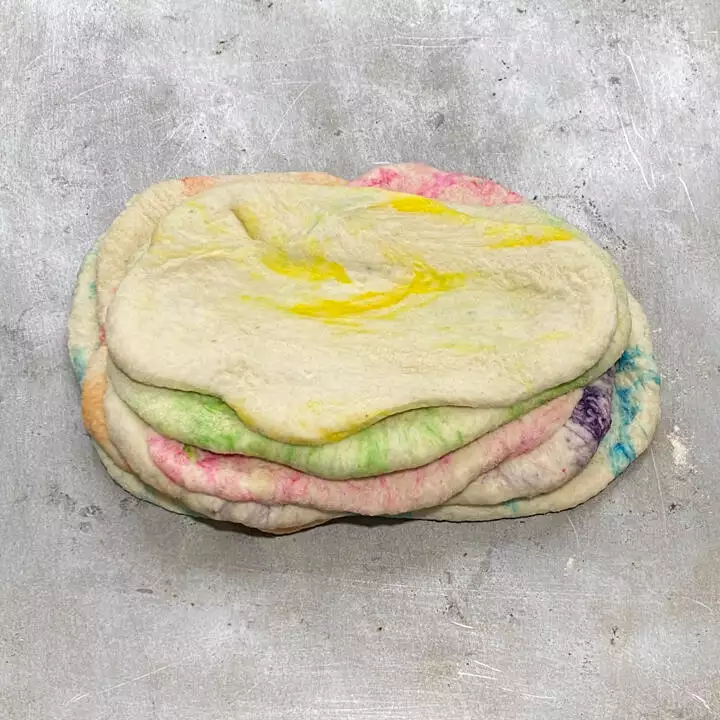 Roll into a tight loaf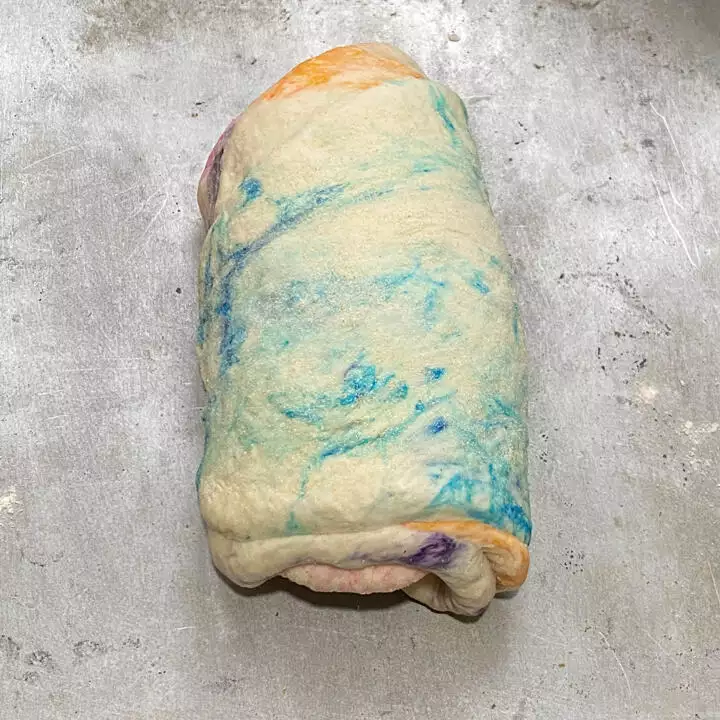 Place in a greased loaf pan. I also lined the pan but this is optional.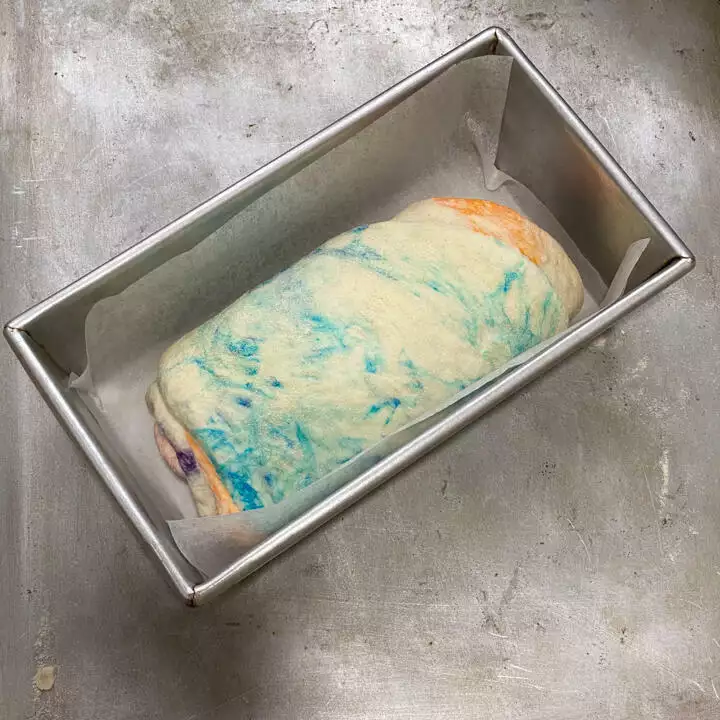 Leave it in a warm place to double. Takes about 1 hour. In the meantime, pre-heat oven to 180 C. How to pre-heat an oven.
My loaf rose a lot because I left it around for more than an hour. What a beauty!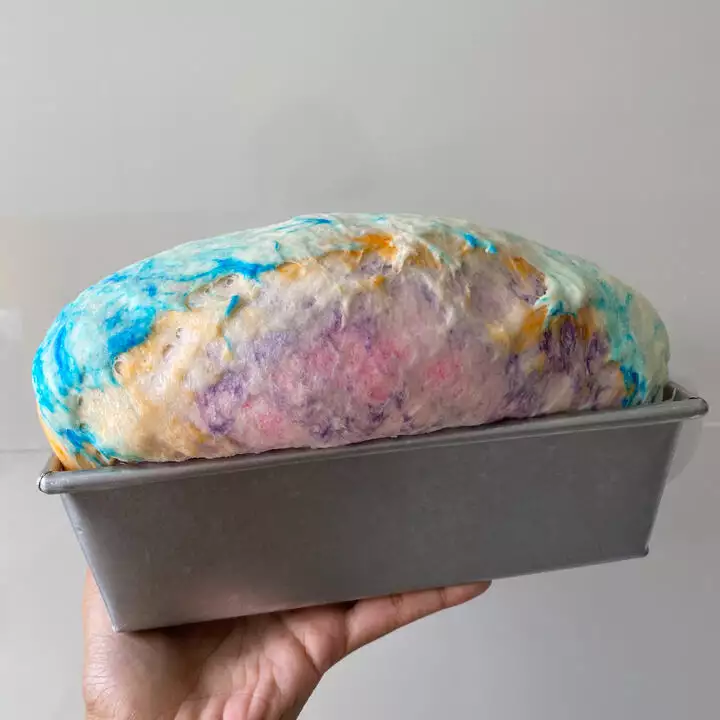 Bake for approximately 30 minutes or until golden brown on top and cooked through. You can brush the top with some butter or milk as soon as it comes out of the oven.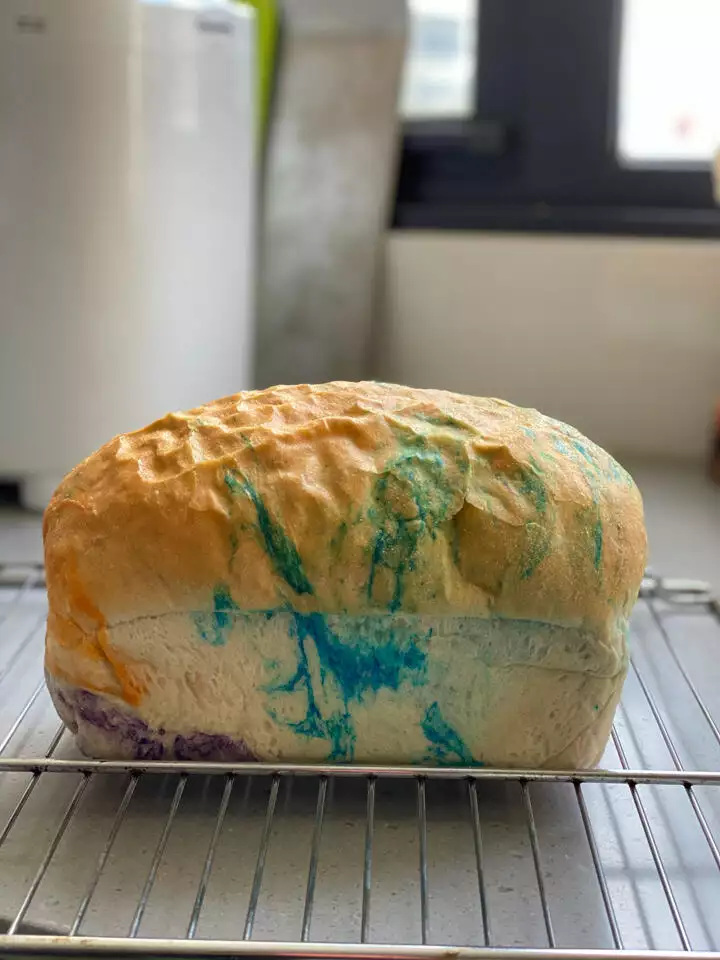 Slice when the loaf has cooled completely. How gorgeous is that?