This super basic and
easy potato fry
is from my childhood memories. My grand mom used to make this on rare days when she was feeling indulgent. We rarely cooked with potatoes and my mom often refers to them as the backup vegetable, only to be used if we run out of the 'normal' vegetables in the refrigerator. She also doesn't believe in using too much masala and spices and I don't ever remember her buying or using garam masala until very recently. I normally make this
potato roast
which TH loves and while that's really very easy to make, this
potato fry
is actually even easier. This potato fry also uses
no onion and no garlic.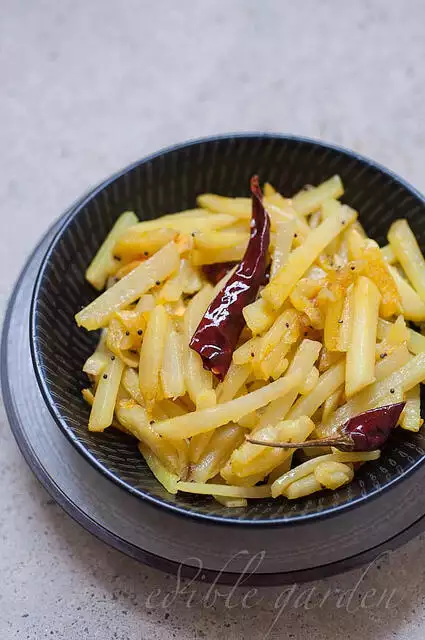 While my grand mom cuts the potatoes into small cubes to make potato fry, I chose to cut them up a bit differently. However you chop the potatoes, this dish is dead simple and there are no complicated spices to mask the earthy flavour of the aloo or potatoes. Since this fry is very mild, it pairs beautifully with sambar or any coconut based gravy like kara kuzhambu.
BASIC INDIAN POTATO FRY RECIPE
Preparation time: 10 minutes
Cooking time: 10 minutes
Serves 4
Recipe: from my memory of my grand mom cooking it
Ingredients:
2 potatoes, cut into very small cubes or into long thin fingers
4-5 dry red chillies
1 tbsp of oil
1/2 tsp of black mustard seeds
1/4 tsp of turmeric powder
1/2 tsp of split urad dal / ulutham paruppu / uzhunnu parippu
How to Make the Potato Fry:
1. Heat the oil and add mustard seeds and urad dal. When the mustard seeds pop, add the potatoes and stir until the oil coats the pieces.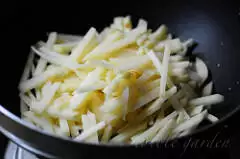 2. Cook on low heat, stirring frequently until the potatoes are half cooked. Add the turmeric powder, red chillies torn into halves, and salt.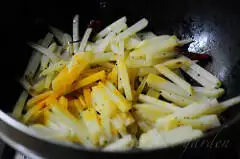 3. Mix and continue to stir fry and cook until the potatoes are soft. The trick is to stop cooking before the potatoes totally crisp up. The outside will be crispy and the insides soft and spongy. Cutting the potatoes into cubes is a better idea for this dish, really.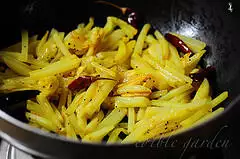 Serve hot.
Notes:
You can do a number of variations of this potato fry, obviously. I sometimes add a sprig of curry leaves, a tsp of minced garlic, or some other additions I feel would enhance the taste
I always make this with russet potatoes since they cook up nice and buttery and I love that texture. The cooking time will depend on the type of potatoes you use
Serve potato fry hot with rice and any curry of choice