Except for the one time my sis shared her
Blueberry Yogurt Muffins Recipe
, I haven't really had guest posts in Edible Garden. I hadn't given much though to changing that fact either.
However, I have some really sweet readers, some of whom send me recipes that they think I will like. Recognising my love for paneer recipes, Vinitha Vasanth, a dear reader of mine who also actively engages in my Facebook page, sent me this recipe for Paneer Pepper Masala which she adapted from a pepper chicken recipe. She also attached a delicious-looking picture with a disclaimer that she is not good with food photography. Well, I beg to differ.
This looks pretty good, doesn't it?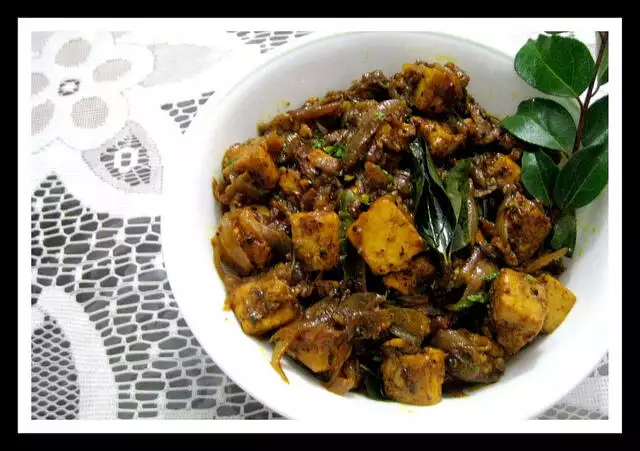 I can literally smell the pepper and the masala mixed so harmoniously with the paneer. She shared this with me so I can try the recipe. I asked her if I can post her Paneer Pepper Masala recipe as it is on the site and she agreed. Thankfully! So here it is, from Vinitha and me to you all.

In her own words:
"Dear Nags, thought of sharing a recipe with you – Paneer Pepper Fry.
My father had asked me to make Paneer Pepper Fry for a change. I searched online for the recipe but didn't find a satisfactory one. That's when I came across the recipe – Pepper Chicken on the website www.mariasmenu.com. So, my paneer pepper fry has been adapted from Maria's pepper chicken dish. It tasted nice. Moreover, the colour and aroma was awesome !
Sending you the recipe as well as a picture. Do check it out. I'm sure you'd like it."
I love it Vinitha, and will try it as soon as I can find some time to make paneer or buy some.
Paneer Pepper Masala | Paneer Pepper Fry
Preparation time: 5 minutes
Cooking time: 20 minutes
Serves 2-4
Adapted from: Marias Menu
Ingredients:
1 cup (250gm) of paneer cubes (Vinitha used Amul paneer – you can also make paneer at home)
3 onions, sliced thin
1.5 tsp of ginger-garlic paste
2 green chillies, slit lengthwise
1 1/4 tsp of whole black pepper, crushed
1/2 tsp of garam masala
1/4 tsp of fennel (perum jeerakam) powder
1/4 tsp of turmeric powder
1 tsp of soya sauce
2 tsp of tomato ketchup or sauce
A few curry leaves
1 tbsp of oil
Salt to taste
Coriander leaves for garnish, chopped
How to Make Paneer Pepper Masala:
1. Soak frozen paneer cubes in lukewarm water for 30 minutes. Cut into smaller cubes / halves.
2. In a pan, heat the oil and add sliced onions. Fry till golden brown. Add green chilli and sauté for a minute.
3. Add the ginger-garlic paste. Let it cook till the raw smell leaves the paste (about 2-3 mins).
4. Add turmeric powder, garam masala, fennel powder, and crushed pepper. Saute for 1-2 mins.
5. Add soya sauce and tomato ketchup. Mix well.
6. Add 1/4 cup water and salt and mix well.
7. Add paneer cubes and mix well till the masala coats the paneer. Bring to boil.
8. Add curry leaves, cover the pan and cook on low flame for about 5 minutes. You should cook till the masala turns darker ( a deep dark brown/black) and dry with the masala coating the paneer pieces as in the picture above.
9. Add some finely chopped coriander leaves and mix well.
Serve hot with rice or rotis.
If you try Vinitha's Panner Pepper Malasa recipe, do leave a note with your thoughts and adaptations.