To me, a kuruma or korma recipe would have coconut in it. I wanted to make a coconut-based paneer recipe to have with rotis and started searching for one. Then I chanced upon this super easy paneer korma recipe from Sanjeev Kapoor but surprisingly, it has no coconut, rather, the base is a delicious yogurt blend mildly spiced. TH would love that, and anyway I don't think I want to argue with Sanjeev Kapoor on what a paneer korma should have and shouldn't have!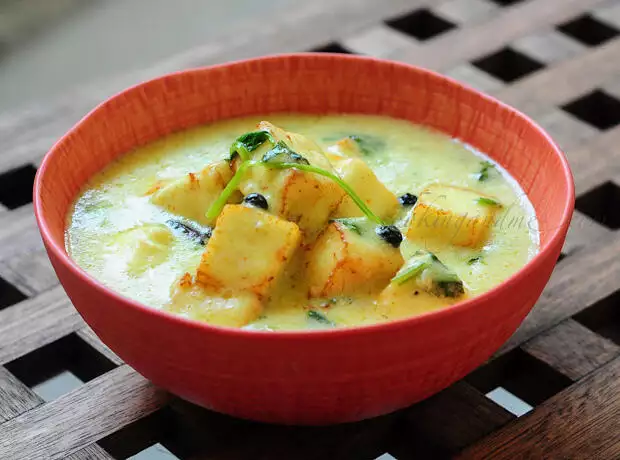 The entire thing came together in less than 15 mins, probably the easiest and quickest paneer dish I have ever made. I used pre-fried paneer cubes which made it even quicker but don't let that deter you.
Also check out mushroom kurma recipe, soya chunks korma and mixed vegetable korma recipe.
PS: This is the first picture in the gorgeous pink-orange bowl I got from Kappabashi Street in Tokyo.
Paneer Korma – A Sanjeev Kapoor Recipe
Preparation time: 10 minutes
Cooking time: 15 minutes
Serves 2
Adapted from: Sanjeev Kapoor
Ingredients:
1.5 cups of cubed paneer (make paneer at home if you wish)
1 cup of plain yogurt
3-4 cloves of garlic
A pinch of turmeric powder
1″ piece of ginger
2 green chillies
1.5 tsp of all-purpose flour
1 tbsp of oil
A few whole black peppercorns
2 bay leaves
4-5 cloves
3-4 green cardamom pods, crushed
1 tsp of garam masala
A small bunch of fresh coriander leaves, chopped
Salt to taste
How to Make Paneer Korma:
1. Coarsely grind the ginger, garlic and green chillies. Add this to the yogurt along with turmeric, flour, and salt. Mix well with 1 cup water and set aside.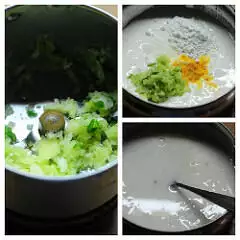 2. Lightly shallow fry the paneer cubes in some oil until the edges turn golden brown. Drain and set aside. If using frozen paneer, defrost fully before frying.
3. Heat oil in a pan and add the bay leaves, cloves, cardamom and peppercorns. When the spices give out a nice fragrance (1-2 mins), add the yogurt mixture. Cook on low heat for 2-3 mins or until it just starts to boil.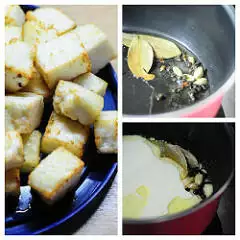 4. Add the fried paneer cubes and chopped coriander. Mix well. Top off with the garam masala, cook until the mixture is heated through (don't boil), and remove from fire. Adjust salt.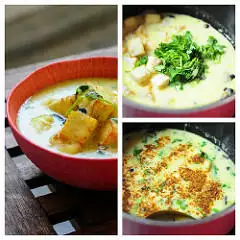 The gravy was light and delicious, perfect with rotis. Although it looks bland, it was spicy and just perfect for a hot afternoon in Singapore. I didn't miss the coconut in the gravy at all – for once!