One of the biggest parts of being first time parents is all the decisions you need to make for your new baby! The number of things you "need" for a child is overwhelming to say the least and there are so many options out there. One thing I will admit about myself is, I am quite obsessed with the stuff I buy for my daughter. I don't walk into a store and pick up stuff for her, everything I buy is a result of extensive research and after reading multiple reviews.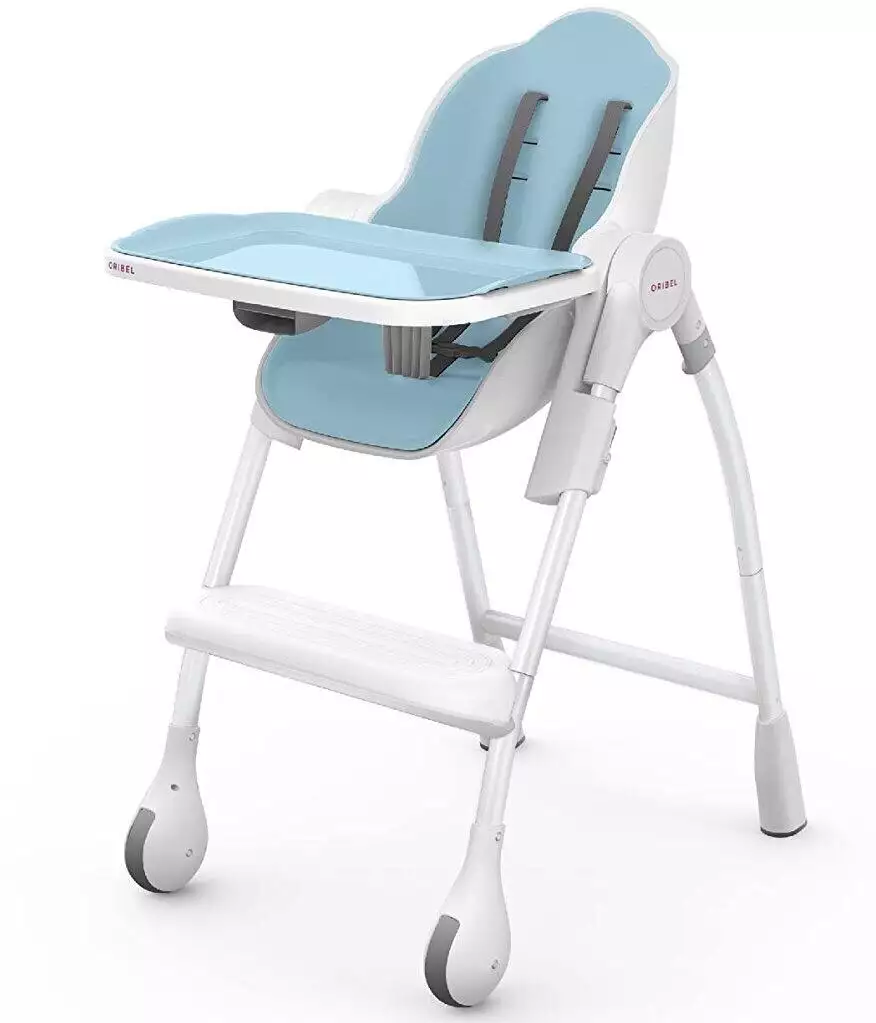 Pin
One item I got stuck on is her high chair. We had to wean S sooner than expected since she had reflux and related discomfort and her paediatrician recommended slowly introducing solids to her at around 5.5 months. I panicked and went to Ikea to buy her high chair the same day. Then I came home and realised she can't use it for another couple months because she couldn't sit up completely unassisted yet. So we used her Baby Bjorn bouncer which really wasn't ideal (since it bounced when she was in it) but we made it work for a short while.
Fast forward a couple months later, Oribel sent us this gorgeous marshmallow blue Cocoon High Chair and I was so upset we didn't chance upon it sooner. The recline on this chair is PERFECT for younger babies and a great height for feeding parents/caretakers too.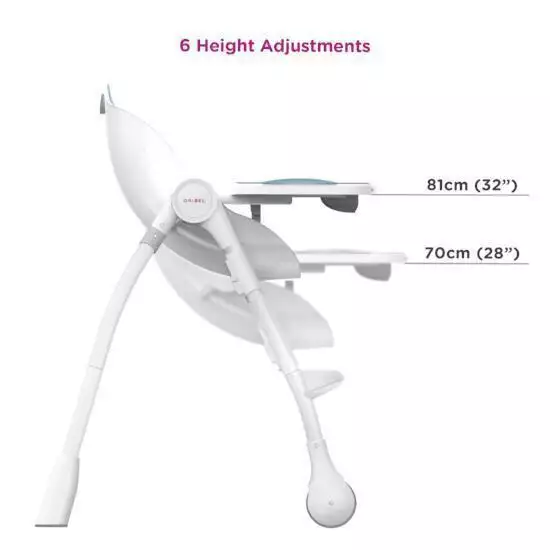 Pin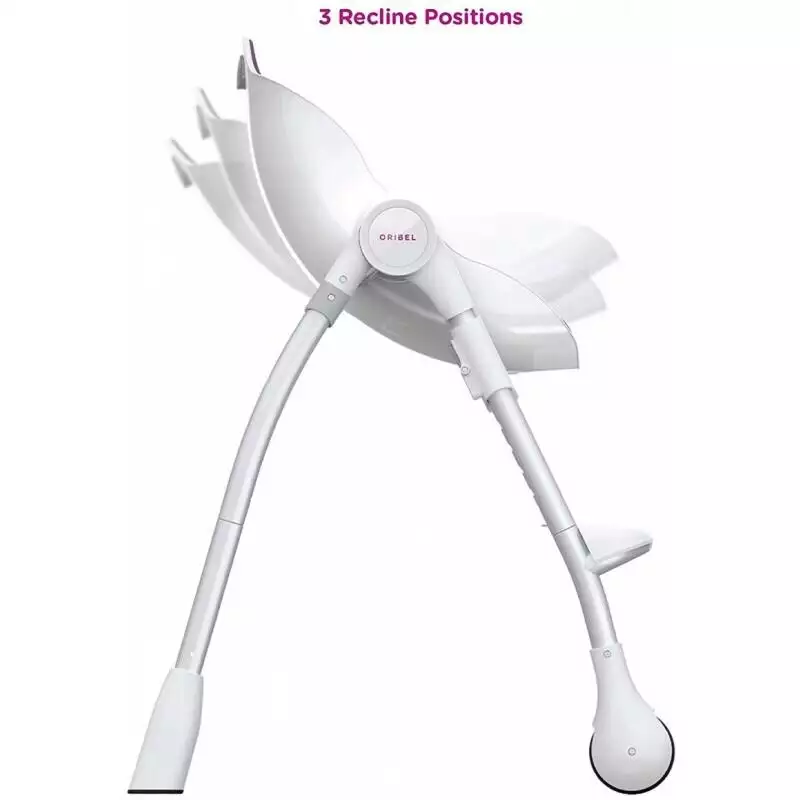 Pin
S was around 8-9 months when we received it and by then she was quite used to the Ikea chair but HATED the buckles. We constantly struggled to keep her in because she would easily wiggle out half her body and try to lunge herself on to the ground! Yes, I birthed a feisty child.
Enter the Cocoon and it really WAS like a cocoon. The seat was larger overall and the tray, oh that gloriously large tray, was in itself enough to keep her happy. I started teaching her to self feed at this time and we would just put food directly on the chair for her to experience the texture and start feeding herself. Worked like a charm!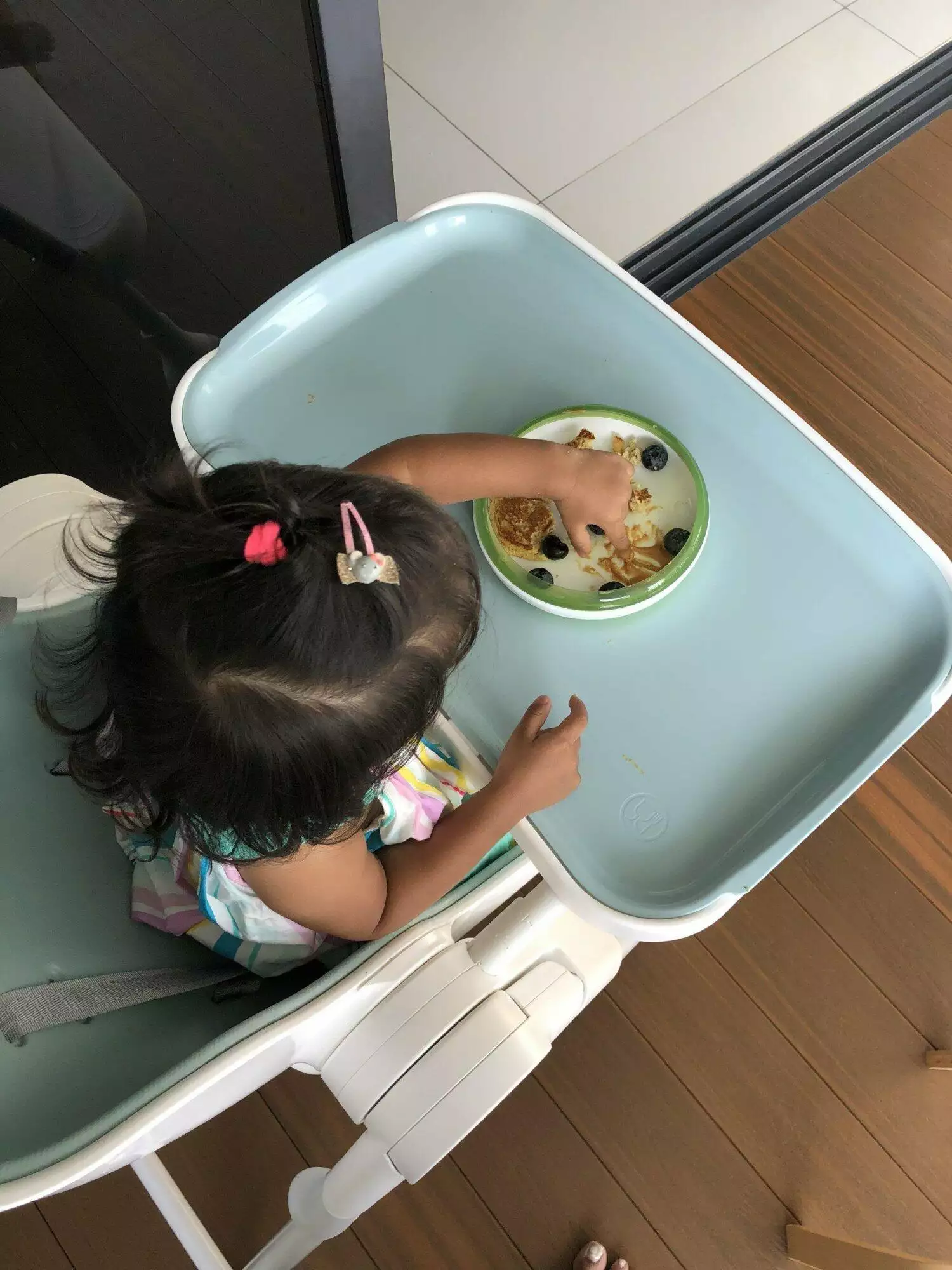 Pin
We have been using this chair 2-3 times per day for 9 months now and I feel very comfortable doing a full, honest review of our experience.
What we love:
The tray. It's the best part about this chair. The size is generous, the top part comes out making clean-up super easy and it's dishwasher safe too, if that matters. We usually take it out, wash, and bring out the next meal on it and set it on the tray holder, like my royal toddler seems to expect
The seat. It's really like a cocoon and has a thick padded seat covering which is easy to wipe clean after every meal.
The flexibility. The Oribel Cocoon is one of the very few chairs in the market that can be reclined and height adjusted 6 ways. The tray can be inserted all the way in or with some wiggle room and for my toddler, it's all the way in so she's securely inside. Often, we don't use the buckles (she HATES it) and she's still quite safely nestled in
The looks. Let's be honest, it's important that your kids' furniture is not sticking out like a sore thumb in your home. The Cocoon is a gorgeous piece of furniture and I picked out the cool marshmallow blue which complements the greys and pops of colour in our home perfectly
The quality. It's sturdy, great quality and shows no sign of wear after regular (ab)use for over 9 months
The accessories. The newly released seat liner (seen in the pic below) has been a game changer in quick clean ups. It catches most of the crumbs and can be cleaned up easier and quicker than wiping the chair after each meal. Bonus: You can also use this seat liner on a stroller or car seat, in most cases.
You can also see below how the chair looks without the tray. In this form, you can roll it up to the dining table and have your child eat at the table rather than off the tray.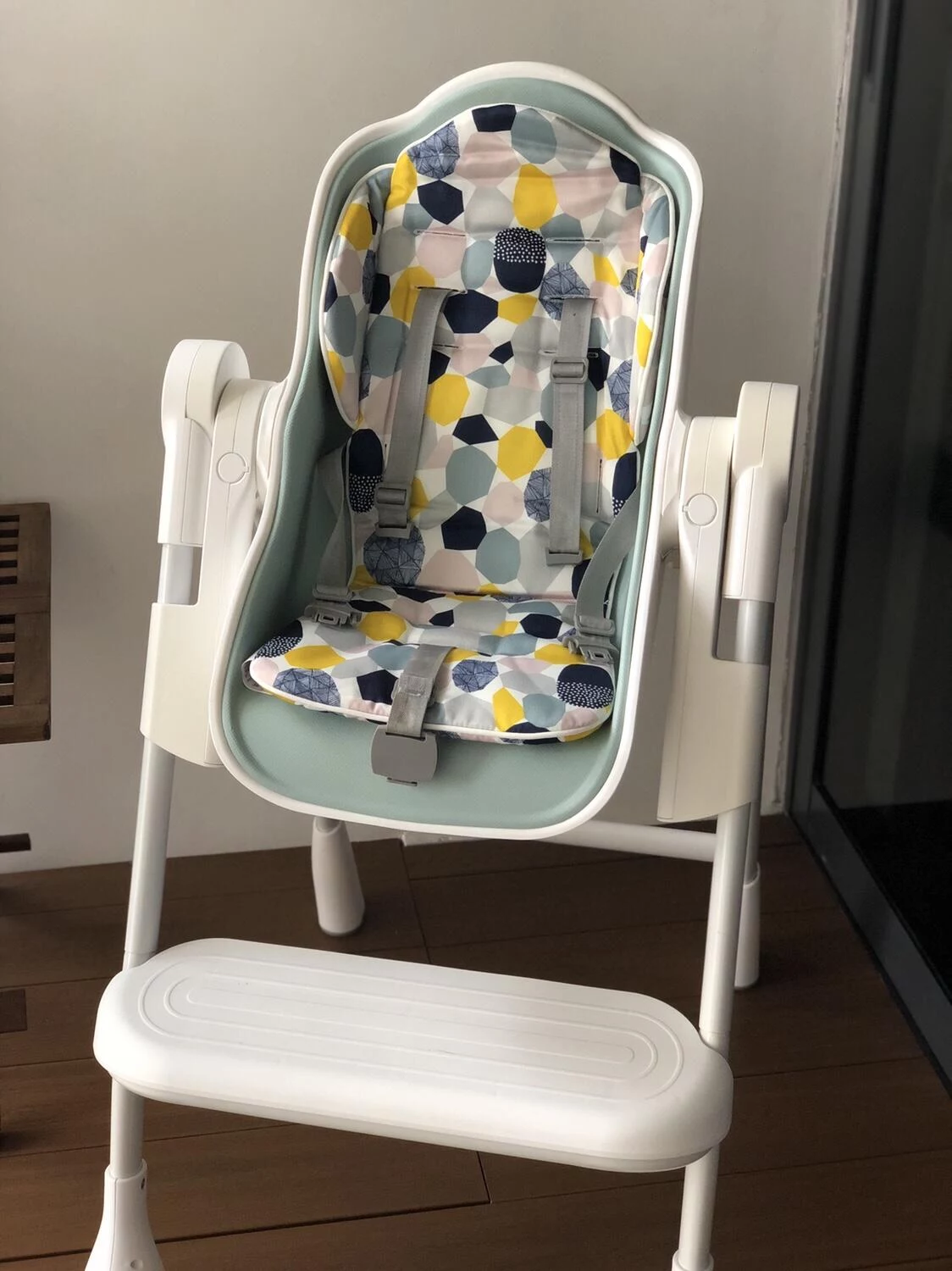 Pin
The tray is food safe so you can also just put food directly on it for self-feeding!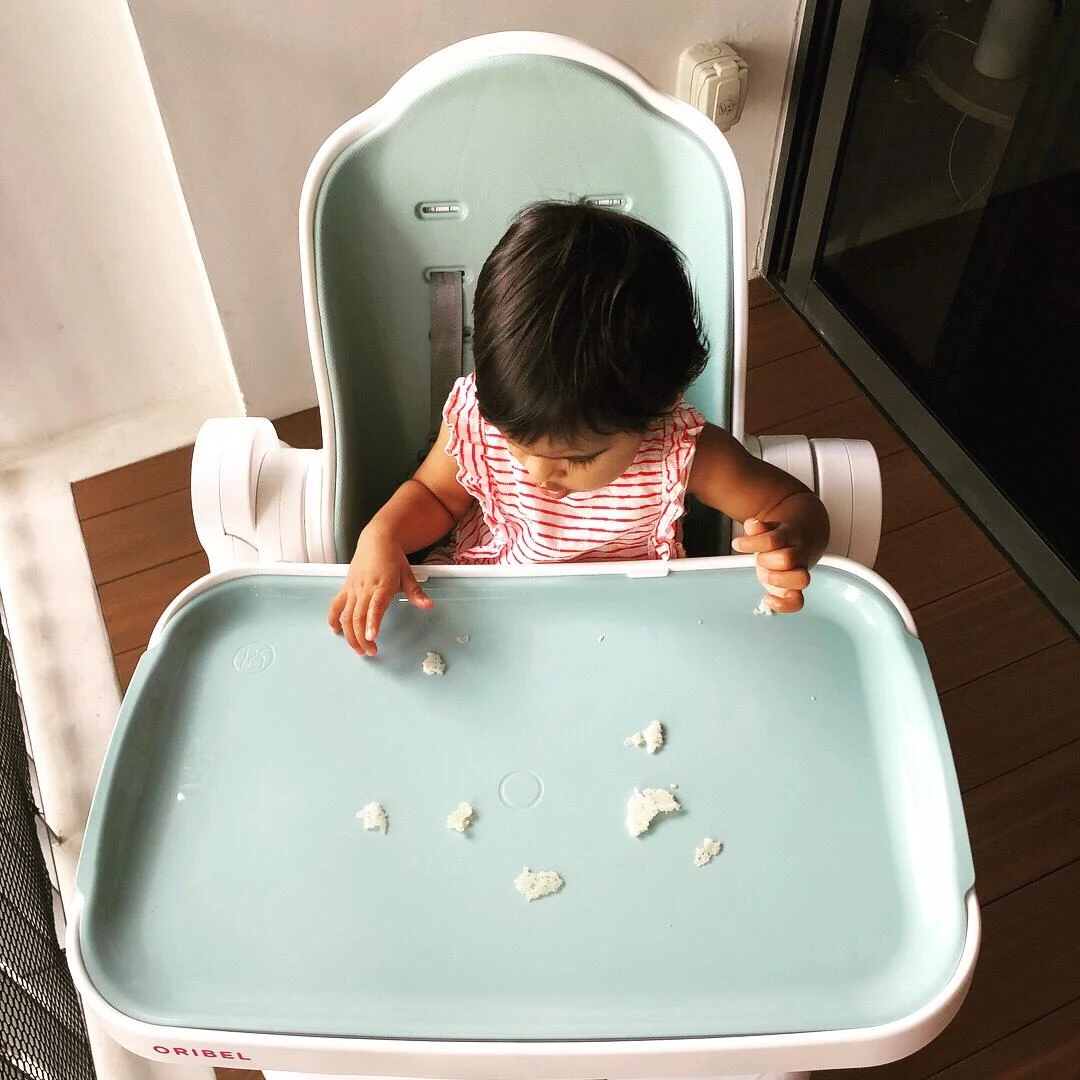 Pin
Below, you can see how the tray easily accommodates an ezpz mat, which is our go-to for most meals for S. The Ikea high chair tray does not fit an ezpz mat and this was a bit of an issue for us when S started getting more comfortable with self-feeding.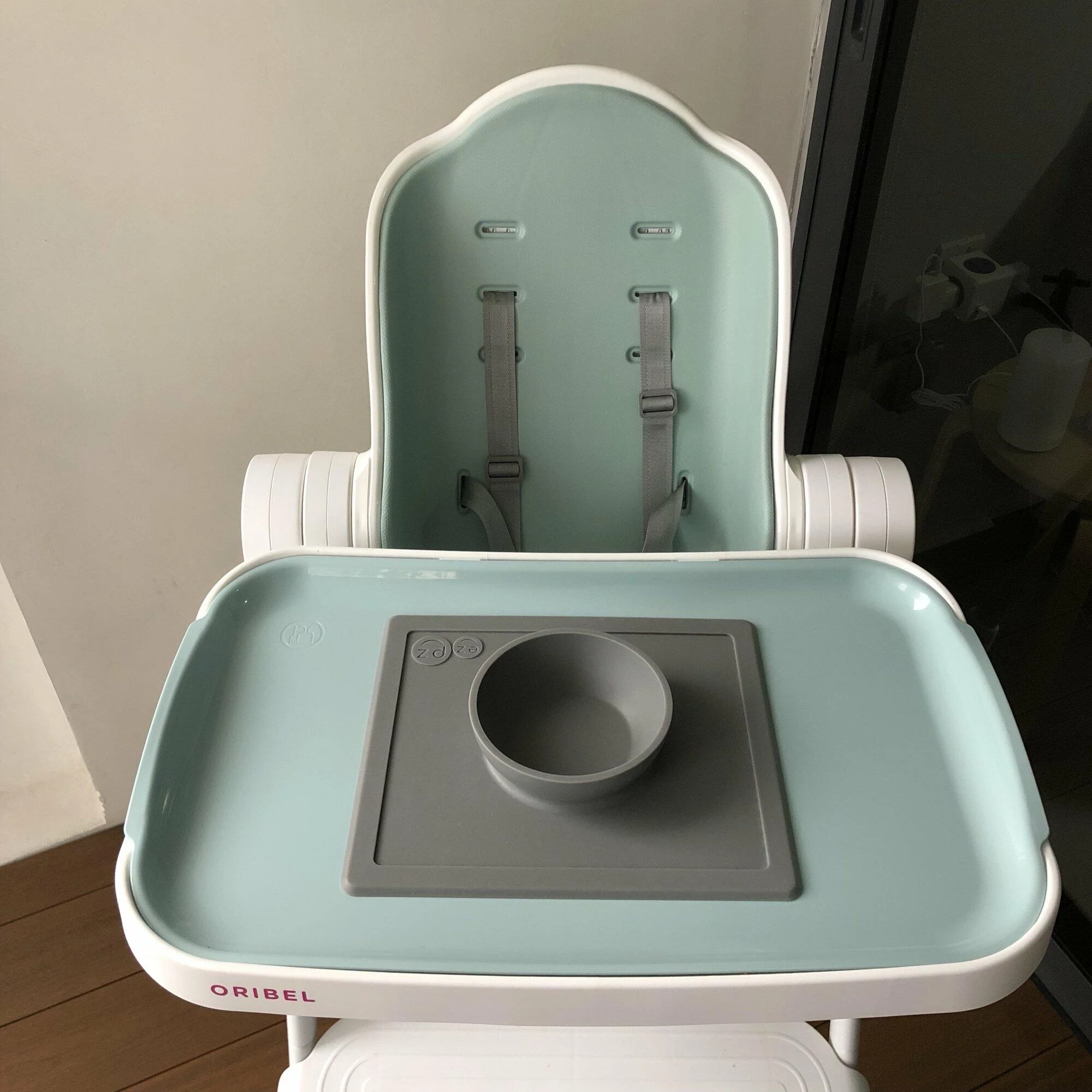 Pin
Things to note:
The crevices. Crevices tend to be a challenge in any high chair because food goes everywhere and clean up can be tedious. The main part of this chair that gets some food stuck is the buckle openings in the seat padding. We take it out once a week for a deep and proper wipe down. This is an issue for pretty much all chairs and one that the Ikea chair does better on because it's small and no frills
The size. I know, I just spoke about how I love the large tray size but the overall size of the chair, while great, can seem unwieldy in a smaller apartment or home. We keep ours in the balcony which works perfect but with the tray attached, it may not fit around a regular dining table set up. Without the tray, however, the chair would work very well against a dining table
The wheels. While a good idea in theory, the wheels on the front of the chair are not very smooth to use and I find that I drag the chair more than I roll it, which can get a bit awkward
The cup holder that comes with the chair can be attached only if the tray is removed. We haven't found a use for it yet, but I'll update here if that changes
There's really no perfect high chair out there but I can see very few reasons to dislike Oribel. It grows beautifully with the baby and at 19 months, S is still loving hers!
Want to try out this high chair for your little one? Here's USD 20 off your purchase, just use code NAGS20 when checking out. Looking for retailers that sell the Oribel Cocoon High Chair? Here you go.
This post is sponsored by Oribel. All words and opinions shared here are my own and completely honest, as always.