I have been on a grand cooking spree over the past couple of weeks. The focus has mostly been South Indian recipes, especially new rasam, sambar, and kuzhambu recipes which I haven't tried before.
This Thakkalu Kuzhambu or Tomato Saar Recipe is as delicious as it is simple. I love anything tomato-flavoured and especially when it's kuzhambu with coconut ground in it, it's extra special for me. This Tomato Kulambu goes great with rice and some chips. You can add a dry vegetable curry on the side, like a betroot thoran or a beans mezhukkupuratti which would just take your meal to the next level.
So now let's check out how to make Thakkali Kuzhambu using this easy recipe from Arch.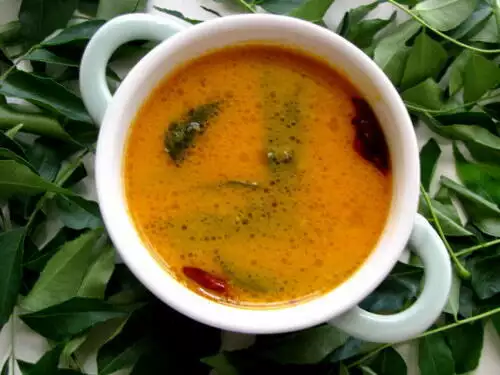 Now onto the Tomato Saar Recipe.
Thakkali Kuzhambu | Tomato Saar Recipe
Serves 4
Recipe source: Arch
Ingredients:
4 ripe tomatoes
3-4 green chillies
1 cup grated coconut
A few curry leaves
1 red chilli
1/2 tsp mustard seeds
A pinch of hing / asafoetida
1.5 tsp salt
2 tbsp grated jaggery
How to make Thakkali Kuzhambu:
1. Blanch the tomatoes in hot water. Peel the skin off and keep aside to cool. Reserve the water for later use.
2. Grind the green chillies, coconut, and tomatoes in a blender till smooth
3. Add the reserved water to the tomato-coconut paste and bring to boil in a pan.
4. Add salt and jaggery and cook down until desired consistency is reached. If the kuzhambu is too thick, you can add more water to begin with.
5. For tempering, heat oil in a small pan and add mustard seeds, broken red chilli, curry leaves and asafoetida.
6. Dunk the seasoning over the thakkali kuzhambu and serve with hot rice