Whenever I make egg curry, its usually the
Kerala-Style Egg Roast
. Its easy and goes with rotis, rice or even dosa. Recently when I made appam, I had the craving to have egg curry with coconut milk, the sweet and spicy curry of my childhood. Using store-bought coconut milk significantly alters the taste of this so use freshly squeezed coconut milk if you have time in hand.
This recipe is my own version of the popular Malabar Egg Curry. Don't be mean if it doesn't go with what you have in mind. Also, this post on
homemade coconut milk
may come handy before making this egg curry.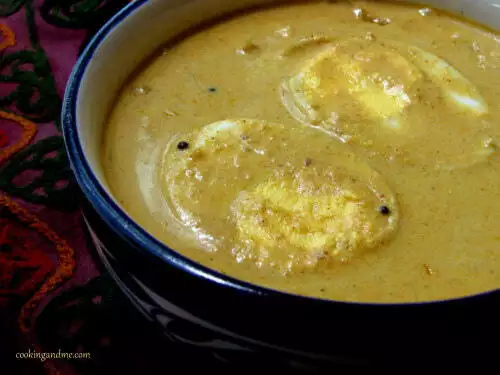 Malabar-Style Egg Curry Recipe
Serves: 2
Ingredients:
3 eggs, boiled, shelled and cut into halves
2 large onions, sliced
1 cup thick coconut milk (onnaam paal)
1 cup thin coconut milk (rendaam paal or 1/2 cup store-bought coconut milk + 1/2 cup water)
1 tsp ginger garlic paste
1 tsp red chilli powder
1 tbsp coriander powder
A pinch of turmeric
1 tsp garam masala (or pound/grind together 2 cloves, 1 small piece cinnamon and 1 cardamom)
Salt to taste
To temper:
2 tsp coconut oil (or any oil)
1/4 tsp mustard seeds
1/4 tsp jeera / jeerakam
A few curry leaves
How to Make Malabar Egg Curry
1. Boil eggs, shell them, cut into halves and set aside.
2. Heat oil in a pan and add the ingredients to temper. When the mustard seeds pop, add the sliced onions and fry until they turn golden brown.
3. Then add the chilli powder, coriander powder, garam masala (or masala mix) and turmeric and fry for 30 seconds. Add the ginger garlic paste and fry for another minute or so.
4. Add the thin coconut milk and reduce flame to flow. Bring to boil and let it cook for about 2-3 mins, stirring occasionally.
5. Keeping fire on low, add the thick coconut milk and the eggs. Add salt, bring to just one boil and remove from fire. If you boil too much, the coconut milk will curdle so be careful.
Enjoy warm with rotis, rice, Kerala appam or puttu.