Maida Puri
, as the name suggests, is
Poori
made with Maida or plain flour instead of the usual atta or whole wheat flour. The taste and texture differ quite a bit and maida puri is best served hot with a spicy curry whereas regular puris make great
tiffin box items
and taste great even with a spoonful of sugar. To me, these maida puris are a great instant bhatura since bhatura dough takes some time to ferment before you can make them. The taste is obviously not the same but Maida Puri will work as a substitute in a pinch if I am in a hurry.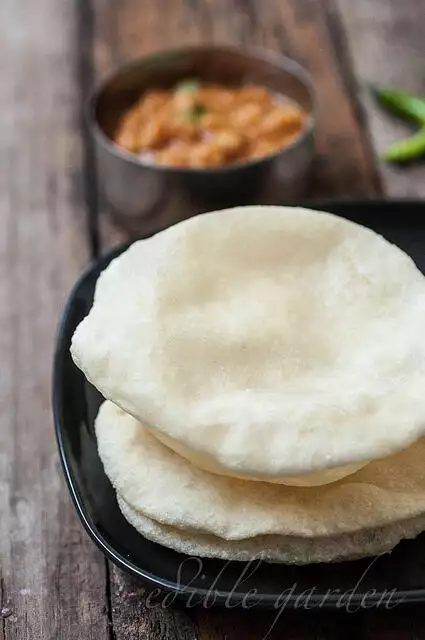 Last weekend, I had this sudden urge to make the Bengali-style puris or luchi and did some research for a good recipe. Turns out it's very similar to the maida puri I made a couple months back except that I had added some rava or semolina to mine and luchi doesn't necessarily have that.

In any case, I don't claim any authenticity to this recipe so if you are a staunch Bengali food lover, please don't yell.
MAIDA PURI RECIPE
Preparation time: 15 minutes
Cooking time: 15 minutes
Makes 10 puris
Ingredients:
1.5 cups of maida or plain flour
2 tbsp of rava or semolina
3 tbsp of curd or plain yogurt (optional)
1/2 tsp of salt
1 tsp of oil, for the dough
2-3 cups of oil, for deep frying
How to Make Maida Puri:
1. Mix all the ingredients together except the oils.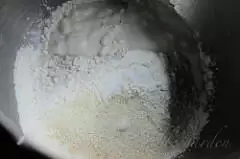 2. Add water a little at a time and knead into a soft and pliable dough. Don't over-work the dough, just knead enough to bring it all together. Add the 1 tsp oil to the bowl and turn the dough to coat it well. I used my Kitchenaid to make the dough.
3, Keep covered for 10-15 mins.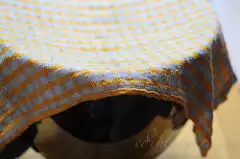 4. Pinch off a lemon-sized ball of dough, form a ball between your palms, dust generously wtih flour, and roll into a circle of about 3″ diameter and 1/4″ thickness.
5. As you work on the puris, heat the oil for deep frying until it just begins to smoke.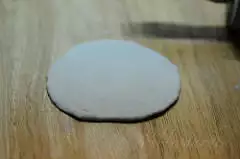 6. Once all the puris are rolled out and the oil is has heated up, drop each gently into the oil. Using a slotted spoon, make sure the puri is dunked into the oil well for frying.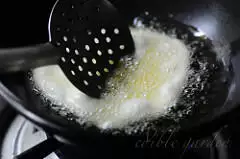 It will puff up completely in about 5-8 seconds.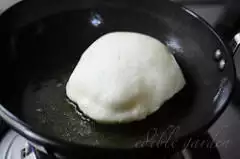 7. Turn it to cook the other side.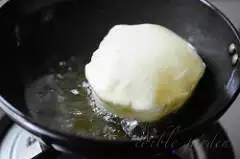 Maida puris won't turn very golden or brown like regular puris and bhatura do so once both sides have been fried for 5-8 seconds after puffing, you can drain and set them aside. Repeat with the rest of the rolled puris.
Serve immediately with any spicy bhaji like chana masala, potato masala, or vegetable kurma.
Notes:
Serve hot, otherwise the puris turn a bit rubbery and hard
The semolina helps the puris puff up and stay crisp for longer. I added curd to give them more of a bhatura taste, it's purely optional
Featured Props:
Ikea 365+ Side Plate
Steel katori from the 1970s that belonged to my grandfather
The kadai is a Hawkins anodised deep fry pan