Since I started this little space right here in April 2007, it's grown slowly but steadily in terms of readership. For any blog author, this is a source of motivation, inspiration, and maybe even the main reason why they share what they cook and eat.
But more than anything, I appreciate all those who took the extra effort to write to me personally. These are their notes – the Love Letters! New emails will get added on top as I get them.
I had labeled these emails and stored them away hoping to compile this post. In fact I replied to one of these emails back in 2009 saying I will be compiling it so you can imagine how long I have procrastinated this!
You power this blog. You, you, and yes, you! 🙂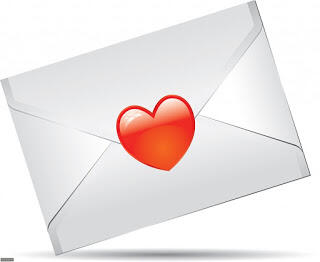 "To say that you are a wonderful cook is an understatement. You have definitely given me the courage to experiment with recipes with a devil-may-care attitude and am sure many will agree with me on that.I must admit I was a big wuss when it came to experimenting and trying out anything new for fear that it will go wrong. Add to this the fact that my better half (then boyfriend, now fiance) is a fabulous cook, which was enough to give me a complex. I ended up learning all that I knew then, from him and carried on repeating them day in & out. Then one fine day, I had had enough of the same old boring food and decided to google and lo and behold, I stumbled upon your blog.
Timidly at first, and then more vigorously, I took to your website like a fish to water 🙂 I have started to cook new dishes while expecting guests (which is a risky affair) but then again, the confidence that has come with time & ur lovely blog, is priceless. So much so that, everyone constantly compliments me on my food, starting with my guy 🙂 So thank you 🙂
I especially love your step by step snaps and for a paranoid person such as myself, it is such a comfort.
To summarize in addition to your recipes being fantastic, I would like to thank you from the bottom of my heart for taking time out and spreading the confidence, joy and good food around 🙂 Excellent work :)"
Vasanthi Nagappan
May 24, 2013
"I discovered your blog in 2009 and have visited your site atleast a couple of 100 times since then – no joke. I have tried out a whole bunch of recipes from your blog and, be it starters/main course/desserts (especially desserts), all of them have turned out amazing. One of my top favorites is the sticky toffee date cake. I have made it atleast 10 times and it has always been a hit. I love how you simplify your recipes and don't insist that X ingredient that costs $50 dollars (and it found only in a specialty shop with a name that cant be pronounced) HAS to be included for the dish to turn out well. 🙂 I have a 6 month old daughter and I'm already dreaming up ways to adapt recipes from your blog for future kiddy parties! I just wanted to say that you're doing a stellar job. Looking fwd to seeing and trying out many more dishes!"
Akhila Gautam
May 15, 2013

Ramaa Ramesh
Feb 5, 2013
"Let me confess the fact that your website and the write-up about it was stupendous Millions of fans across the globe would write to you.. but I just wanted to say a few things..
You testify the true essence of multi-tasking women! A food blogger, photographer and a job at google! God does love you truly *knock on wood*
And it also speaks of the Attitude you wear anybody- would- love to be you.. especially with the food photography and food styling part of it! How magnanimous of you Nobody would ever share their stuff like that.. but your website is a repository of info..
Was reading your profile and was wondering how you were able to achieve so much in 5 years…"
Sindhu Baradwaj
Jan 24, 2012
"I recently came across ur food blog and I went through the entire posts for a week! I mean everyday all posts! I so luved ur writing and pictures. And then I guess through one of ur posts in ur food blog I stumbled upon TMD. I finished reading ALL ur posts just now 😀
I have never done this before – mailing someone I don know. But the moment I finished reading ur blog I couldn't stop myself. Mebbe as a famous blogger you might have got so many fan mails like this, but still I didn't wanna stop mailing you 🙂
Love ur food blog – keep them coming 🙂
Love TMD too – am able to relate myself to many posts!"
(note from Nags – TMD is another blog I used to write in)
Bavya Badrinath
Aug 23, 3012
"Another fan for your blog and photography!! I am new to you. But I came to know you thro' your blog, Edible Garden. Awesome name. Awesome website, awesome pictures! A fan of your blog and photography since 2 days.A new fan! The thing that makes your website stand out from the others is the catchy writings!! I felt like there's someone on the other side of the planet who shares the same thoughts as me. And browsed thro' the website a bit, the Edible Garden one.
Rashmi Gowda, Bangalore
Dec 2, 2011
"I read your marble cake recipe on the internet, in fact just came across your blog through a routine internet search process, loved the recipe. thanks for sharing it."
Shikha Kapil
Nov 24, 2011
"I am an avid follower of your blog . My kids love anything that I make from your blog so you are quite famous in my house :)"
Vimala Vignesh, Bangalore
Nov 12, 2011
"I happen to come across your Butterscotch Blondies… and the pics me to the old time oven. The sight of the oven took me back to my young days (oops, sorry didnt mention… i am a mom in her 50s — well a khool mom!!!" Just to thank you for including the good old oven of mom… and yes, your recipes are really tempting… i have a dangerously bad sweet tooth…. so u can understand my dilemma with the pics of the items…"
Anila
Nov 11, 2011
"I was just searching the net as to how to make 'yellow dal' when I stumbled upon your blog. The recipe seems pretty easy although at the time of writing this mail I havent really given it a shot! I will though after finishing this mail. The reason that made me decide I need to drop you an email was not the recipe of the yellow dal, but your article on 'how to chose an SLR camera'. You know it is so funny that over the last couple of months, I have realized that Food and Photography excite me a lot, although never together! And then I stumble upon your blog which caters to both 🙂 I hope on working on both after I am done with my exams and I have some time on my hands.
So yeah, I just wanted to say thanks for that article! And the dal recipe that I shall be trying after I hit the send button on this mail!"
Aman Wadhwa, India
Oct 28, 2011
"I have been an ardent fan of your blog and have also tried many of your recipes 🙂
most of them have been a success, I must say.. I found edible garden by chance when I was searching for "beans mezhukkupuratti recipe" some months ago. I've been sort of "addicted" (to the blog) since then…
just felt I should send you an "appreciation mail" for your hard work and consistent clicks (which is always very impressive, 2 days ago , I baked the Moist Carrot cake for my dad's bday , and it was a super hit. i reduced the sugar (for both cake and frosting) and it was perfect (my 1st attempt at carrot cake, btw).
Roshin, Kuala Lumpur
Oct 25, 2011
"Yesterday I came to see your Gobi Manchurian Recipe. Today I made it for my family. It is very tasty and very easy to make. Super.
Thank You very much."
Benjamin Thomas, Germany
Sept 21, 2011
"Dropping you a quick note to let you know that I enjoy the recipes that you take so much time and effort to put together. I love cooking a lot but work (and admittedly, some trepidation about fouling things up) have kept my repertoire of dishes rather predictable and limited. Be that as it may, it is my desire to expand that list of dishes sometime in the future.. and I am sure I will derive much of that knowledge from your archived emails.
So, thanks a ton and more power to you!!"
Sudhindra Srinivas
Sept 2, 2011
"Nags, most of the time i keep checking your food blog to learn new new things. In a way you are like a guru for me :)"
Neethu Binoi, Dubai
Aug 29, 2011
"Today I tried a your Errissery recipe and came out tasty and my hubby like it lot. Thought Iam from Caribbean it always challenge for me to cook some for my Keralaite friends living around they were surprised today."
Sandy
Aug 9, 2011
"I love uuuuuuuuuuuuuu for all the fish recipes u post. Thank u sooooooooooooo much, i was sort of waiting for this recipe (natholi) and i got it. I learnt to cook fish from u, i prepare all ur recipes. Both my husband and me are basically from Kerala, brought up in hyderabad and now in Dubai. So like kerala dishes and ur baghara baingan dish of hyd and also north indian dishes. Thank u once again."
Viji Shial, Dubai
July 10, 2011
"I visit your blogs often and have been taking a lot of tips on blogging photography.
you are doing a wonderful job and it is so helpful for beginners like me."
Uma Shankar
June 10, 2011
"My name is Sheikh and I am 16 years old. I recently found your recipe on Chilli Paneer and my God it looks so beautiful that I am going to try to make it today!"
Sheikh Sheikh
June 8, 2011
"Don't worry ! You do not know me and am just a regular follower of your blog. Hope you doing good and a great job on your blog ! Love your recipes and clicks. Have tried several recipes of yours successfully especially the roasted brinjal with tomato ketchup, the corn cob curry, the carrot cake etc."
Gayathri Ramdas Sreekanth
June 4, 2011
"Came across ur EDIBLE GARDEN while learning Gobi paratha. Loved it. U sound so similar to me. Just wanted to tell u ; U made my day. Paratha came out so good. keep up this joyful nature of urs, the whole world wud be part of ur fan club."
Charms Solanki
May 30, 2011
"This is someone who discovered your blog yesterday and tried 3 of your recipes already.
Well..all in a day! I made your matar kumb [without the mushrooms], made the chow chow kootu [came out well, except that I had less coconut with me] and the best one….apple crumble with custard. I am yet to taste the crumble..its cooling away in the kitchen as I email you..I went up to look at what was called the edible garden and was really excited with your tagline..spend less time and cook awesome.
You really have a gift and are sharing it in the most special way with the rest of the world. [especially newbies like me…] Thank you soo much and keep up the great work."
Rashmi Thodkar, Kuala Lumpur
May 12, 2012
"Congratulations for the sweet success (of the chocolate macarons). This post is classy and the first pic is too good. I have seen Macarons only in TV and I had loved it right away. I am happy that I have an easy reference if ever I bake some. thanks to you.
The post is very informative. And all the links you have given is very useful too.
I am loving the pictures in project 365. Lovely."
Nimi Rajesh
May 12, 2011
"I've been wanting to write to you while since I became a fan of you abt 5 months ago..
I prepared Gobi Paratha on my 100th day of Wedding and it became my hubby's all time favorite 🙂 Prepared Spiral cookies on my B'day and it was a Bigggg hit!! Made Garlic rolls on my half yearly anniversary and my friends loved it & suggested I open a Bakery 🙂 haha!!
Credits go to you. Be it the simple Upma or the special Baking stuffs, my stop is at your blog, your recipes are so fool proof that I dont do any trial. All my special occasions are filled with one of your recipes and am proud abt being your fan.
You're my Savior, and I mean it. Thanks a ton & Love you loads!!"
Savitha Ramaswamy, USA
May 4, 2011
"I just wanted to tell you, you have one of the awesom-est blogs. Ever =D"
Sneha Sankar, Coimbatore
Apr 30, 2011
"I came across your site through a google search. From then on I am a fan of your blog. I have tried a lot of your recipes and keeps on trying. Have emailed your site to a lot of my friends. I always forget to comment on the recipe, so thought of emailing you. My 10 yr old son loves cake. I show him the pictures on your site and makes the one he chooses. Keep the good work going, it is an awesome site with step by step instructions."
Rasmi Moan, USA
Apr 30, 2011
"Hello, I have been following your blog for awhile now and a subscriber too. Allow me to say that it is a truly lovely blog site. Do keep up the good work. I especially enjoy your photography."
Usha Mathew, New Delhi
Apr 22, 2011
"I appreciate your recipes. I am very happy to say that I tried the recipe of aloo paratha from you. Yummy they were. I am bachelor and we friends cooked together."
Vinod, Bangalore
Apr 22, 2011
"I came across your website the other day and can't say how appreciative I am of your simple, no fuss cooking, with helpful suggestions and colourful website. I got married last year and have been attempting to learn how to cook and be domesticated for the time I have been here. Had I come across the internet with such mind blowing cooking blogs such as yours, they would have made all the difference.
I made your roasted eggplant with tomato ketchup recipe on the weekend, it came out perfectly! It received the "wow" eyebrows from my hubby, which speaks volumes. He is an incredibly fussy eater. So I vouch for your fool-proof tasty recipe when he almost fell of the chair with the first mouthful. This was a fantastically simple, easy and yet delicious item and so many of your other recipes seem to follow the same principle. I hope to make the Semiya Payasam and your hubby's aloo curry next. The Semiya Payasam sounds very much like the Payesh we Bengalis make.
Hope you keep churning out those fantastic recipes. Keep up the good work!"
Subharthi Sengupta, Singapore
Apr 11, 2011
"I love your website 'Edible Garden'. Yesterday I made Vegetable fried rice. It ws too easy 2 prepare and all loved eating it. Usually i take a lot of time for preparing dishes but this time i surprised all. But i used ghee instead of oil. My mother was the one who liked it a lot. She is great cook so its not easy that she will like something easily. Its all because of your recipe.
You have a lots of variety easy recipes in your cook book. I love visiting your site. And i will surely love trying to make many dishes also. Anyways Hats off to you Ma'am…."
Deepthi Thomas, Thiruvananthapuram
Apr 4, 2011
"I am a huge fan of your recipe blog. My hubby being an fussy eater I was astounded to find out that your recipes work like a charm on him. I have tried the veggie cutlet, some of your paneer recipes. I would love to cook more of your recipes but its just too time consuming to write them down with a naughty child who sleeps little and knows how to shut down a computer. Is there any way you could compile all your vegetarian recipes in a pdf book. I wouldn't mind paying for the same, you are my own sanjeev kapoor!"
Thank you very much. You are doing a wonderful job for people like me who are still learning the art of cooking and the way into husband's good book's!"
Deepa Baiju, Dubai
Apr 3, 2011
"Thank you very much for the wonderful recipes you have been sending. Tried the Paneer bread roll recipe, but used it as a filling for samoosas. They came out perfect.
My kids and husband just loved them. Perfect time as we are observing Lent and are vegetarian until Easter. Will be trying the other paneer recipes.
I have also encouraged my friends and family to register to your website."
Shaheeda David
March 31, 2011
"I love your blog…The pictures are great. I am so much inspired by your blog, I have started a new Blog…Please check it out.
Aarthi V, Nagercoil
March 21, 2011
"I came across your 'Edible Garden' by accident and that was one of the nicest things to happen.
I have tried the baby corn stir fry from your recipe and it turned out very well the first time and after that there have been several repeats. I shared this recipe of yours with friends of mine, while giving a link to your blog for the 'original recipe', as my variation of your recipe does not involve onion. 🙂
I discovered the sheer pleasure of cooking (about 3.5 years back) and it keeps growing with each day, as I discover newer & more efficient ways of cooking & related activities. You have loads of energy and I really admire that. You are not averse to sharing your food photography secrets or tips which can make life easier for people like us. Thank you!"
Prathima Raghavendra, Singapore
March 17, 2011
"Have been closely following ur blog during recent times and tried out some recipes, it came out really well and the illustrations you give are simply superb! thanks for those! :)"
Subashini Selvaraj, Chennai
Feb 21, 2011
"i've been follwing your blog and cooking many of the recipes found
thr.. this is earned me the 'good cook' title in the family and has
also boosted my confidence very much :)"
Ramya Mukund
Jan 28, 2011
"I had to say..what a blog you got!! I love eating and food in general! Dont have a well equipped kitchen, but have copied your recipes for later, whenever that happens! Love your comments, photos and everything else. Too much!"
Tina Tavares, Hyderabad
Nov 23, 2010
"I'm writing in today to tell ya I looove your blog – the edible garden. The recipes sound lovely and the first one I tried today – the stir fried brocoli wtih mushroom and bean sprouts – came out really well. Loved every bit of it.
I love your blog coz the instructions are simple and clear with nice photographs so a beginner like me gets an idea as to how the dish will look at each stage (the step by step recipes) which means i dont have to keep worrying if its the way its supposed to be.. thats lovely.. AND the instructions like high flame and low flame are also great.. if you hadnt mentioned it i would have tried the stir fry in low flame throughout and it wouldnt've tasted as good. so yes.. i'm loving the experience with your blog.
I chanced upon your blog while looking for 'restaurant style paneer butter masala'. 🙂 Super excited about the chocolate lava cake as well.. "
Swethini Ram, Chennai
Nov 21, 2010
"I have been avidly and very excitedly following your blog and love it. I left a comment earlier as well, just the simplicity of the recipes and the results are pretty fantastic…great efforts and good idea all put together in a neat little reader friendly and sincere package :)…."
Sowmya, USA
Nov 12, 2011
"Am a regular viewer of Edible Garden i had tried lots of your recipes . They are wonderful"
Tejasvini Kingsly
Nov 16, 2011
"I love your blog Edible garden.
I landed in Edible garden, when I was searching for the recepie of instant sambar powder.
The food photography for beginners series is great! The explanations are clear.
I always love to see what is new on Meet my kitchen things.
I have even started a blog with inspirations from you and other bloggers.
Thank you for putting your efforts to make Edible garden."
Sudha Mani
Nov 6, 2010
"Heyaa hwz u buddy hpe all iz well at ur end I ws out on a big vacation aftr returning d first thing i did ws checking my mails thanx a lot for ur lovely receipes nd keep up d gud wrk"
Mariam Vepari
Sept 19, 2010
"Hey Nags I came across your blog recently & I was abs thrilled to read the photography section…very useful for utter duds like me :-)"
Caroline Radhakrishnan
Sept 15, 2010
"Just wanted to tell you that I have been browsing a lot of food blogs lately to ensure that I dish out feasts that will suit the palate of both my 7 year old Son and 5 year old picky eater of a daughter !! What I really loved about your blog apart from the great recipes of course, is the humour you have put in, which while being humourous refrains from getting audacious LOL !!
Keep up the good work and beautiful pictures of course ! Could have written this on one of the recipes but I wanted to make sure you read it :)"
Tina Miranda
Aug 5, 2010
"This Chef Rajmohan from Tamilnadu, I came across your blog which have very useful recipes and the photography is very elegant. Keep blogging."
Rajmohan
Aug 2, 2010
"I am a big reader of your mails. The way you present is splendid. I am a Malayali girl living in Pune. Your 'Chakkakkuru with Parippu curry' and other homely recipes had sent me back to my amma, ammamma and all the love at home. Though I am a not a great cook at all, I love to read your mails. The way of presentation and pictures prompt to try them.
All the best for you as well as your lovely recipes".
Divya Karun, Pune
July 27, 2010
"I am sure I am not the first or the last person to commend you on your blog 'Edible Garden'. Great layout and colours, great pictures, extermely well written and to top it all fabulous South Indian recipes.
But I still could not stop myself from writing to you (I generally don't .. am too lazy :)) …
And one of the most interesting things for me is our styles of cooking are quite similar (of whatever I have seen so far.. Have explored mostly the Kerala recipes and 2 I tried out from your site turned out absolutely fabulous – kaalan and erriserry).. Btw I am a Gujju living in Bangalore and am totally into South Indian food or for that matter any FOOD .. period… I always loved the Kerala food but never used to cook it.. you have got me going in that direction now :).. So thanks..
Anyway keep up the great work!"
Pinky Gandhi, Bangalore
July 24, 2010
"Thanks a lot for your recipe – panner butter masala in restaurant style.. Your measurements, pictures were perfect and i just cannot keep myself from thanking you for your good work..I am a lover of food recipes and would love to try new ones and always passionate to prepare receipes that taste good and sometimes like the ones we get in hotel.
Not all bloggers give the right quantity and the right food products to use.. thereby leading to a not so good preparation..
Thanks a lot once again and i would keep trying ur receipes as and when possible :-)"
Gayathri Nagarajan, Chennai
July 12, 2010
"Forgive me for being so informal and quick since i am typing up this email at 11 p.m with my second baby slping on my shoulder..yep i am a mom of 2(infant and toddler) and reading interesting blogs like urs is what keeps me sane during the day(and night..right now i cant differentiate!)..i have tried many of your blog recipes with success while adding my own twist to it..(well usually its kasuri methi cause it always makes a spicy curry taste better ..especially the next day.)"
ps: awesome job on the snaps…!!"
Deepa Shyamprasad, USA
June 10, 2010
"Stumbled upon your blog by sheer accident – the mind boggles at the thought that I could have gone on in life without knowing it exists!!
Listen do you have a facebook profile or page? I suggest you make one instantly, and then mail me – I shall join and spread the word around!
god bless you and your food"
Gargi Habib
March 27, 2010
"Hi,
I just stumbled on your site when I was looking for a Baigan Bharta recipe. I think you have a real cool site. I then got another Eggplant recipe which I have tried but havent tasted as yet. It is for dinner tonight and I will also try your Paneer recipe.
Sometime ago there was a site called ammas but I dont think it exists. I would look fr recipes and she too was from South India. I now look forward to visiting your site to try some of your yummy recipes.
Good Luck".
Bilkish Vazifdar
Feb 15, 2010
"Good Morning
I just wanted to say that I love your blog.
Your style of writing and the recipes that I tried came out wonderful.
Thank you very much for sacrificing your time for others."
Devi Govender, London
Feb 8, 2010
"…ur cooking blog is quite neat. Simple and Nice. Being a mallu and staying away from home since the past 5-6 years, i can relate to ur writing quite a bit!
More importantly I am amazed at how you manage to take time out to write, cook (write about it too) and pursue photography!"
Piya Jayarajan, Bangalore
Jan 16, 2009
"I am not a great cook but your blog touched me and I have been taking sometime out to cook. Even today, I am super excited to cook something for my parents (for the very first time in my life!)"
Kalpana Behara, Hyderabad.
Nov 9, 2007
Some are excerpts and most are edited to correct typos, without altering sentences or style of writing. If you have written me and wish not to show up here, please let me know. I have tried to connect with most of you to make sure it's ok.

I have added links to recipes mentioned in the emails so you can follow them and see what they are referring to. These testimonials mean more to me than awards, mentions, and recognitions from the press or media.