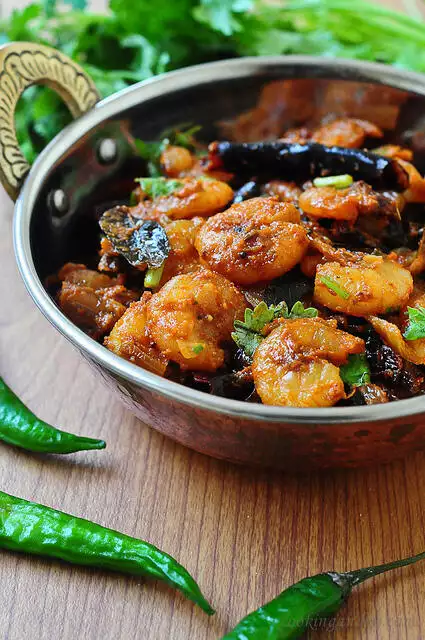 Kerala-Style Prawn Roast Recipe – I hardly ever cook non-vegetarian food but whatever little I have tried so far has come out super well, no idea why. When I was in Mountain View earlier this year and met up with Saks, the talk obviously turned to food and she mentioned how she loves Varsha's version of Kerala Style Spicy Prawns Roast. It sounded delicious and I made a mental bookmark. You may also like this recipe for dry chilli prawns.
I tried this prawn roast recipe a couple of months after getting back but never got around to posting it. Here it is, finally.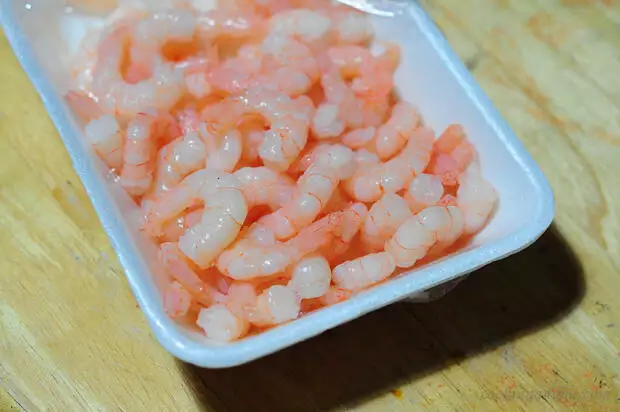 The process may seem a bit long-wound so I would recommend lining up all the ingredients so that you can add them in one by one. Preparation time is about 20 mins and cooking time another 20 so it doesn't take that long at all. Note that I got cleaned prawns so if you don't, then that will take extra time to prep.
For other spicy seafood recipes, check out nethili fry and karimeen pollichathu. You may also like this chilli chicken recipe and easy coconut milk chicken curry recipe.
Kerala-Style Prawn Roast Recipe
Serves 4


Ingredients:
3 cups prawns, cleaned and deveined
2 tbsp coconut oil
1″piece cinnamon, 3 cloves and 2 cardamom pods coarsely powdered
1 tsp mustard seeds
1/2 tsp fenugreek seeds
1 tsp fennel seeds
3-4 dry red chillies, halved
a handful of curry leaves
2 tbsp small coconut pieces (thenga kothu)
1 tbsp minced ginger
1 tbsp minced garlic
2 cups peeled shallots (or use 2 onions)
3-4 green chillies
1 tomato, cut into small cubes
1-2 tsp vinegar
1 tsp red chilli powder (adjust to taste)
1 tsp coriander powder
1/4 tsp turmeric powder
1/2 tsp black pepper powder
1 tsp garam masala (optional)
Fresh coriander leaves / cilantro to garnish
Salt to taste
Instructions:
1. Heat oil and add the ground cinnamon+cloves+cardamom. Fry for 1o seconds and add the mustard seeds, fennel, fenugreek seeds, and red chillies. Fry for another 2o seconds.
2. Next, add the curry leaves, coconut slices, minced ginger and garlic. Saute until the raw smell disappears – about 1 minute. Then add the shallots/onions and slit green chillies. Saute until the onions turn a light brown.
3. Next, add the cubed tomatoes and cook until the mixture turns mushy.
4. Meanwhile, mix the vinegar with some water and add the red chilli powder, coriander powder, pepper, and turmeric. Add this to the mixture on the stove. Mix well and cook until the oil separates at the sides of the pan – about 3-4 mins.
5. Now add the cleaned prawns and mix well. Cook covered on low heat for 10-12 mins until the prawns are cooked just right. Overcooking will harden them. Don't add water at any stage, the prawns will release water.
6. Add salt, sprinkle garam masala on top if using, and garnish with chopped coriander leaves.
Serve hot with steamed white rice.