This
Kerala Parippu Curry
is an essential part of any Kerala sadya or
Onam Sadya
that you may have. It goes great with all sorts of Kerala side dishes like
thoran
and
mezhukkupuratti
. Ever had a Kerala sadya? If you have, then this parippu (dal) is the first thing you would mix with rice and ghee. Kerala-style parippu curry is predictably cooked with a spiced coconut mixture and forms an integral part of any Onam sadya.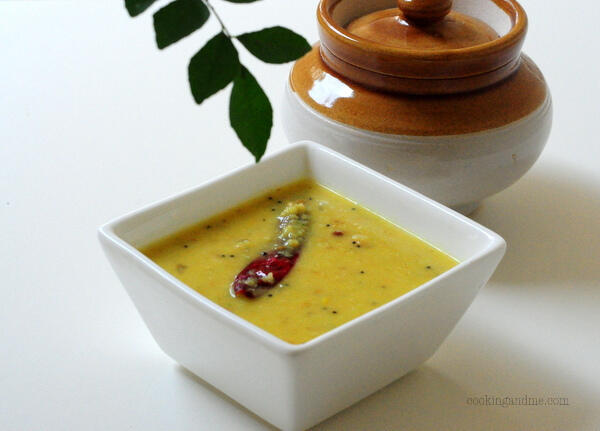 For Kerala-style parippu curry, split yellow lentils (moong dal -herupayar), is used rather than toor dal. Moong dal is also a very important ingredient in Ayurveda based cooking and is said to have a better effect on our health than most other kinds of lentils. Serve this parippu curry steaming hot with rice and ghee and you don't even need a side dish other than, maybe, a pickle.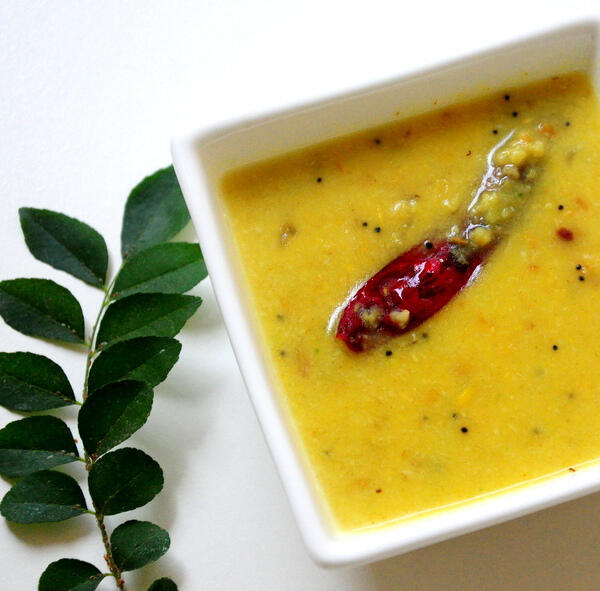 Find more Kerala Sadya Recipes here.
KERALA PARIPPU CURRY FOR SADYA
Preparation time: 10 minutes
Cooking time: 15 minutes
Serves 4
INGREDIENTS:
1/2 cup of moong dal or cherupayar (split yellow gram)
A pinch of turmeric powder
Grind Together:
1/3 cup of grated coconut
1/2 tsp of cumin or jeera seeds (jeerakam)
2 of shallots (ulli)
2-3 of green chillies
For Tempering:
2 tsp of coconut oil
1/4 tsp of black mustard seeds
2-3 shallots, sliced
1 red chilli, torn into pieces
1 strand of curry leaves
INSTRUCTIONS:
1. Roast the dal in a dry skillet until it turns a light golden brown. I generally do this in bulk and store moong dal this way to prevent bugs. It also makes the dal much more fragrant after cooking.
2. Grind the coconut with the rest of the ingredients and some water into a smooth paste.
3. Pressure cook the moong dal with 2 cups water and a generous pinch of turmeric. Once done, mash well to a smooth paste. Keeping the flame on low, add the ground coconut mixture and some salt to the dal. Cook until well blended – about 5-8 mins.
4. Heat oil for tempering and add the ingredients in the order given. Once the mustard seeds have popped and the red chilly starts to glisten a deep red, remove from fire and dunk everything into the dal mixture. Mix well.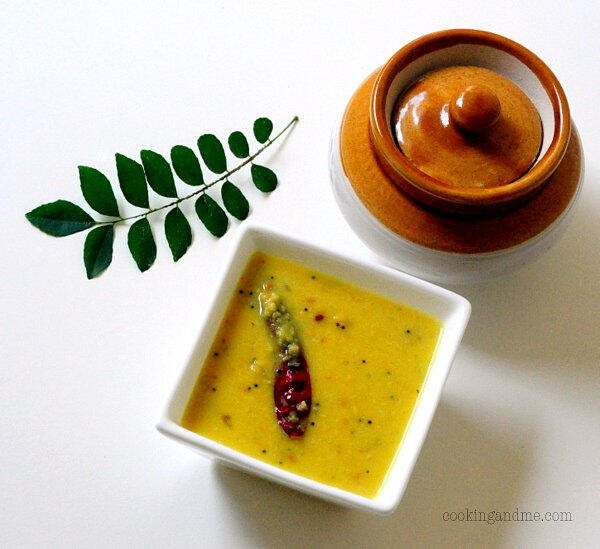 Notes:
– Best served hot with rice and ghee
– Note that you don't add hing or kaya to Kerala-style Parippu Curry. It alters the flavours too much