Learn
how to make Kappa Puzhukku
with
Kerala Style Red Fish Curry Recipe
Kappayum Meenum
! Need I say more? Every person who grew up in Kerala must miss this when they are out of their nests. Oh, unless they are vegetarian. Then they would miss… I don't know! What do vegetarians miss when they leave Kerala? Enlighten me.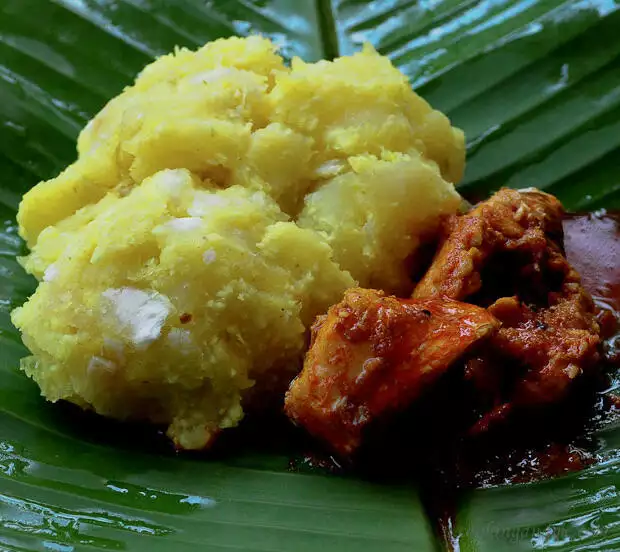 Anyway, I miss this. Among other things of course but this I miss one of the most because it represents home so much to me. Suma, our maid, brought some kappayum meenum for sis and I and of course I took the banana leaf that happened to lie around in amma's kitchen and clicked it. I later asked amma for the recipe so I am not sure if this is hers or Suma's. Either ways, it works, trust them if not me.
Meen Mulakarachathu, as we call it in Kottayam, is not my favourite Kerala fish dish but with kappa, its unbeatable. Its called by so many names by the way – Meen Vevichathu, Meen Mulakittathu, and even Meen Pattichathu. All one and the same folks!
More easy fish recipe – fried anchovies Kerala-style, Bengali fish fry, Indian Chinese chilli fish recipe.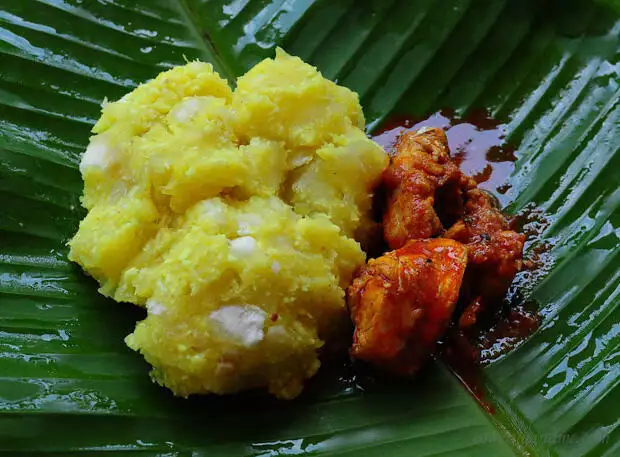 Kappa Puzhukku / Boiled Tapioca Kerala Style
Ingredients:
1 kg tapioca / kappa
3/4 cup grated coconut
5 green chillies
5 flakes of garlic
5 shallots
1/2 tsp turmeric powder
1/2 tsp cumin seeds / jeera / jeerakam
3 sprigs of curry leaves
3 tbsp coconut oil
Salt to taste
Instructions:
1. Peel and wash the tapioca well. Cut into small cubes and add to a pan with water 3″ inches higher than the level of tapioca. Bring to boil and add salt. Let it simmer on medium-low flame until the tapioca is almost soft.
2. Meanwhile, grind the other ingredients except curry leaves and oil. Once the tapioca is almost soft (just short of mushy stage), add the ground paste, along with the coconut oil and curry leaves. Mix well and let it heat through. (Alternately, you can heat oil in another pan, add curry leaves to it and then mix with the tapioca).
3. Remove from fire and serve with tangy and spicy fish curry / meen vevichathu.
Kerala Style Fish Curry (without coconut)
Ingredients:
1/2 kg any firm fish, cleaned and cubed (ideally with bones)
3 tbsp red chilli powder / mulaku podi (use Kashmiri chilli powder or a mix of that and the regular one if you can't take heat)
1 tbsp coriander powder / malli podi
3 pieces of kudam puli
1/2 tsp turmeric powder
1/4 tsp fenugreek seeds / uluva
3 sprigs of curry leaves
5 shallots
5 garlic cloves
1″ piece of ginger
3 green chillies, slit
3 tbsp coconut oil
Instructions:
1. Crush shallots, ginger, and garlic together in a pestle and mortar (or grind together).
2. Heat oil in a pan and add the fenugreek seeds. When they start to brown, add the crushed ginger-garlic-shallot paste. Fry for 10 seconds and then add the coriander powder, followed by the red chilli powder. Fry for another 10 seconds. Add curry leaves and green chillies and mix together well.
3. Now add the turmeric powder and the kudam puli with 2 cups water and salt. Bring to boil and let it boil for 2-3 mins before adding the fish.
4. Simmer on low heat for another 10-12 mins until the fish is cooked through. Check for salt and tanginess and add more of either if necessary.
Goes best with kappa puzhukku.