Kadachakka thoran
is my mom's most favourite dish. Or atleast that's what she always answered when I was 8 and annoying and constantly asked her questions like "amma, what's your most favourite food on earth". I love this spongy fruit too and when kadachakka (or
breadfruit
) is in season, we often have this thoran and
kadachakka mezhukkupuratti
back to back.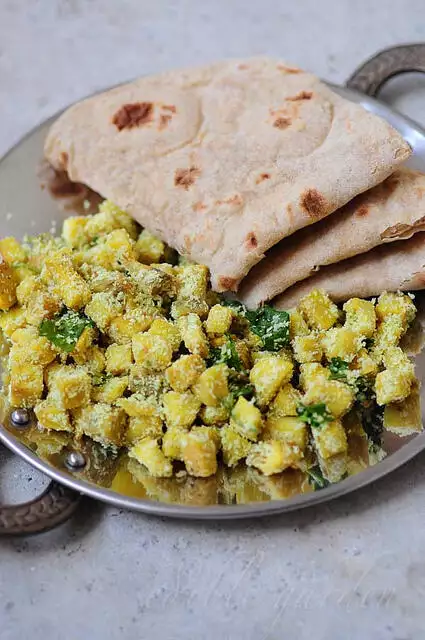 Recently, my uncle visited me in Singapore and since breadfruit was in season, she sent me a small wedge. I chopped it up into small cubes and made thoran with it. We had it with chapati and some yellow dal tadka, an unusual combination for a thoran but much enjoyed nevertheless. The best thing about thorans is that it works with most vegetables and is super easy to put together for a quick lunch.

KADACHAKKA THORAN RECIPE
Preparation time: 10 minutes
Cooking time: 15 minutes
Serves 4 as a side
Ingredients:
3 cups of breadfruit or kadachakka, peeled and cut into small cubes
1/3 cup of grated coconut
2-3 shallots / ulli
1/2 tsp of cumin seeds / jeerakam
2 green chillies
1/4 tsp of turmeric powder
2 tsp of coconut oil
1/4 tsp of mustard seeds
A few curry leaves or a small bunch of coriander, chopped, for garnish
How to Make Breadfruit Thoran:
1. Heat oil in a pan and add the mustard seeds. When they pop, add the cut breadfruit pieces, turmeric, and some salt.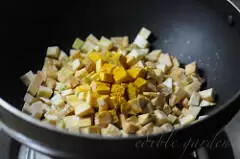 2. Sprinkle some water and cook partially covered on low flame until the breadfruit becomes tender – about 8-10 mins.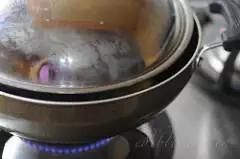 3. Meanwhile, coarsely grind the coconut + shallots + cumin + green chillies without adding water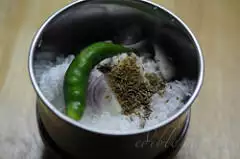 4. Add to the cooked breadfruit and mix well. Let it cook for another 2-3 mins.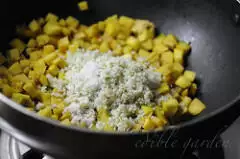 5. Sprinkle curry leaves or chopped coriander leaves on top. Mix again, and remove from heat.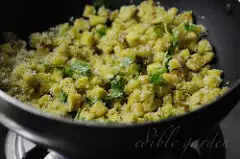 Kadachakka thoran will also taste fabulous with rice and Kerala Sambar if serving it with chapati and dal is not really doing it for you.