Bagara Baingan is a relatively mellow Hyderabad dish that uses young brinjal or baingan and a masala paste with peanuts as the main ingredient. Come let's make a super easy bagara baingan that is sure to impress food lovers, especially vegetarians and eggplant lovers or maybe even convert some non eggplant lovers out there.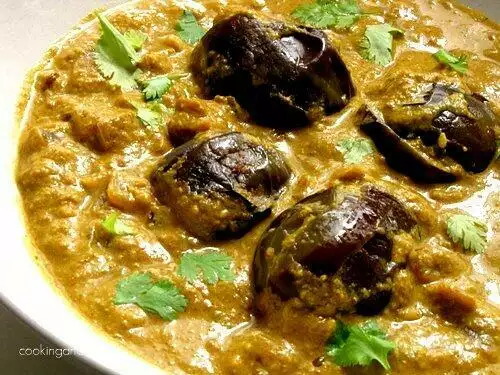 Table of Contents:
What is Bagara Baingan?
Bagara baingan or Bagare baingan originates from Urdu and is a flavourful, mildly spiced curry from Hyderabadi cuisine. The word bagara means tempering or seasoning and baingan is eggplant.
It can be served with steamed rice, nan or roti or as a side dish to Hyderabadi biryani. Baby eggplant is usually used for the recipe. They are fried lightly and then added to a peanut and sesame based gravy that's on the thicker side.
Bagara baingain is a great choice if you love Indian vegetarian dishes that are not mainstream. It is both satisfying and delicious, especially if made at home.
Also check out baingan ka salan recipe.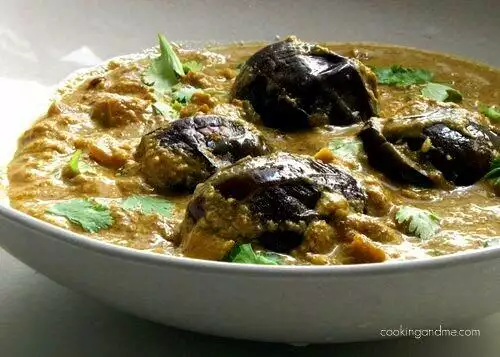 Ingredients for Bagara Baingan
Although baby eggplant is typically used, larger eggplant can be used cubed too.
Peanut, sesame, and coconut is all added to make the gravy rich and flavourful although based on allergies, peanuts can be omitted to get a slightly less authentic version.
Tamarind pulp or extract is used for tanginess which is essential to elevate this dish so highly recommend not skipping that. I normally soak tamarind and then extract the pulp.
Onions are spices are the usual additions in most Indian curries and bagara baingan is no exception.
I find that cooking this dish in Indian sesame oil really brings out the flavours and would recommend that.
Also check out recipe for ennai kathirikkai kuzhambu, a South Indian kulambu with baby eggplant, also served with rice.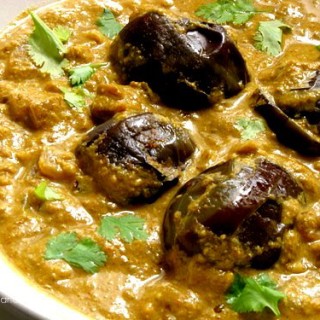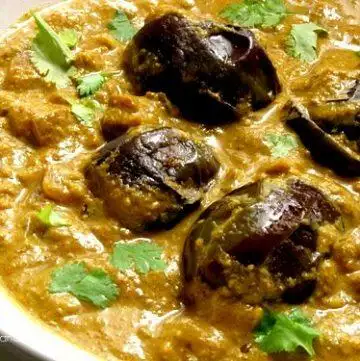 Bagara Baingan
Bagara baingan recipe, Hyderabad style bagara baingan, a delicious curry with eggplant cooked in a sesame peanut onion paste.
Ingredients
6

purple baby eggplant

or 1 cup cubed eggplant

2

tbsp

white sesame seeds

2

tbsp

raw peanuts

with skin on

2

tbsp

grated coconut

fresh or frozen

1

cup

onion

chopped fine

1

inch

piece of ginger

2

garlic pods

1/4

tsp

turmeric powder

1

tsp

cumin seeds

jeera

2

tsp

coriander powder

1/2

tsp

red chilli powder

or to taste

1

small lemon sized ball of tamarind

2

tbsp

oil

gingelly or sesame oil works best

Salt

to taste

2 tbsp

Fresh coriander leaves

for garnish
Instructions
Dry roast the peanuts and sesame seeds separately until golden brown and fragrant

Set aside until completely cool

Grind together with the coconut and water to form a smooth paste. Set this aside.

Extract the tamarind paste in 1 cup warm water. Set aside.

Grind or pound the ginger and garlic together to form a smooth paste. Set aside.

Wash and pat dry the eggplant. Make small slits on them vertically, without cutting through the eggplant

Light saute the eggplant in the oil until soft but still holds its shape.

In the same pan, fry the onions and ginger garlic paste until golden.

Then add the ground peanut-sesame-coconut paste and fry for 3 minutes or so.

To this, add turmeric powder, chilli powder, cumin, coriander powder and salt.

Mix well and fry for another minute or two

Add the tamarind water, mix, then add the eggplant

Bring to boil on a low flame, adjust water if the gravy is too thick and cook covered for 5-10 mins.

Garnish with fresh coriander leaves before serving.
Notes
Use fresh, firm eggplant to make this dish, otherwise they may taste bitter
When frying the peanuts and sesame, take care not to burn them. It's important to do them separately because the sesame will roast a lot faster than the peanuts. Use raw versions of both before frying in the dry pan
The thickness of the gravy can be adjusted by adding more water along with the tamarind pulp. I like bagara baingan on the thicker side
You can add curry leaves to the gravy, in which case, omit the coriander leaves (cilantro)
Increase oil to 3 tablespoons if you are planning to keep this curry in the refrigerator for a couple of days
Step by Step Images to Make Bagara Baingan
In a dry pan over low heat, roast the sesame seeds until golden brown. Remove and set aside in a dry bowl or plate.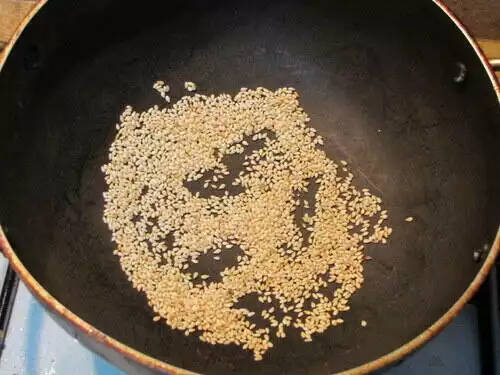 Repeat with the peanuts. Use raw peanuts with skin on for the most authentic texture and flavour. You can use skinned raw peanuts in a pinch. Roast them until golden brown and fragrant. Set aside with the sesame seeds to cool.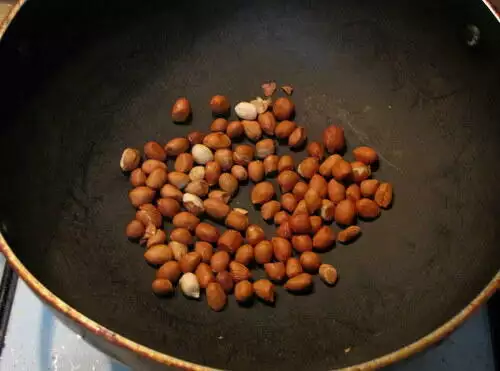 In the same pan, add washed, dried and slit eggplant. Fry until the eggplant turns soft yet holds its shape. Drain and set aside.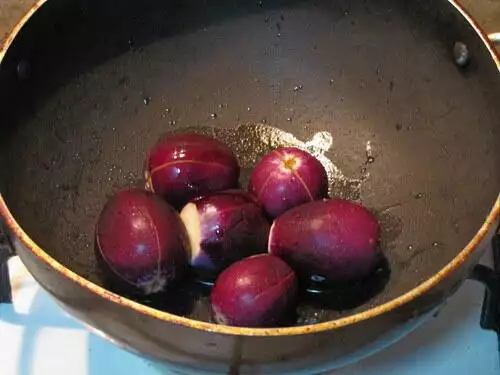 Add the roasted peanuts, sesame seeds, and coconut (fresh or frozen, no need to fry this) to a mixie jar or food processor.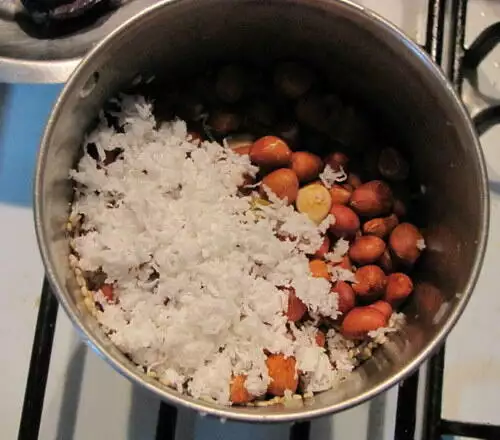 Grind with enough water to form a smooth paste. Set this aside.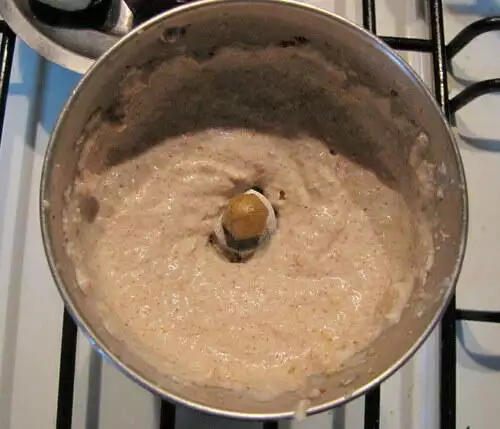 In the same pan used for the eggplant, top up some more oil if needed, and fry the onions until soft and pink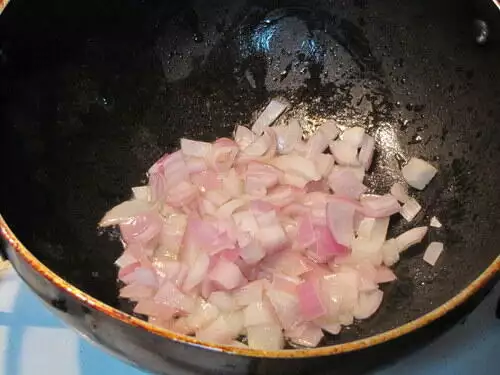 Add ginger garlic paste to this and keep frying until golden brown.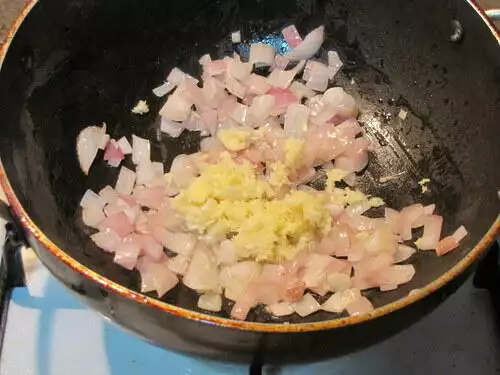 Next, add the ground peanut-sesame-coconut paste to this and mix well.
Add cumin, coriander powder, turmeric powder and red chilli powder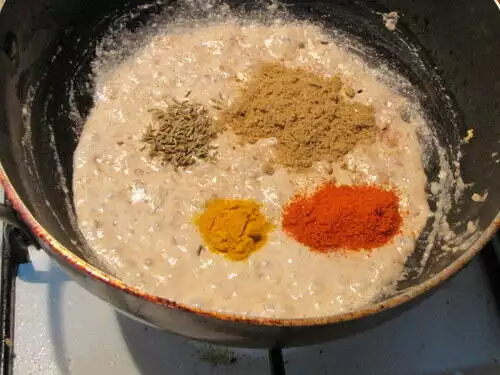 Mix everything and cook for 2-3 minutes. The gravy will thicken a bit.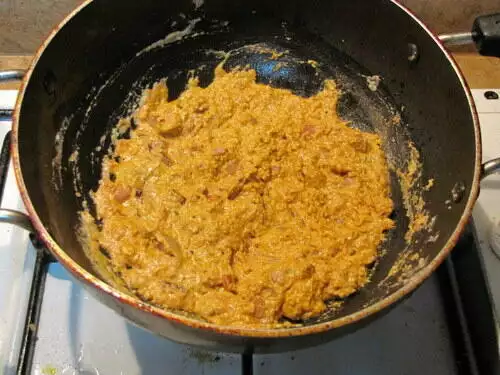 I know this is not the prettiest picture so let's quickly get this over with. Add the tamarind water made with a small lemon sized ball of tamarind and 1 cup warm water. Ok next step, quick!
*Please ignore the stains on my stove. They are from a dish I made just before this. Thank you*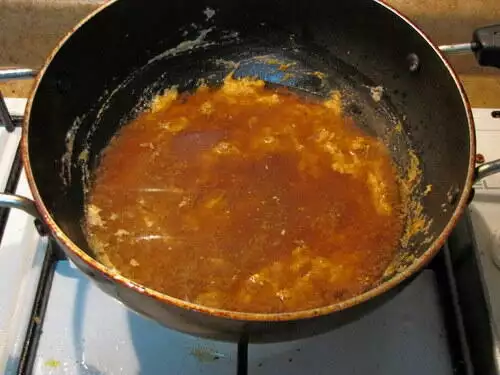 Mix everything together and add water if the gravy is too thick or if you are using tamarind paste from a bottle. The gravy will thicken later due to the peanuts and sesame so don't worry too much about the consistency at this stage.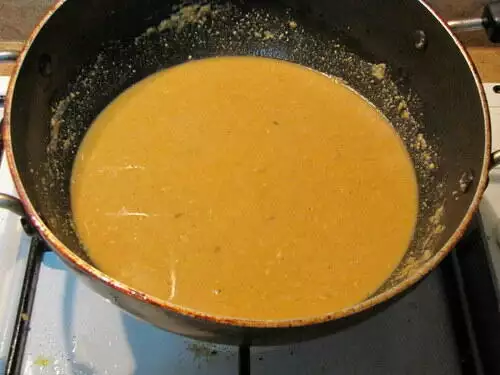 Add the fried eggplant. On low heat, bring to boil.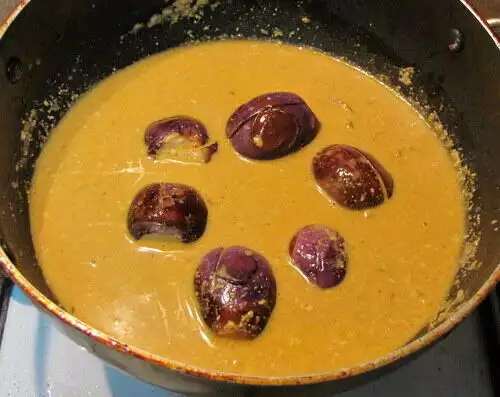 Then, cook covered for 5-7 minutes until the gravy thickens and the eggplant has made friends with it.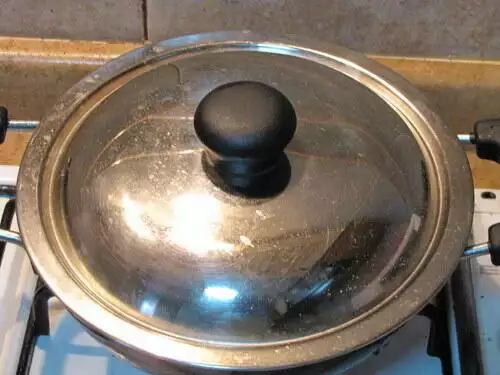 Done! Serve bagara baingan with a garnish of chopped coriander leaves or cilantro. This tasted really good with rotis and I think I should make more curries with roasted peanut paste as the base. The sesame really helps enhance the taste too!