Gongura is known as pulicha keerai in Tamil and sorrel leaves in English. Gongura pappu or Gongura dal is an Andhra recipe with the Gongura leaves and lentils or dal. Pulicha keerai literally means sour spinach and the name is rightly so because of the sour flavour of the leaves which I absolutely love.
Remember that Andhra meal I posted a few days back? Yeah, so there I was with a big bunch of Gongura leaves and very resourcefully I decided to make the Gongura Pachadi and the Gongura Adugula Pappu from Mahanandi, my first recipe attempt from that site.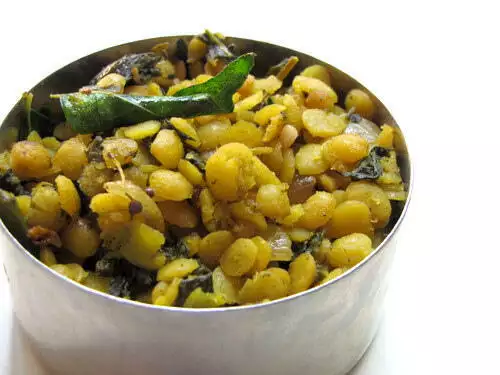 The idea is to cook the toor dal just right, where they can keep their individuality. Quite nice, if you ask me. The only issue I had with this dish is, it ended up a bit too dry. So it's advisable to have some rasam or vatha kozhambu or something to kind of balance the texture.
Gongura Pappu Recipe
Serves 2
Ingredients:
4 cups chopped gongura leaves
1/2 cup toor dal, soaked for atleast an hour
1 chopped onion
4-5 green chillies
A pinch of turmeric
Salt to taste
2 tsp oil
For tempering/tadka
1/2 tsp channa dal / kadala paruppu
1/2 tsp urad dal / ulutham paruppu
1/4 tsp mustard seeds
1/2 tsp jeera / cumin seeds
A few curry leaves
A generous pinch of hing / asafoetida
1 tbsp oil
How to make Gongura Pappu:
1. Heat 2 tsp oil and add onions and slit green chillies. Fry until transparent and pink – 2 to 3 mins.
2. Add the chopped gongura leaves and fry for another 3 mins. Sprinkle with salt and turmeric powder and add the soaked toor dal. Mix well and cook covered on sim for 25-30 mins. Sprinkle some water if necessary – I had to because my gongura leaves were probably not super fresh. Otherwise, the water from the leaves should be sufficient, as Indira points out.
3. Once the toor dal is cooked soft yet holds its shape, remove from fire. Heat oil for tadka and add the mustard seeds and jeera first. When the seeds pop, add the dals. Once they are golden brown, add the curry leaves and hing and mix well.
4. Add the dal mixture to this combine well. Adjust salt.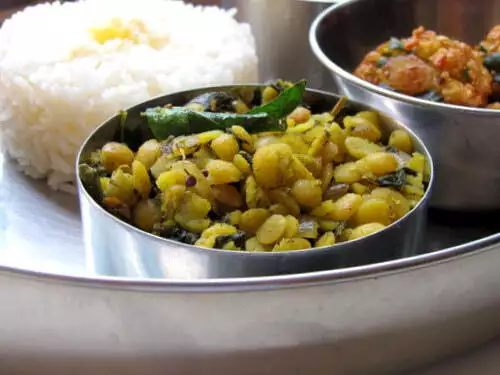 I got inspired by Indira's picture and served this with rice, ghee, gongura pachadi and some masala vade. Taste of authentic Andhra food!