Godhumai adai was a favourite snack while I was young. My grandmom used to make it with tons of ghee, tons of jaggery and tons of love! One Sunday, I had the hugest craving for this so I dialled home to find out the exact recipe from Amma. She had gone out to meet some friends so I dialled the next best person – the sister!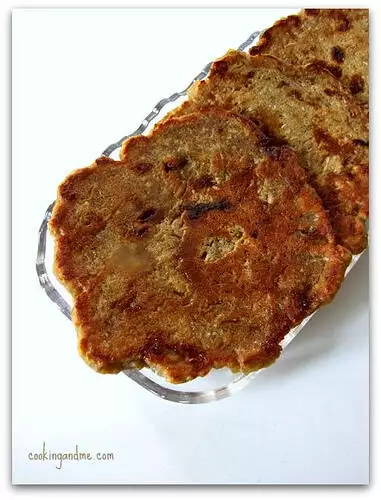 PinAfter 15 mins of talking (of which 3 mins was dedicated to the recipe!), I started off. This is an easy snack for kids for their after-school hungry times. Its quite healthy too and can be easily made with the ingredients available in your pantry.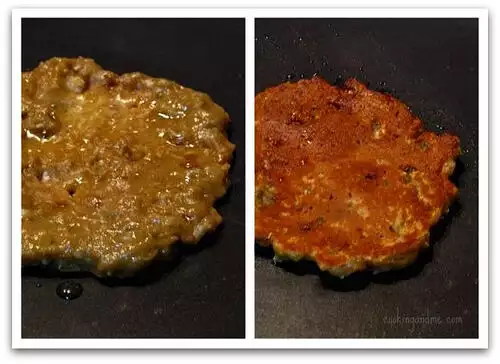 Pin
Looking for more easy evening snacks? Check out: Bread Paneer Rolls, Ethakka Appam, and Ghee Fried Bananas
Godumai Adai / Godambu Ada
Makes – 6
Ingredients:
Wheat flour / atta – 2 cups
Jaggery / sharkkara / vellam – 2/3 cup, grated (Adjust if you like it not too sweet)
Grated coconut – 1/2 cup
Powdered cardamom – 1/3 tsp (2-3 pods)
Salt – one pinch
Ghee – to cook
Instructions:
1. Transfer the jaggery to a bowl and add about 2 tbsp water. Keep on low fire until it starts melting. Let it boil for about 5 mins. Strain to remove impurities and set aside to cool.
*Note that this step is necessary if you are using Kerala sharkkara. If using the lighter coloured Tamil Nadu version, sis says there are no impurities so you can just use the grated jaggery and mix in with the atta. The TN version is salted so make sure you adjust the addition of salt to the dough.
2. Mix the atta, salt and cardamom until well combined. Add the coconut to this and mix well.
3. Add the cooled jaggery mixture to the atta and combine with finger tips. Add enough water and keep combining until you get a sticky, slightly elastic, loose dough. It should neither be watery nor hard like for chapatis. The consistency is not super important but make sure you don't go to either extreme. Also make sure not to knead too much.
4. Heat a griddle and add some ghee. Scoop out some dough with your fingers, place on the pan and smooth out into a circle using your fingertips. Let it brown (1 min).
5. Turn and cook the other side until nicely browned. Tastes good both hot and at room temp.
Note
If you want some melted jaggery in the ada (which I LOVE), reserve some grated jaggery before melting and add this to the dough while mixing. The jaggery pieces will melt and form nice patterns on the ada. Hmmm.. heaven!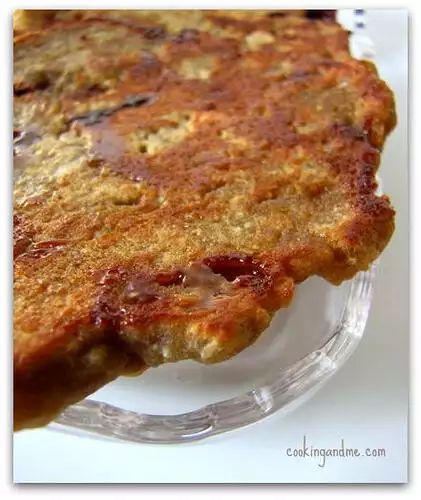 Pin