Gobi Manchurian Recipe with Gravy: Learn how to make Gobi Manchurian with Gravy, a popular and much-loved Indian-Chinese vegetarian recipe. The dry version of Gobi Manchurian is crispy and delicious, often served as a starter while Gobi Manchurian in gravy form is a great side dish for Indian Fried Rice and Indo-Chinese Noodles.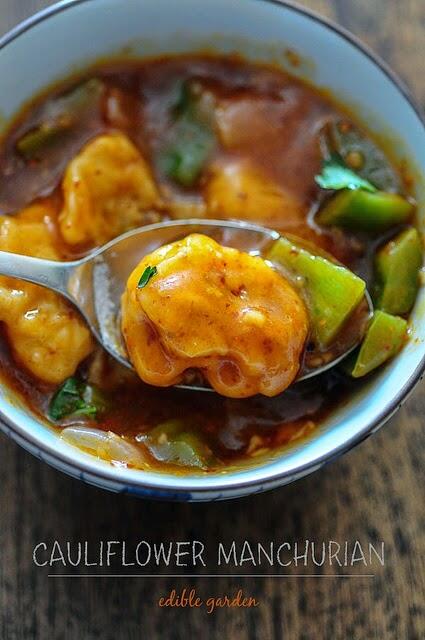 I absolutely LOVE gobi manchurian and have tried it in more restaurants than I can count. It's usually my test dish to see how good a restaurant is and I have come across a wide variety of manchurians in my quest – the bright red coloured ones (umm, no thanks), the crispy ones with a perfectly soft cauliflower floret inside (yes please!) and everything in between. My mom makes a mean gobi manchurian – which is very similar to how she makes chilli fish – as does my sister. This recipe is based on both of their versions with a couple of tips and techniques to make the perfect gobi manchurian at home, added by yours truly. My dry chilli chicken recipe is pretty popular too, in case you want to take a look.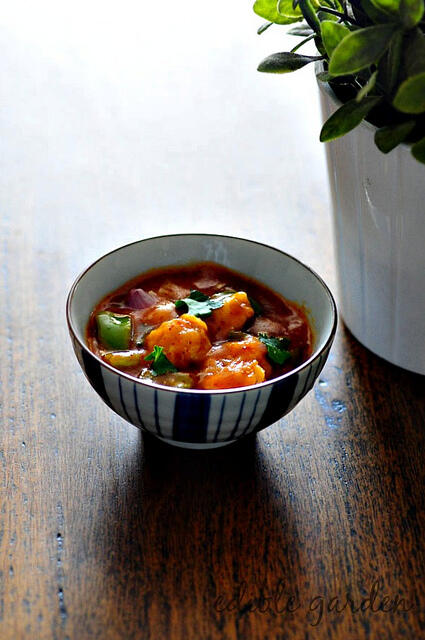 I was making a few fundamental mistakes when preparing cauliflower manchurian at home.
– batter too thick: when the batter coating the cauliflower is too thick, the manchurians become too thick and gloopy especially when making the gravy version. It also turns soggy on cooling down and nobody likes a soggy gobi manchurian
– adding cornflour to the gravy part of the manchurian: it was a quite a revelation when I fixed this issue. More details in instructions below
– using the right sauces, especially soya sauce. Let's face it, gobi manchurian is an Indian dish so using a Chinese or Thai soya sauce may not work well. I obviously haven't tried them all but the ones I have tried make it sub-par so I make sure I buy an Indian brand like Ching's Secret. Arguably, these are not good for you but for us, the consumption is roughly 1 tsp every 2-3 months so I have decided it's ok.
Ok, on to the recipe now. If you are taking the trouble to make Gobi Manchurian at home, please also make some vegetable fried rice, egg fried rice, or vegetable noodles to go with it. Your taste buds will thank you for it. Here's a list of all Indo-Chinese Recipes on Edible Garden, in case you want to check it out.
Ok, now really on to the recipe!
GOBI MANCHURIAN GRAVY RECIPE
Preparation time: 15 minutes
Cooking time: 30 minutes
Serves 4

INGREDIENTS:
2 cups of cauliflower (gobi) florets
1 cup of oil, for frying (+ 1 tbsp for sauce)
For the batter:
1/2 cup of maida or plain flour
1/3 cup of corn flour (corn starch)
1 tsp of minced ginger
1 tsp of minced garlic
1/4 tsp of pepper powder
A pinch of red chilly powder
Salt
For the sauce:
1/2 cup of cubed capsicum (green bell pepper)
1/2 cup of cubed onions (purple, not white)
1 tsp of soya sauce
1/2 tsp of green chilli sauce (optional)
1 tsp of tomato sauce or ketchup
1 tsp of ginger garlic paste
Chopped spring onions or coriander leaves for garnish
INSTRUCTIONS:
1. First step is to boil the gobi florets in salted water. It's important not to overcook them though, make sure the pieces are cooked yet firm and hold their shape. Drain in a colander once done and set aside.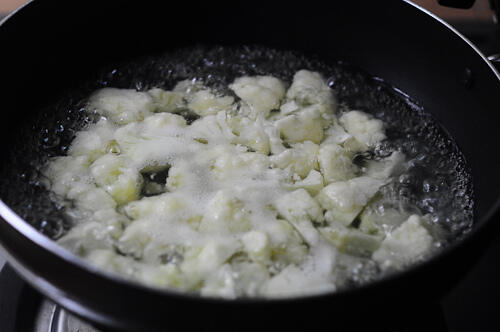 2. While the gobi is cooking, you can make the batter. Mix together the ingredients under "for the batter" and add salt. The consistency, again, is important. Make sure it's loose enough to coat your cauliflower florets but also drips a bit and doesn't stick on in a thick layer. The below pictures should give you an idea.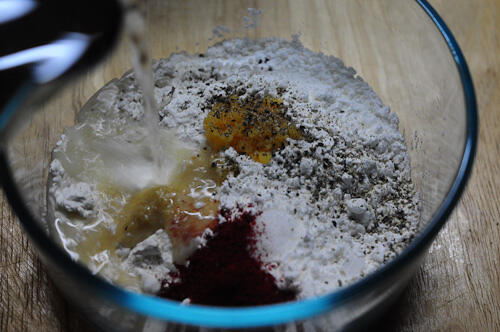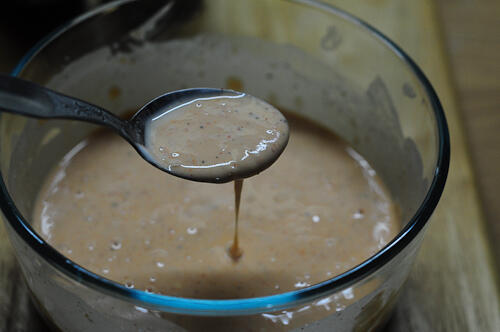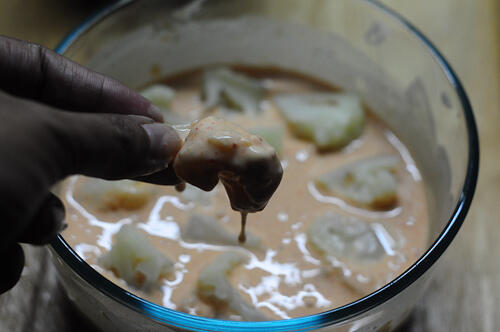 3. Drop the batter-covered gobi in hot oil and fry until golden brown. Taste-test one piece to make sure the flavours are all fine and there's enough salt, just be careful not to snack on them all!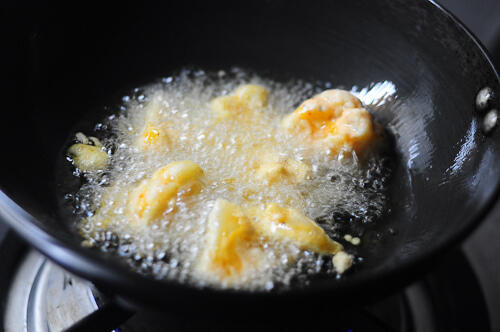 4. Keep the fried gobi pieces on a plate lined with a paper towel until needed.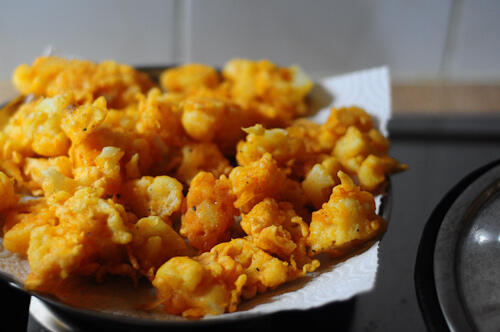 5. Time to make the sauce now. Heat 1 tbsp oil in a pan and add the onions, capsicum (please pretend that my giant green chillies are capsicum), and ginger garlic paste. Saute until the onions and capsicum turn soft and pink. The goal is to keep this way and not let them overcook, roast, etc.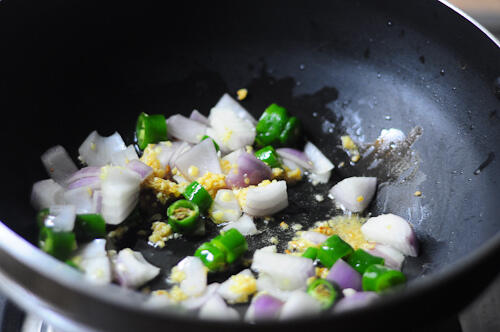 6. Next, turn heat to high and add the sauces – soya sauce, tomato sauce, and green chilli sauce (if using). Saute briskly until they are mixed well, about a min. Lower heat down again.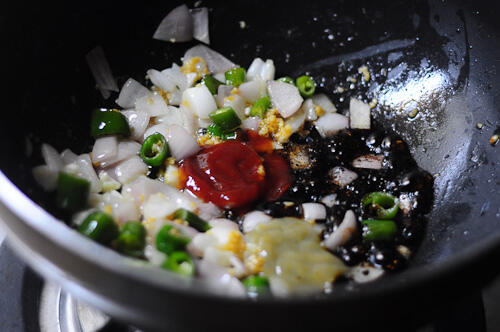 7. Add the fried gobi pieces along with 1 cup water. You can add salt in the very end since the soya sauce has salt and you have already salted the fried pieces. When the water comes to a slow boil, remove from flame and set aside. The sauce will thicken further on sitting.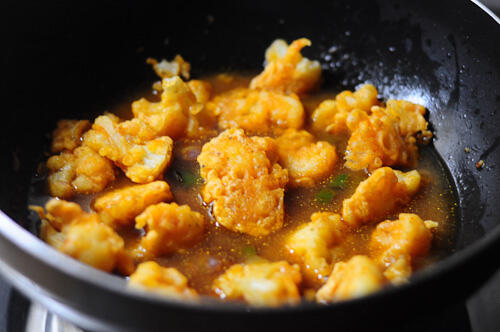 As mentioned above, I used to add water mixed with 1 tsp corn flour in the past to make the sauce for manchurian but find that omitting the cornflour yields a much looser and nicer sauce than the thick, gloopy kind I get when adding corn starch. However, if you find your sauce too watery, put the pan back on the flame and add 1/4 cup water mixed with 1 tsp cornflour.
Garnish with fresh spring onions or coriander leaves. Serve immediately as a side dish for fried rice, noodles, or any Indo-Chinese main dish.
For Gobi Manchurian (Gravy) recipe in Tamil, Telugu, Hindi, Marathi, Gujarati, Urdu, etc, please use the Google Translate button in the sidebar.