Salsa
simply means sauce in Spanish and there are a zillion ways to make salsa at home with easily available and fresh ingredients. A freshly made tomato salsa is often one of my go-to starter dishes when I have guests over (with corn chips and guacamole, of course). I make it so often that it's one of those regular dishes that I never thought of blogging about.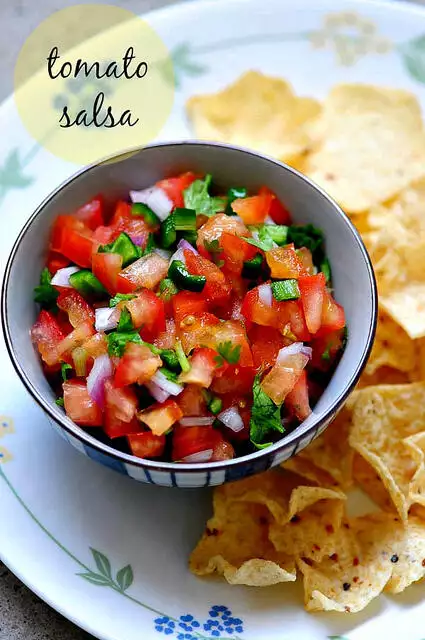 However, many of you have been requesting party-friendly food or starter recipe for small get-togethers and such, so tomato salsa is a great place to get started. I have tried a few different ingredients for tomato salsa and have finally arrived at a good mix. Since fresh jalapenos are hard to come by in both Singapore and Sydney, I either resort to the large green chillies that are easily available and not very spicy, or canned jalapenos. These days I am partial to using japalenos since one jar goes a long way and they add a lovely bite of spice and tang to the dish.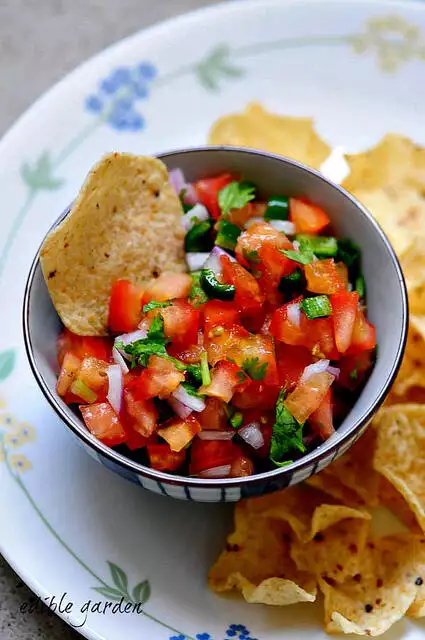 Buy fresh ingredients for salsa on the day of preparing it if possible. A limp tomato will be glaring and we don't want that, do we? 🙂 You can adjust the proportions of ingredients to your liking, this is generally how I make fresh tomato salsa at home.
As far as dips go, you may also like guacamole, hummus, or this tahini lemon sauce that I usually serve with falafel or corn chips.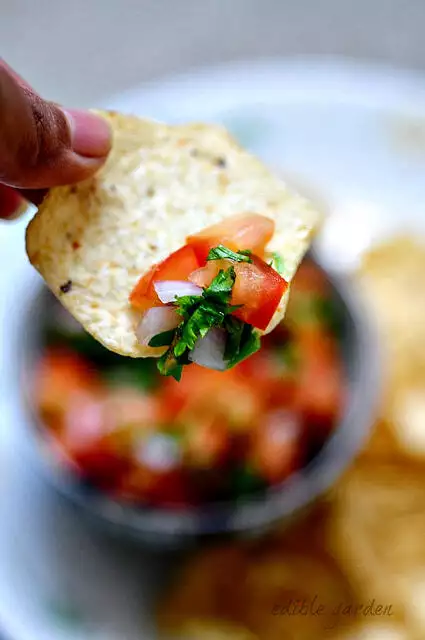 FRESH CHUNKY TOMATO SALSA RECIPE
Preparation time: 15 minutes
Makes ~ 2 cups
Serves 6
INGREDIENTS:
2 tomatoes, preferably Roma (known as Bangalore tomatoes in India)
1/2 of a red onion
5-6 pieces of jarred jalapeño or any large green chilli
2 tsp of lime or lemon juice
A fistful of fresh coriander leaves (cilantro)
INSTRUCTIONS:
– Remove stalks and quarter the tomatoes. Remove the seeds.
– Add along with rest of the ingredients and salt to a food processor or blender and process briefly keeping the pieces largely intact. Alternately, you can just mince the tomatoes and onions by hand and mix them all together.
Add more lime juice or coriander if needed and serve fresh with pita bread, pita chips, or corn chips.
Tips: Add leftover salsa to any boiled vegetable to make a quick side dish for chapatis.
You can make this a few hours ahead and refrigerate until needed. This will also give the flavours some time to mingle and get to know each other.