Ennai Kathirikai Kuzhambu is a recipe that I make rarely because of the amount of time it takes to prepare the spice paste but it's a family favourite! Whenever I see the baby brinjal or small kathirikai in the market, I am tempted to make kuzhambu with it and usually end up buying some.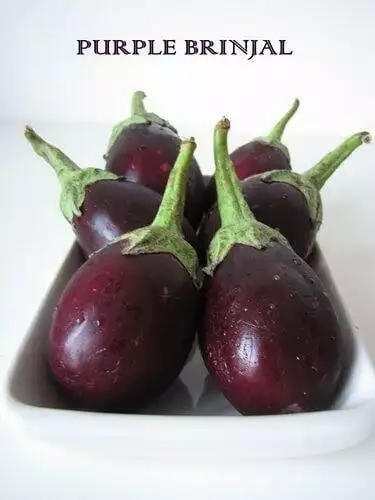 This recipe is from my mom-in-law and it's a pretty authentic recipe for ennai kathirikai kuzhambu, although different families have their own small nuances to the basic recipe, I find.
When you choose the baby brinjal to make this recipe, try to choose the small ones in similar sizes so they cook thoroughly and evenly. The younger they are, the better!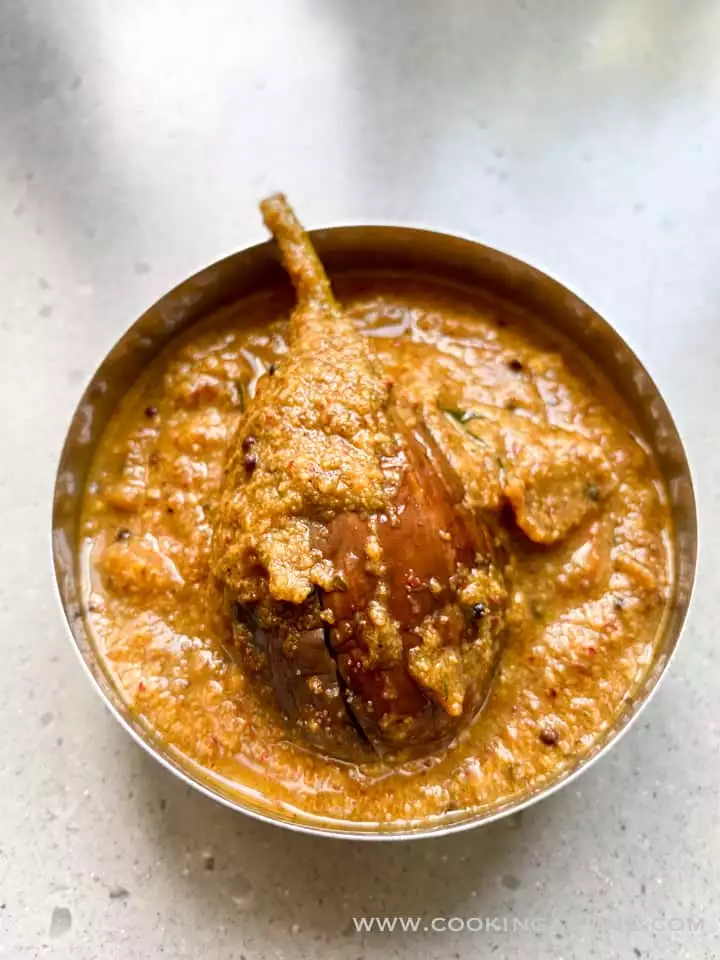 If you have some time on your hands and are craving some comfort food, a homemade meal, something like what your mom or grand mom would have made you if she were with you, then this recipe for ennai kathirikai kuzhambu is for you.
I made it on a Saturday morning and it lasted till Tuesday the next week. I had it with rice, dosa, chapati, more rice and more dosas!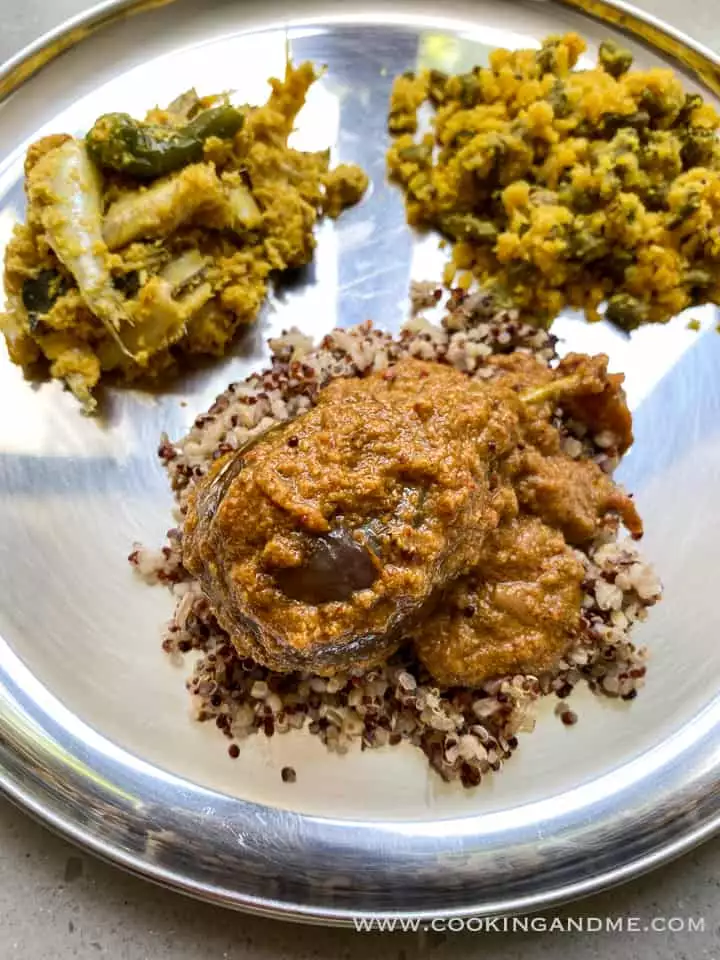 Check out another favourite kuzhambu recipe – green peas poricha kuzhambu.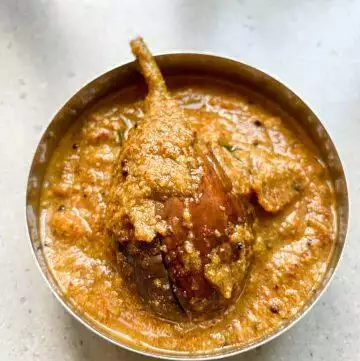 Ennai Kathirikai Kuzhambu
Ennai kathirikai kuzhambu is a Tamilnadu recipe with a variety of roasted spices in a tamarind gravy with baby brinjal (eggplant) stewed in it whole. A treat with hot rice!
Ingredients
A marble-sized ball of tamarind

5-6

small purple brinjal

eggplant

1

teaspoon

powdered jaggery

optional but recommended
For Spice Paste:
1

tablespoon

sesame oil

2

tablespoons

coriander seeds

1/4

teaspoon

hing / asafoetida

5-6

dried red chillies

adjust to taste

1

tablespoon

chana dal / kadala paruppu

1

tablespoon

toor dal

1

tablespoon

urad dal

1/2

teaspoon

black peppercorn

4-5

shallots / chinna vengaayam

2

tablespoons

grated coconut

optional
For Tempering:
1/4

cup

sesame oil / gingelly oil / nallennai

1/2

teaspoon

mustard seeds

1

dry red chilli

A few curry leaves
Instructions
1. Heat oil for spice paste and add all ingredients except shallots and coconut

2. Fry till spices are fragrant and the lentils turn a golden brown

3. Turn off heat and add sliced shallots and coconut. Mix and let them sit in the heat of the pan

4. Cool this mixture completely and grind into a smooth paste with enough water and salt

5. Soak tamarind in 1.5 cups warm water and extract juice. Discard pulp.

6. Wash the brinjal and make criss-cross cuts into it from the base almost up to the stalks

7. Stuff the brinjal with spice paste and set aside

8. Heat sesame oil for tempering in a large pan and add the mustard seeds, red chilly, and curry leaves

9. When the mustard seeds pop, add the brinjal one by one and lower heat. Turn them over every few minutes till cooked through and semi-soft

10. To this, add the remaining spice paste and jaggery along with the tamarind juice and some water to desired consistency

11. Simmer until the oil floats to the top. Add more salt as needed.
Notes
It's important to book the brinjal until soft but don't let it get too mushy and crumble
I normally add some curry leaves to the spice paste mixture as well, the flavour really comes through
This recipe does involve a fair amount of spices and roasting but the kuzhambu keeps for 4-5 days in the refrigerator. Just reheat and bring to boil before serving
You can avoid coconut for a smoother kuzhambu that will last even longer
Images of cooking ennai kathirikai kuzhambu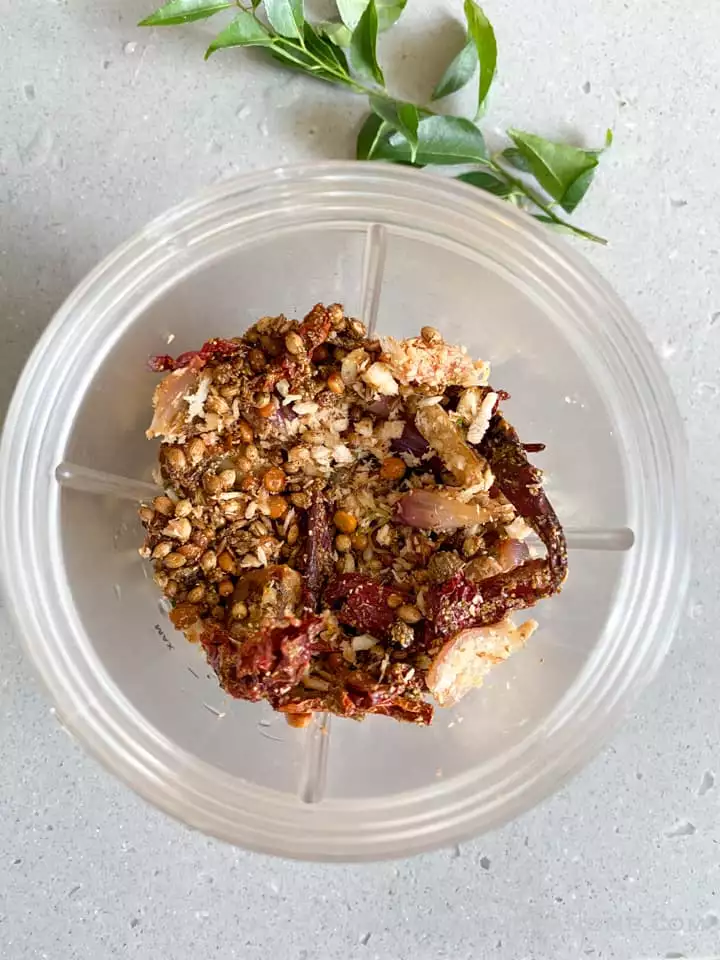 Roasted spices and coconut ready for grinding with water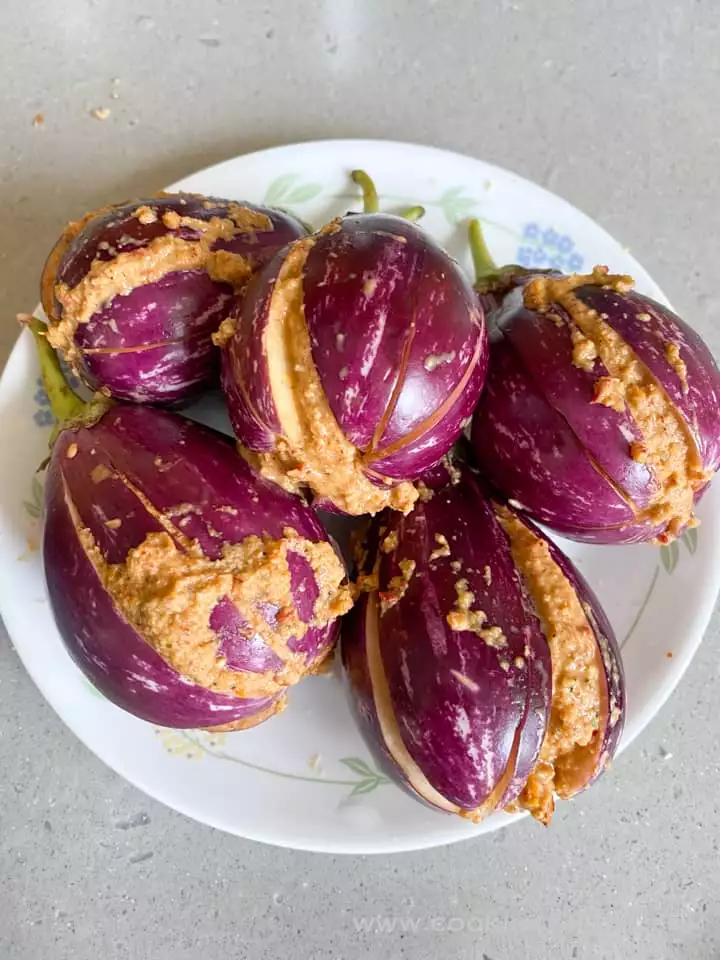 Baby brinjal stuffed with spice paste ready for cooking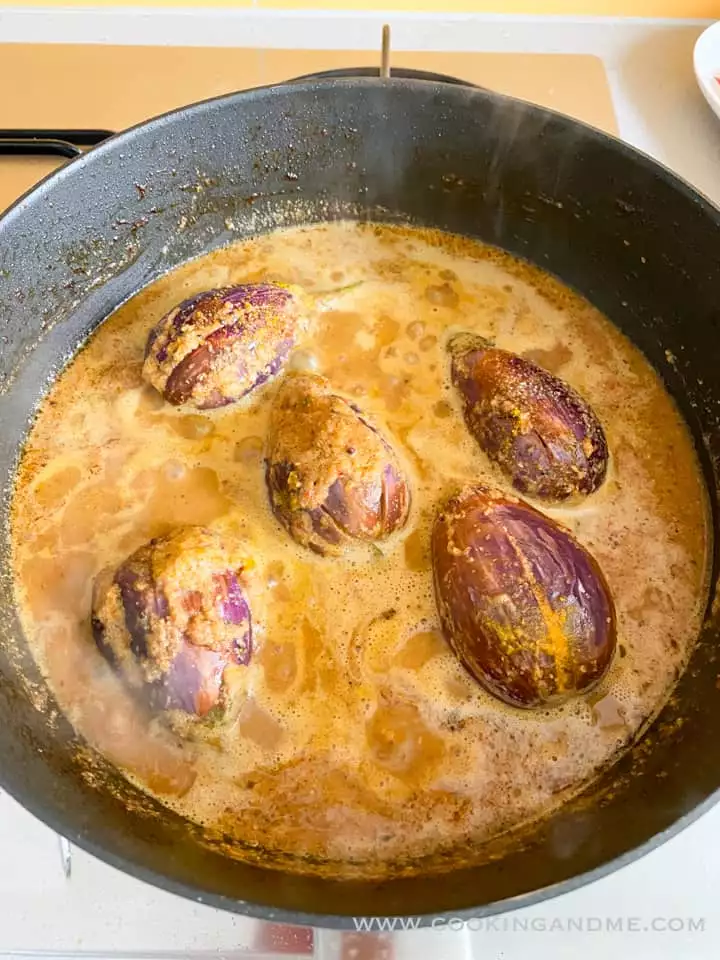 Kuzhambu boiling in the pan, almost ready to be served hot! Make sure the eggplant is cooked really soft. The tamarind gravy goes in and really makes the brinjal juicy and delicious to be served with rice.
For the recipe in Tamil, please use Google translate button.