Learn
how to make eggless strawberry mousse
, probably the easiest dessert I have made in recent times. This mousse recipe has no gelatin or thickeners, just cream and fresh strawberry puree with some sugar, perfect dessert to finish off a
Valentines Day menu
.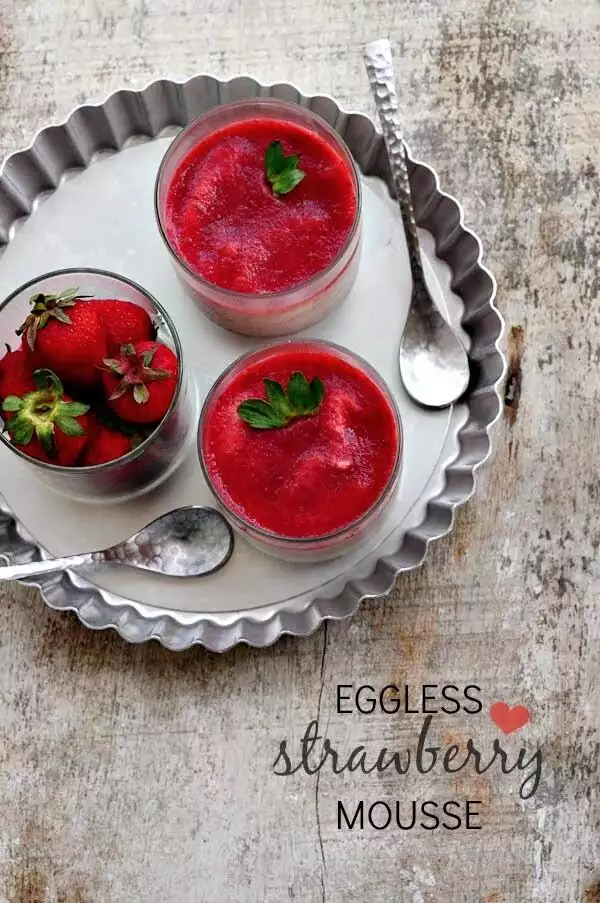 It may sound cliched but I have never really celebrated Valentines day. Well, unless wearing pink with your girl friends in college (because your boy crush at the time loves pink and not red), or eating chocolate lava cake with your room mate who just had her heart broken, or walking out of a restaurant on finding their V-day menu ridiculously overpriced on the day, counts. I guess all these are parts of 'celebrating' the day but in all honesty, I don't really wait for the day, cook special for it, or give/receive gifts and flowers. Maybe it's not such a bad thing to have one day to celebrate your love but anyway, I don't think TH is going to be on board with that after 8 years of me ignoring it with him.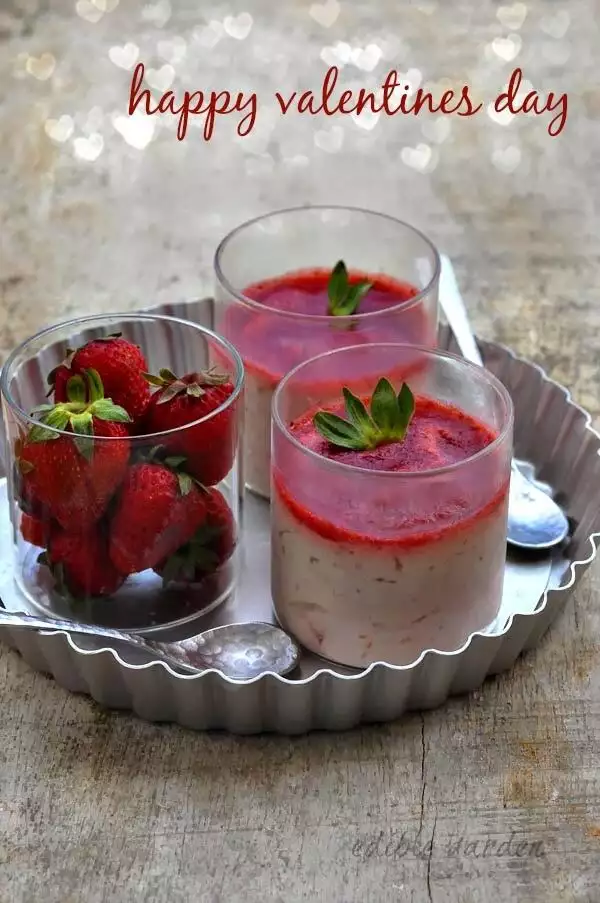 There's a point behind my rambling here. Every year, without fail, I get the most number of emails around now asking for easy dessert recipes for Valentines Day and a quick and easy Indian Valentines Day menu. I often reply with something vague like "go through the recipe index" or "depends on what you want to eat" etc. I really don't believe Valentines Day food is anything special, just make your favourite dishes and enjoy. However, you can go all out with the dessert. Make it red, make it pink, make it heart-shaped, use the right ingredients, indulge. This easy strawberry mousse is definitely pointed in that direction so enjoy with your partner and loved ones.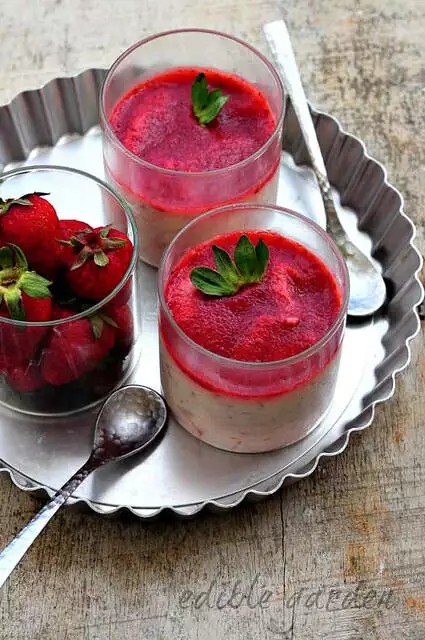 More Valentines Day dessert ideas:
Tiramisu
Chocolate Lava Cakes
Fruit Custard
Vanilla Pannacotta
No-Bake Banoffee Pie
Eggless No-Bake Mango Cheesecake
Eggless No-Bake Oreo Cheesecake
Also browse all Dessert Recipes on Edible Garden including Eggless Desserts.
EASY EGGLESS STRAWBERRY MOUSSE
Preparation time: 15 minutes
Chilling time: 2 hours
Serves 2
INGREDIENTS:
1 cup of whipping cream (with at least 35% fat)
2 cups of fresh strawberries
4 tbsp of powdered sugar
INSTRUCTIONS:
Apologies for the bright red in all the pictures, my camera colour settings were a bit off
1. Reserve a few strawberries and puree the rest in a blender until smooth with 2 tbsp powdered sugar.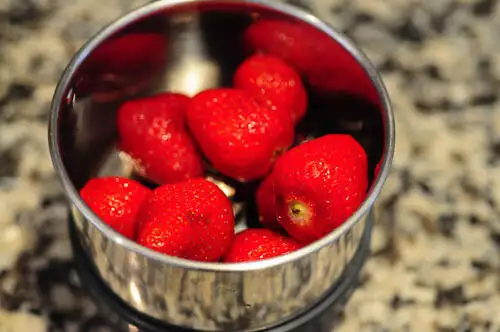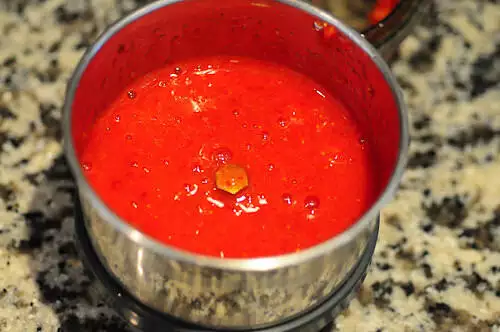 2. Whip the cream using an electric beater or using the whip attachment of your stand mixer. You can also use a food processor for this. The key here is to whip it just the right amount. As you can see in the picture above, the cream should be airy yet smooth. If you go too further, it will start tuning into butter and you can't bring it back to the mousse stage.
Once the cream is ready, gently fold in half the strawberry puree and remaining sugar into the cream. Test to see if it's sweet enough and add more sugar if needed.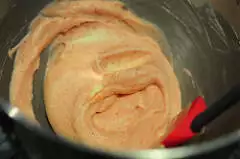 3. Spoon this into a serving glass, bowl, etc of your choice. Wipe out the sides if you spilled a bit while spooning it in.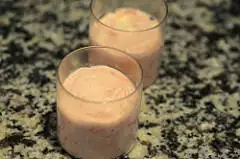 4. Very gently spoon the remaining puree into both glasses.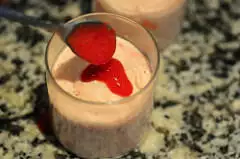 5. Refrigerate (covered) for at least 2 hours or overnight until set. You can garnish with some sliced strawberries on top and more cream.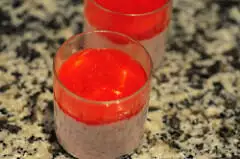 Serve chilled. Since we don't use any thickening agent in this mousse, it will start to melt once taken out of the refrigerator so serve immediately. Tastes best when shared.
Notes:
– adjust sugar levels to your preference
– the strawberries I used were tart so I adjusted sugar amount in the puree
– this is worth repeating – be very careful of not over-whipping the cream
– if you are feeling experimental, replace strawberry puree with melted semi sweet chocolate for a chocolate mousse. I haven't tried this though