The
garlic pull-apart rolls
I posted around 2 years back is probably the recipe most people tried from this site. I got so many notes and feedback saying it worked out great, good, and delicious. A couple of people had issues but nobody sent me stinkers so I guess it's a winner. Must thank Suhaina again for the original recipe.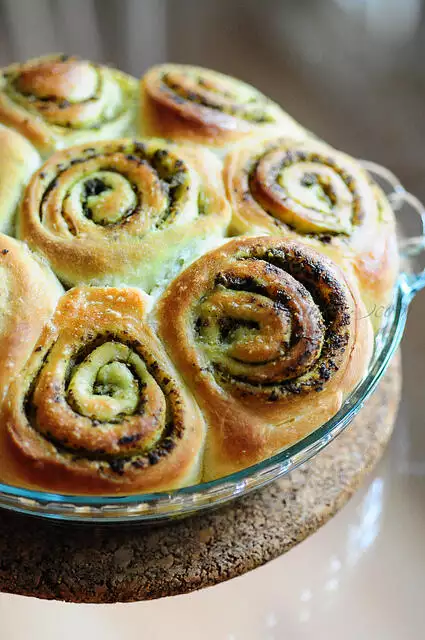 I love basil pesto and had been wanting to try the same rolls with a basil pesto filling. Finally managed to do it for a potluck a couple months back. Everything came together less than 2 hours (including rising time) and I wrapped the warm rolls, baking dish and all in aluminium foil and headed to my friend's place. Nothing like freshly baked warm rolls to wow your friends, I tell you.

Eggless Pesto Pull-Apart Rolls Recipe
Preparation time: 1 hour 30 minutes
Cooking time: 20 minutes
Makes 8 rolls (recipe can be easily doubled)
Ingredients:
1.5 cups of all-purpose flour or maida (I used wholemeal flour this time)
1/2 cup + 1 tbsp of warm water
1/2 tbsp of dry yeast (instant or active dry will work)
1.5 tsp of salt
1 tbsp of sugar
1 tbsp of olive oil
2 tbsp of milk
1 cup of basil pesto (make your own basil pesto or use store-bought pesto)
How I Made It:
1. Combine flour, warm water, yeast, salt and sugar together until you get a smooth, slightly stick dough. I used the Kitchenaid and mixed on low for about 3 mins to get the dough but you can mix by hand too.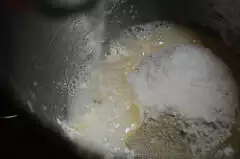 2. Dip your fingertips in some oil and knead until the dough springs back when you press with your fingers -about 4 mins. Oil the bowl you wish to use and keep it covered with cling wrap or a wet cloth in a warm place.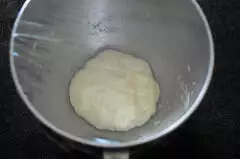 3. In about 45 mins to an hour, the dough should've doubled in size.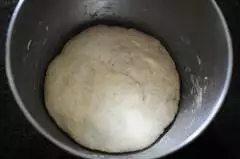 4. Lightly punch down with your fingertips and divide the dough into two. Place one half on a lightly floured surface and shape roughly into a rectangle with your fingertips.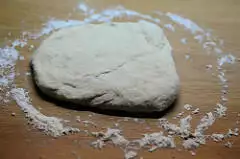 5. Then, use a rolling pin to get a long rectangle of about 1/2″ thickness. Spread half the pesto on the dough evenly and start rolling it from the short side in tightly.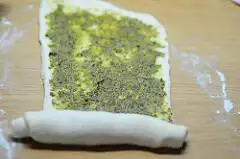 6. Cut into four pieces. Repeat with the other half of the dough. Place in a lightly oiled baking pan barely touching each other. If you leave too much space, the rolls will be flat and hard and if you press them too tight together, they won't have pace to rise again and will be… hard. So yeah, just place them barely touching each other and we are good. Oh, and place them cut side up so they are even on top.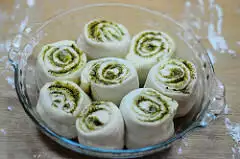 7. Allow to rise for another 20 mins. In the mean time preheat the oven to 180C / 375F.
Once risen, the rolls will be super soft if you touch them now. Don't be tempted to squish them down because they are oh-so-soft.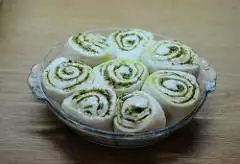 8. Bake until the top turns golden brown (it took me ~20 mins) and the rolls sound hollow when you tap them on top. As soon as they are out of the oven, brush the top with milk so soften the crust, otherwise the rolls will be too hard.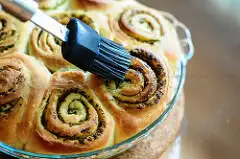 That's it! Let them cool down enough for you to handle and serve. Also be ready for all the compliments 🙂 Tastes amazing with a cup of hot coffee or tea.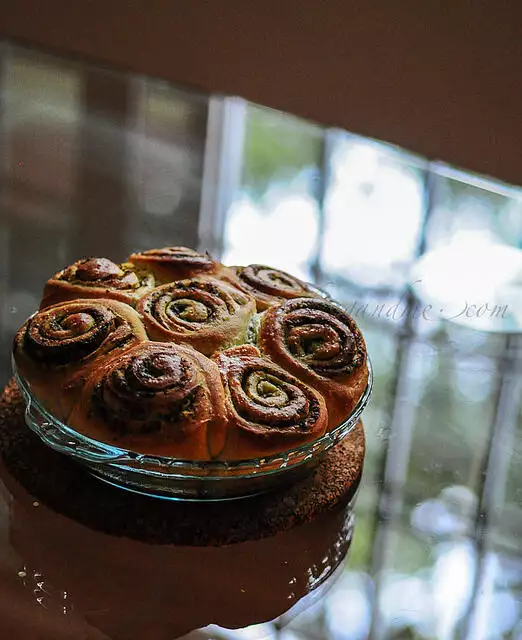 Notes:
1. The amount of water needed for the pesto rolls depends on the type of flour you are using. Use your judgment to get a slightly sticky dough that behaves when you apply oil. I used about the same amount of water for both regular flour and the wholemeal flour I used this time.
2. The amount of yeast can be reduced if you don't like the flavour of yeast to be too strong. It didn't really bother me but if it's an issue, you can add just 1 tsp yeast and let the dough double over a couple of hours, slowly.
3. I don't have pics of the inside of the rolls because I was taking this to a friend's place and didn't want to break it up before reaching her place. Check out the garlic rolls post to see how soft these rolls are inside.
4. They keep well for up to 2 days but beyond that will start getting a bit stale and hard. You can steam them up again and they will be super soft. Microwaving is not advised to re-heat bread.