I made these dulce de leche brownies a while back, when I made
dulce de leche
for the
banoffee pie
. I was reluctant to post it because of how the final brownies look in the pic. They look burnt and too dark and not at all delicious but the thing is, they
were
delicious. They really
really
were.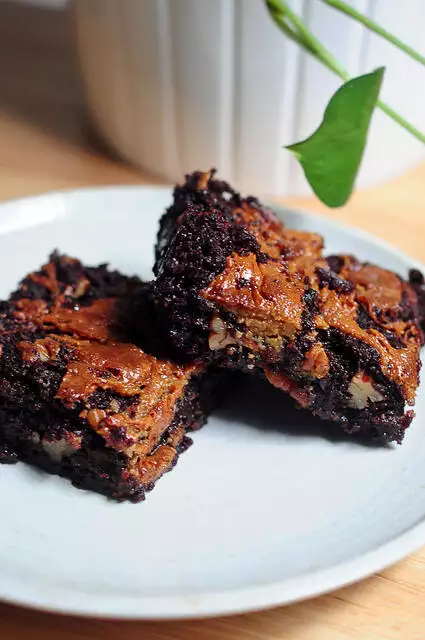 But seeing that I may not make dulce de leche any more in the near future, and since this is a really good recipe which I tried eggless, I want to share it anyway.
Eggless Dulce de Leche Brownies
Preparation time: 15 minutes
Cooking time: 30 minutes
Makes 8 large brownies
Adapted from: David Lebovitz's A Sweet Life in Paris
Ingredients:
3/4 cup of chopped bittersweet or semi sweet chocolate (6 oz / 170gm)
1/2 cup of butter, cut into pieces (8 tbsp)
1/4 cup of cocoa powder
3 tbsp of flaxseed powder / flaxseed meal (or 3 eggs)
1 cup of sugar
1 tsp of vanilla extract
1 cup of all-purpose flour
1/2 cup of any nuts of choice (optional – I used pecans)
3/4 cup of dulce de leche
How I Made It:
0. Pre-heat oven to 350F / 180C. Line a square cake/brownie pan with aluminium foil and lightly grease it with butter or baking spray. You can also use the pan directly, make sure it's greased.
1. Melt butter gently in a pan and add the chocolate to it. Mix well until combined and smooth. Remove from fire and allow to cool.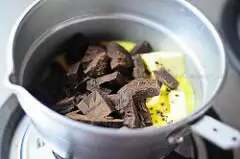 2. Meanwhile, whisk the flax seed meal in 9 tbsp warm water until it gets a goo-ey texture.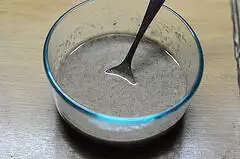 3. Add the cocoa powder to the butter-chocolate mixture and stir well until smooth. You can sift the cocoa powder in to make the mixing easier.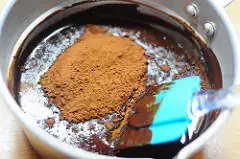 4. Next, add the flaxseed mixture, mix well…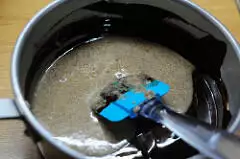 … then the sugar and vanila. Mix mix mix.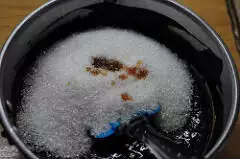 And the flour. Mix in until combined and there are no streaks of flour left over.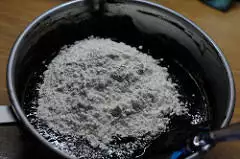 Finally add the nuts if using and fold them in.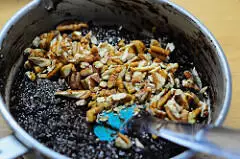 5. Transfer this into the greased pan.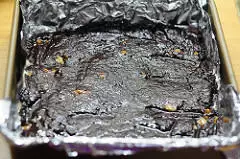 6. Add the dulce de leche by the spoonfuls on the brownie batter.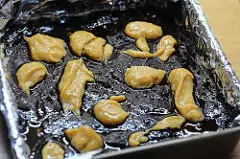 7. Using the tip of a pointed knife. draw it around the top of the batter to create swirls (just like for marble cake).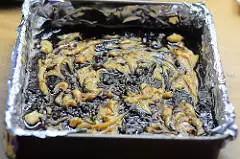 Bake in the pre-heated oven for 25-30mins. My dulce de leche got caramelized and turned a dark golden brown. It tasted delicious and was mildy chewy.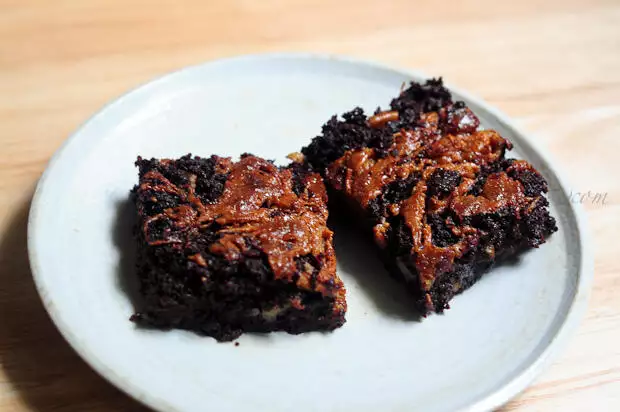 My Notes:
– In David's recipe, he doesn't mention cooling of the chocolate mixture before adding the rest of the ingredients so I didn't do that. This resulted in the batter getting super greasy, the butter oozing out, etc. So the resultant brownies had crisp edges which is not all bad but if you want goo-ey soft brownies, I recommend cooling the mixture before proceeding, as I have mentioned in the steps.
2. My dulce de leche turned a dark brown and while it tasted great, I would probably try adding it in the middle next time with the chocolate on top so it stays melty and soft as you bite into the brownies. The brownies themselves are super dark because of the brand of chocolate I used.
3. You can lessen the amount of sugar if you'd like although if you add nuts, I'd recommend sticking with the amount I used.
4. You can also, of course, make this without the dulce de leche and that would be a great plain eggless brownie right there!
Btw, in case you haven't read it already, highly recommend the book A Sweet Life in Paris this recipe is from.