Learn how to make soft idlis with dalia or broken wheat or cracked wheat with this healthy, easy, and delicious idli recipe.
I don't know what's gotten into me, experimenting with new idli recipes and everything. I grew up eating the most amazingly soft and spongy idlis thanks to my mom and grandmom but never really acquired a taste for them. Now that I am on my own and have to feed myself and another human being, I do make idlis because they are so easy to make ahead and store. But experimenting with new idli recipes? That's really not me!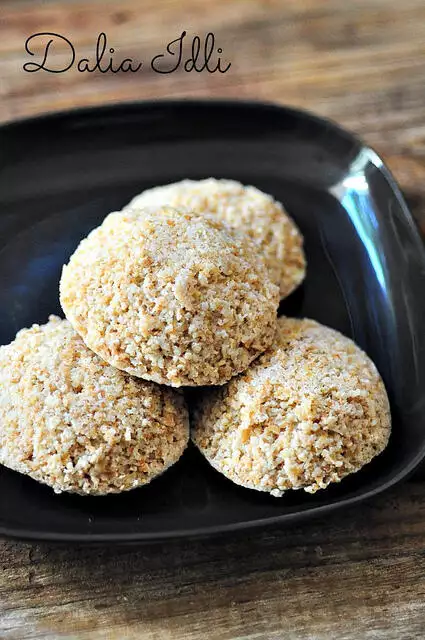 But there you go, it did happen. I soaked some urad dal one day to make idli batter but then realised i don't have any idli rice! I didn't really panic becuase soaked urad dal can turn into delicious medu vada but I was a bit set on making idlis that weekend so opened up my pantry and realised there's some dalia (also called broken wheat or cracked wheat) lying around. I generally made Upma with Dalia so always have some lying around which came in handy to make these idlis.
I wasn't completely sure how to go about it but decided to follow the same method as making regular idli batter. I soaked the dalia for about 30 mins, ground up the urad dal, and added the soaked dalia in. Just to break down the texture a bit, I ground half the dalia into a softer paste before adding to the batter.
This resulted in delicious, soft, dalia idlis that went fantastic with both Tiffin Sambar and Tomato Onion Chutney.
Sidenote: You can also make Dalia Upma using Broken Wheat. It's a quick and delicious breakfast idea when you are stuck on one of those mornings.
Other Idli Recipes on Edible Garden:
Soft Idlis
Idli using Idli Rava
Rava Idli using Eno
Murugan Idli Kadai Idli Recipe
Dalia Idli Recipe | Broken Wheat Idli Recipe
Preparation time: 40 minutes
Cooking time: 15 minutes
Makes ~ 12 dalia idlis
Ingredients:
1 cup of dalia or broken wheat or cracked wheat
1/2 cup of whole, skinned, urad dal
1-2 tsp of salt
How to Make Dalia Idli:
1. Soak the urad dal and dalia separately for 30 mins. Grind the urad dal first into a smooth paste adding enough water. I used my Indian mixie for the task this time since my wet grinder is too big for this quantity of idli batter. Transfer the urad dal batter to a large bowl.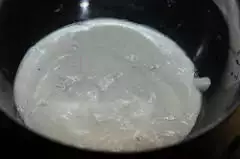 2. Add half the soaked dalia to this. Drain before adding since it absorbs a lot of water.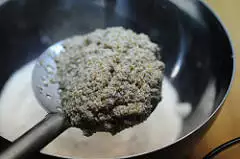 3. Grind the other half into a coarse paste before adding to the batter.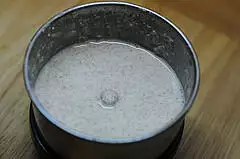 Add the salt and mix well.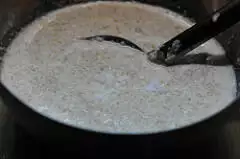 4. I set this aside for 2 hours although it didn't rise much. I am sure some fermentation did happen though. You can refrigerate the batter for later use if you wish.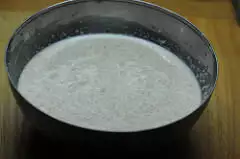 5. Make idlis as usual by pouring the batter into greased idli moulds and steaming on low flame for 12 mins or so. The dalia idlis were super soft and spongy and made for a great breakfast!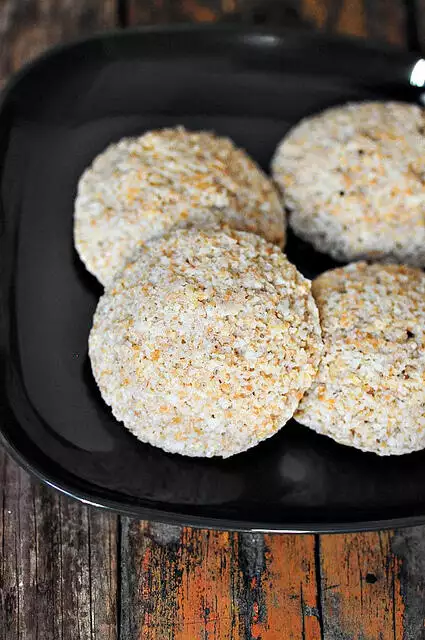 Note:
1. You can make the dalia idli like rava idli by adding some tempered spices which will surely enhance the flavour.
2. If you don't like the flavour of dalia, then these idlis may not taste great to you since they have a strong dalia flavour, obviously! It didn't bother us though.
Serve Dalia Rava Idli with:
Tomato Onion Chutney
Tamil Style Coconut Chutney
Tiffin Sambar
Mullangi Sambar
Kothamalli Thogayal