Coconut milk rasam is a new recipe to me too and as I am exhausted swooping into my drafts and my picture folders trying to find
Diwali sweet recipes
to post in time for the festival next week. Since I have extracted and posted the last available recipe, I am going to take a break and share this super simple yet delicious rasam.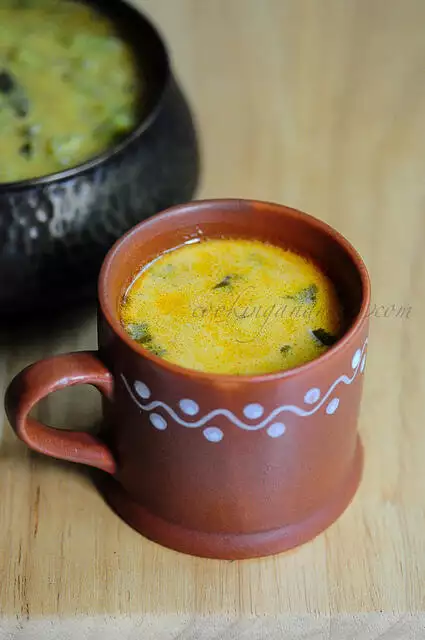 I think I have mentioned this many times before but my mom only makes one type of rasam. It's not a mainstream pulusu for us; in fact rasam is made on days amma is feeling lazy or someone is sick in the house or we are just back from a trip and need to go easy on our stomachs.
Then I married a Tamil Brahmin and my culinary life changed. Rasam became mainstream, I learnt about the eeya chombu and the joys of pepper (milagu) rasam, by far one of our favourites closely followed by tomato juice rasam.
Now, moving on to food magazines, I don't know how many of you are subscribed to GoodFood India but that magazine is awesome! We've really been lacking a good food-related magazine in India and Good Food seems to have stepped up brilliantly to do the job (they are not paying me to say any of this, in case you were wondering). I am raving about the magazine because this coconut milk rasam is adapted from their Aug 2012 edition.
Coconut Milk Rasam-Thengai Paal Rasam-Rasam Recipes
Preparation time: 5 minutes
Cooking time: 25 minutes
Makes 4-5 cups
Adapted from: GoodFood India Aug 2012 Edition
Ingredients:
2 tsp of oil
1/4 tsp of mustard seeds
2 of small, ripe tomatoes, diced
1 lemon-sized ball of tamarind
1 tbsp of rasam powder
1/4 tsp of turmeric powder
1/4 tsp of hing / asafoetida
Salt of to taste
Coriander leaves of for garnishing
A few curry leaves
A pinch of sugar (optional)
2 cups of coconut milk
How I Made It:
1. Soak the tamarind in 1 cup warm water for 10 mins. Squeeze well, extract juice and discard the pulp.
2. Heat oil in a pan and add the mustard seeds.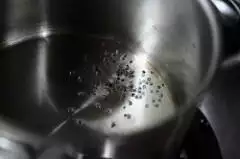 3. When they pop, add the diced tomatoes and curry leaves. Saute for 3-4 mins until the tomatoes go soft.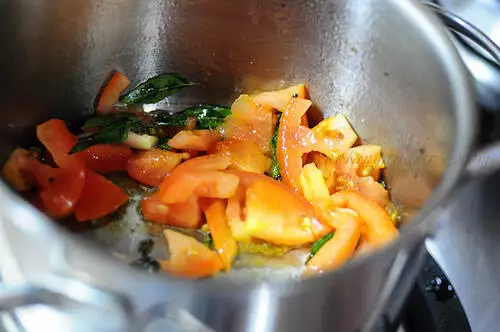 4. Add the tamarind extract and top off with 3 more cups of water.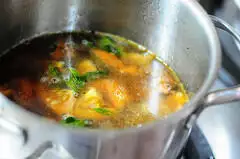 5. Bring to boil and add the rasam powder, hing, turmeric, and salt. Mix well and simmer for 15-20 mins.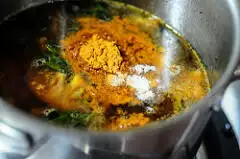 6. Add the coconut milk and sugar, heat through (don't boil) and add the chopped coriander leaves.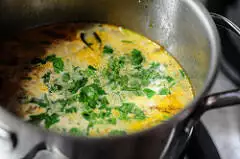 Remove from fire and serve warm over hot white rice.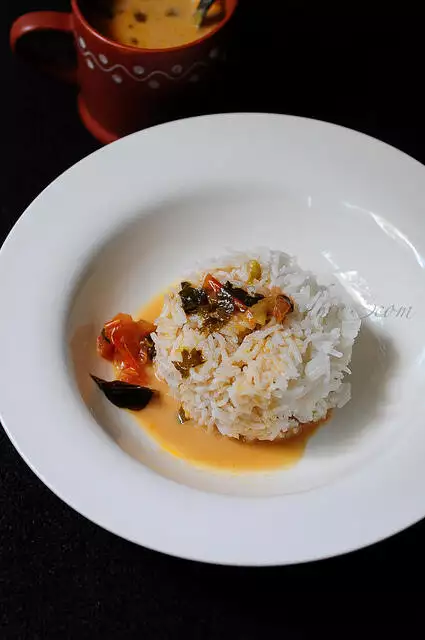 Notes:
– my MIL's rasam powder, which is what I use, has chillies in it so there's no need to add extra chilli powder. If you are using store-bought rasam powder, you'll need to add some chillies for extra heat. Either add red chilli powder or sliced green chillies to taste.
– You can make the rasam a bit thinner and serve it as soup. It was delicious to drink off a cup and tastes better when it has aged half a day.
– I used canned coconut milk. If you are using fresh coconut milk, reduce the amount of water you add to the rasam while cooking.
– You can add some crushed garlic along with the tomatoes if you want some extra flavour
Although it's Diwali season and I would happily eat gulab jamun for breakfast, carrot kheer for lunch and kaju katli for dinner, we need to eat regular meals too, unfortunately. Hope this coconut milk rasam recipe comes in handy then 🙂
Share and enjoy!